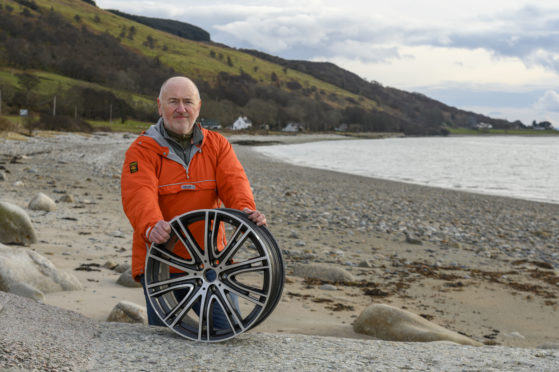 It is known as Scotland in miniature, but motorists on Arran say the potholes are full-size and multiplying.
One driver has calculated the island may have up to 1,000 holes in the road after he buckled a wheel on a pitted road near his home and the local authority refused to compensate him.
He counted nearly 150 potholes on a 10-mile stretch on the island and, with around 80 miles of roads on Arran, believes the number of holes could be in four figures.
He has called for urgent action and has been backed by organisers of an annual cycling event who have enlisted volunteers to paint potholes to alert cyclists to oncoming dangers.
Cameron Park, of Pirnmill, counted the potholes on one stretch of the main circumference road on Arran, the A841, which is 56 miles in length. Two other routes, known as the String and the Ross, cross the island amounting to a total of about 80 miles of road.
He said: "Everyone knows the roads have this terrible problem with potholes but I thought it may be useful to try to estimate just how many there are. I drove a distance of about 11 miles to Blackwaterfoot and counted the potholes – those not covered by water – and got to 137.
"Adding estimates for the String road and the Ross road, plus potholes hidden by water, I believe there could be 1,000 on the island.
"This does not include the very rough surface on some of the roads nor the edging in some places which is washed away or collapsed.
"It's a dreadful situation and it has a real impact on tourism and for the people living here all year round. I would just like the council to accept responsibility.
"Arran deserves better. Some tourists have told me they will not bring good bikes to Arran because of the state of the roads.
"And some residents claim to run older, more environmentally damaging, vehicles due to the state of the roads."
He said: "The damage to my wheel and tyre, together with car hire, came to £1,361. The damage was severe yet North Ayrshire Council denies negligence. They passed me to insurers who said there was no negligence on behalf of the council as the road has been checked weeks prior to my car being damaged."
Ashley Mabon of Ocean Youth Trust Scotland, a young people's charity which hosts its fifth Arran Sportive cycling event in September, said: "We would greatly welcome improvements to the road surfacing on Arran to reduce the risk posed to our cyclists and other road users, and to ensure incidents like that which happened to Mr Park cannot happen again."
At a national level, conditions are being made worse by the 3.6 million additional new cars being driven on Britain's roads compared with a decade ago, councils have warned. The Local Government Association said that if the number of extra cars licensed in 2019, compared with 2009, were lined up bumper to bumper, they would cover more than 11,000 miles, which is equivalent to the length of Britain's coastline.
It claimed this highlights the need for greater investment in the transport network.
North Ayrshire Council said: "The prolonged period of wet and cold weather has caused damage to the roads network across the country.
"We are currently dealing with repairs as matter of priority and will continue to do so.
"We also recently agreed to invest approximately £750,000 on Arran roads over the coming year."
The local authority added: "All claims made against the council are investigated thoroughly to determine whether we have been negligent.
"Our roads service complies with statutory guidelines and we assess all claims to determine whether or not we have met our responsibilities."
A meeting of Arran Community Council, which has submitted a list of potholes for repair to the local council, heard last week that some could reappear just hours after they were patched. Vice-chairman Richard McMaster said: "The job is just not being done right."
---
Engineers' possible solution: Potholes that can fix themselves
Potholes which fix themselves could bring an unlikely solution to the roads crisis facing motorists across Scotland.
Experts said that, as well as temporary fixes which see defects patched up only to wear down again, longer-term ideas were being looked at which could give roads a vastly increased life-span.
They include self-healing materials which use tiny particles of steel wool mixed into road material, giving the ability to transmit electrical energy and allowing the road to heat-up and re-bind.
Dr Stella Pytharouli, senior lecturer in civil engineering at the University of Strathclyde, said: "Finding and repairing a pothole as soon as possible is the best way to minimise damage. But this requires continuous monitoring and inspections of the entire main road network which is very time consuming and requires a large workforce.
"More recently, researchers have been looking at self-healing road pavement materials and this is most likely where the solution lies."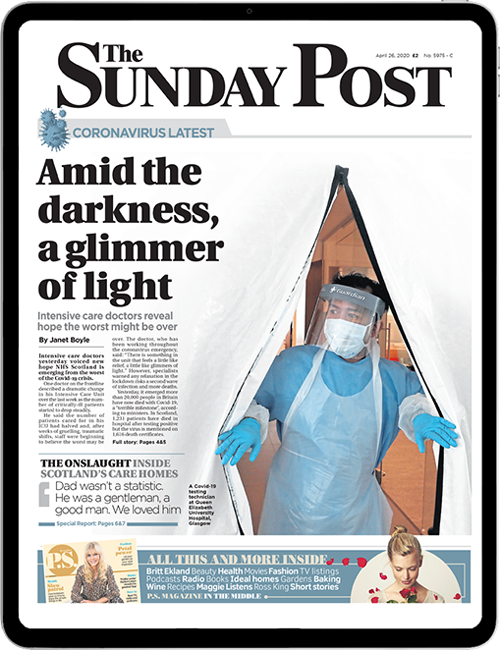 Enjoy the convenience of having The Sunday Post delivered as a digital ePaper straight to your smartphone, tablet or computer.
Subscribe for only £5.49 a month and enjoy all the benefits of the printed paper as a digital replica.
Subscribe