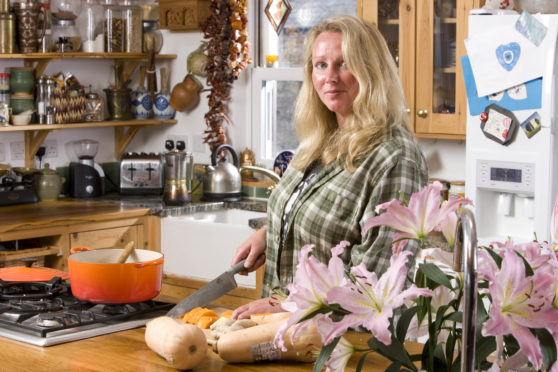 Sitting at her kitchen table, Ghillie Basan could be anywhere in the world.
Surrounded by brightly coloured trinkets and treasures, brought together from almost every continent, the cookery writer and chef needs only to open a jar or pick up a spoon and she is instantly transported to her travels in Indian, Sri Lanka, Morocco or Vietnam – all while looking out across the Scottish Highlands.
And, despite the wind, rain and occasional snow, the 56-year-old admits Scotland's wide-open spaces will always bring her back to the wild moors where she spent her childhood.
"I loved travelling and visiting different countries and cultures around the world, and when my children were growing up it was lovely to be able to take them with me," she explained.
"But the one thing that's always been at the root my happiness and comfort is having space around me – and views.
"The view from my home in the Highlands really reminds me of my childhood in East Africa. The way the land and the hills spread out, I can almost picture the giraffes or zebras walking across the plains in front of me.
"My heart is partly in Africa and partly here, so I've tried to combine the two."
She added: "Everything in my kitchen comes from my travels. Everyone that walks in is just bowled over by the colour. And, of course, there is always a smell of spices. Chillies hang up next to big sticks of cinnamon, and then there are also local wild herbs drying alongside jars and jars of spices. The smell is always slightly exotic.
"Everyone always has a different place they are instantly reminded of visiting. It's lovely that people react in so many different ways."
Having lived and travelled in a variety of countries and cultures, spice and heat has always been at the heart of Ghillie's work, and the "Spice Queen" has penned more than 40 books during her extensive career.
And, although exploring the bazaars and bustling streets of exotic locations will always have a special place in her heart, Ghillie admits she wanted her children – Yazzie, 23, and Zeki, 19 – to have a more settled life and a place they could call home. And Scotland was the obvious choice.
"When I found myself on my own, the children were five and two, and it was a very conscious decision to stay in Scotland," explained Ghillie, whose new book, The Modern Tagine Cookbook, focuses on recipes for delicious one-pot Moroccan meals.
"It's such a special place and I wanted the kids to have a childhood where they could actually be children, with wide-open space and a real sense of home and family.
"In a sense, I didn't have that. The home I remember is the one we had in Kenya, but I left when I was 10 and sent to boarding school in Scotland.
"Then, when my parents moved back here, they lived in Glasgow. So, as a mid-teen I suddenly found myself in a city I didn't know. It felt like my home had been robbed from me.
"I had gone from riding horses, in amongst the giraffes and zebra, to walking down grey pavements, not knowing a soul. Although, our house was on Gibson Street and all the curry houses were just at the bottom of our road, so the smell of spices was very familiar!
"I wanted to make sure my children had a place they could call home and it didn't change – a place they could always come back to. I think they really appreciated that.
"No matter where you are in the world, it's great to be able to say you're going home."
With ancient aromas forming such an integral part of their life, it's no wonder Yazzie and Zeki have inherited their mum's love of spice and cooking.
"Both now work with food in their own unique way, as well as alongside Ghillie in her cookery workshops and experiences hosted in their home.
Ghillie said: "Food has always been a big part of their lives.
"We work really well together as a family. Quite often we do events together, all pitching in with different things. Everything we do is here at our home, so it's a huge part of our lives.
"Food is one of the things that binds everyone together.
"There's nothing quite like the feeling of being together around a table."
The Modern Tagine Cookbook by Ghillie Basan is published by Ryland Peters & Small
---
Ghillie's favourite spices
Cumin seeds
This is one of the most useful spices in my cupboard and is great for tagines. A warming spice that is reputed to ease the digestion, it is excellent with pulses and meat. If you roast the seeds first to warm the natural oil and combine with roasted coriander seeds, then grind to a powder, you have one of the most useful, aromatic spice blends.
Cinnamon
Cinnamon is another warming spice with digestive properties and a natural sweetness. In Morocco, cinnamon is not only added to tagines and couscous but to salads too in combinations with fruit and preserved lemon. It also adds a lovely aromatic lift to many sweet dishes.
Dried red chillies
I have bunches of dried red chillies hanging in my kitchen ready to soak in water to soften before pounding them into the different chilli pastes. My favourite is homemade harissa, which has to be one of the most useful chilli pastes I make. It goes into so many Moroccan dishes as a base paste, dressing or condiment.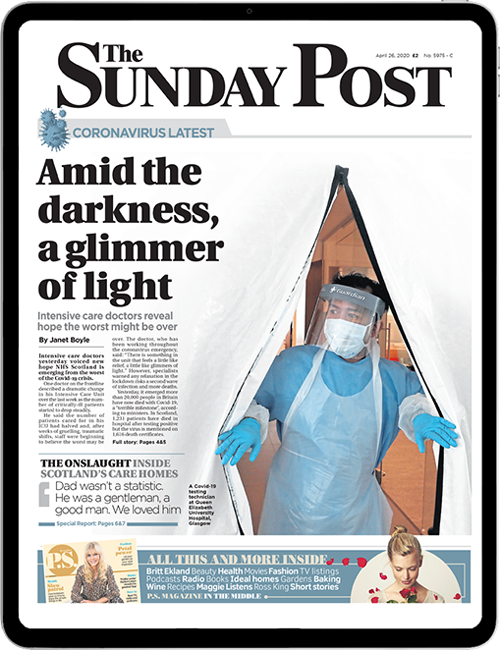 Enjoy the convenience of having The Sunday Post delivered as a digital ePaper straight to your smartphone, tablet or computer.
Subscribe for only £5.49 a month and enjoy all the benefits of the printed paper as a digital replica.
Subscribe