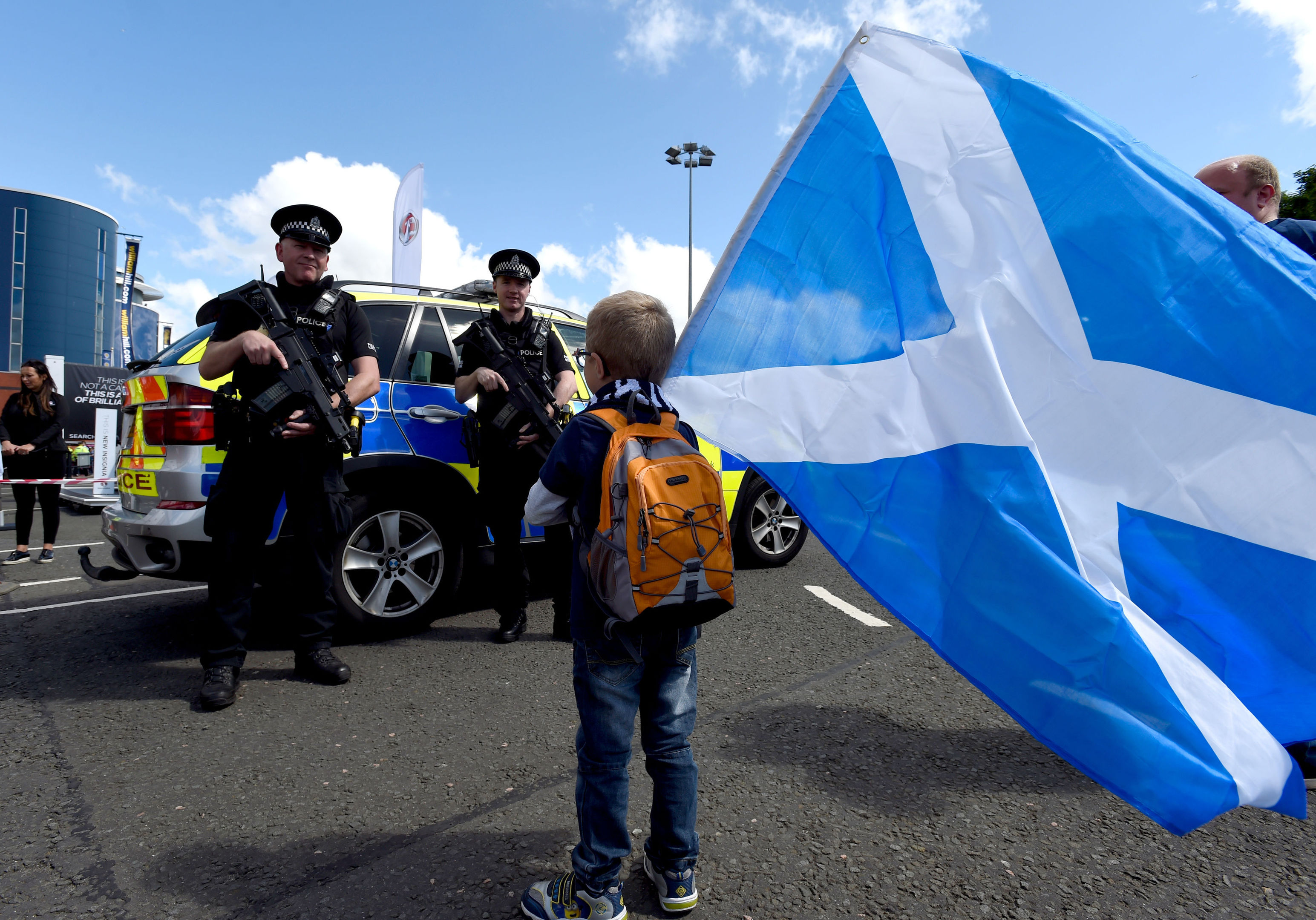 FOOTBALL supporters mingled with armed cops at Hampden as police threw up a ring of steel around the national stadium.
Glasgow was on high alert with increased security measures for yesterday's World Cup qualifier between Scotland and England.
A police helicopter circled overhead as fans made their way to the game, while armed police were stationed outside the stadium.
Police could also be spotted on the roof of Hampden keeping a watchful eye from vantage points.
Fans were searched at outer cordons surrounding the stadium to ensure only ticket holders were in the immediate area.
Supporters had been urged to arrive early to allow time for additional bag checks.
Security messages broadcast at train stations asking people to be vigilant of anything suspicious held greater significance following the terror attacks in London and Manchester.
Meanwhile, electronic boards warned passengers to expect "extra security checks" and an alcohol ban ahead of the clash, which ended in a 2-2 draw.
British Transport Police Chief John McBride had said there would be a "zero tolerance" approach towards any anti-social or criminal behaviour.
He said: "Our policing operation will stretch the breadth of the nation and will involve a large number of officers."
Ahead of the Group F game, raging Scotland yobs took to Facebook to taunt England fans and issue vicious threats of violence but thankfully, there was no sign of trouble around the stadium before kick-off and fans welcomed the additional security.
Scotland supporter James Bruce, 32, from Edinburgh said: "Security is obviously heavier than you would expect, but given what's happened, it's understandable."
England fan Terry Moore, 49, from Essex, said: "There's a considerable police presence.
"It's understandable. There's the usual football issues and the over and above security issues at the moment."
Meanwhile, Londoners last night demonstrated their "resilience, unity and defiance" one week on from the London Bridge terror attack by enjoying their Saturday night in the capital.
Mayor of London Sadiq Khan said one of the greatest things about the capital is "how we pull together in the face of adversity".
The mayor said: "London is open. Our resilience, unity and defiance of those evil individuals who seek to harm us and destroy our way of life will never change.
"As we mark one week on from the appalling attack, we are coming together to raise money for the victims and their families.
"I urge all Londoners to do what they can to support this appeal and show the world that we are city that will never be divided or cowed by terrorism."
His comments came as a police officer gave a grim and disturbing account of arriving at the bridge.
Inspector Jim Cole, one of the first officers to respond to Borough Market, said: "From updates on the radio, we were aware that people had got out the van and were attacking people in the market.
"But we didn't know if they were armed, how many there were, or what the situation was."
He and his team managed to get around 200 people to the safety of a pub cellar.
"People coming running out of the market were in a state of panic – lots of screaming," Mr Cole said.
"So I literally just grabbed hold of as many as we could and directed them into the basement of the bar. I felt that was as reasonably safe a place as we had at that moment, rather than roaming the streets."
He said he could hear his colleagues over the radio "in quite a state of distress" as they desperately called for ambulances.
"On the radio, I could hear officers up at London Bridge and outside the Mudlark who were doing CPR and they were calling for ambulances urgently," he said.
"I would describe it as pandemonium, really."
The married father-of-three said the incident was the worst he has seen in 18 years as a policeman.
"I've dealt with things over the years, but it was the sheer scale of it all," he added. "I think I just went into autopilot."
It has emerged the murderers tried to hire a 7.7 ton truck to enhance their killing spree – but ringleader Khuram Butt's payment was declined.
Butt, 27, Rachid Redouane, 30, and Youssef Zaghba, 22, also armed themselves with pink ceramic £6 supermarket bought knives.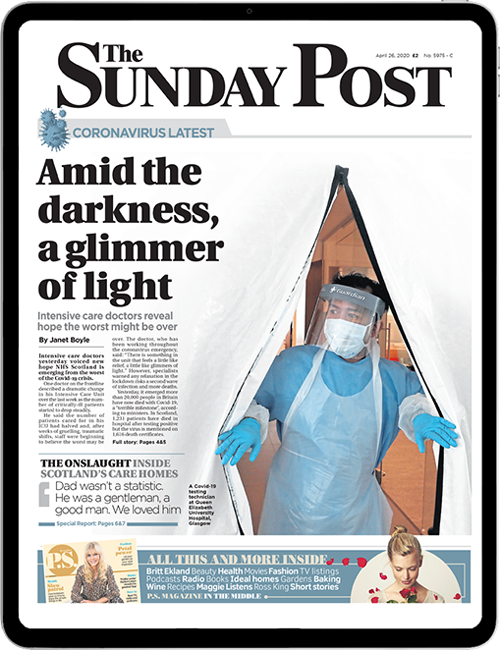 Enjoy the convenience of having The Sunday Post delivered as a digital ePaper straight to your smartphone, tablet or computer.
Subscribe for only £5.49 a month and enjoy all the benefits of the printed paper as a digital replica.
Subscribe