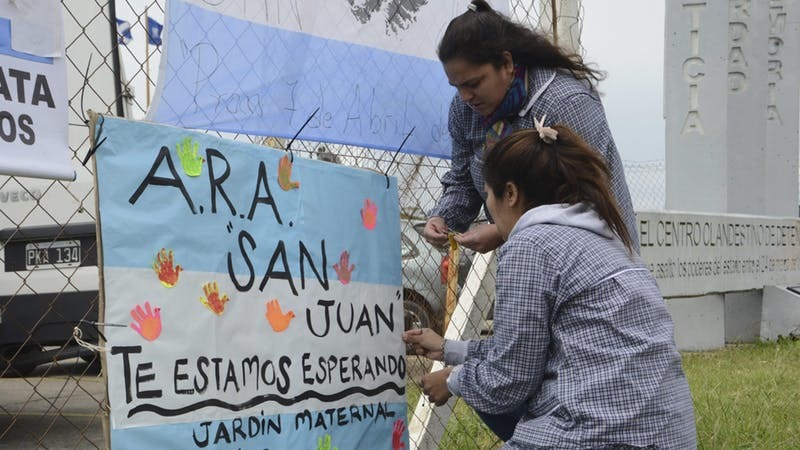 SOUNDS detected by probes deep in the South Atlantic did not come from an Argentine submarine that has been lost for five days, the country's navy said, dashing newfound hope among relatives of the 44 sailors aboard.
Navy spokesman Enrique Balbi told reporters that the "noise" was analysed and experts determined it was likely "biological". He said the sounds did not come from tools being banged against the hull of a submarine as was previously reported by some media.
"We all had hope, but unfortunately this comes from believing sources that are not trustworthy," Mr Balbi said. "Some sources were saying that this was banging on the hull in Morse code signals."
The noise was heard by two Argentine navy ships about 220 miles (360km) from the Argentine coast and at a depth of about 650ft (200m). A US Navy P-8 Poseidon aircraft was sent to help in the effort to isolate the source of the sounds.
The ARA San Juan went missing on Wednesday as it sailed from the extreme southern port of Ushuaia to the coastal city of Mar del Plata. More than a dozen international vessels and aircraft have joined the search, which has been hindered by stormy weather that has caused waves up to 20ft (6m).
In the first confirmation of a malfunction, an Argentine navy official said earlier Monday that the submarine reported a battery failure on Wednesday and was returning to base when it went missing.
Brief satellite calls over the weekend had originally been thought to indicate the crew was trying to re-establish contact, prompting emotional celebrations by family members and officials.
But Mr Balbi said earlier on Monday that officials analysed the seven low-frequency satellite signals and determined they were not received from the submarine.
Although the German-built diesel-electric vessel carried enough food, oxygen and fuel for the crew to survive about 90 days on the sea's surface, the sub had only have enough oxygen to last seven days submerged, Mr Balbi said.
At the Vatican, Pope Francis, a native of Argentina, said he was sending "fervent prayers" for the crew.
The US Navy ordered its Undersea Rescue Command based in San Diego, California, to deploy to Argentina to support the search for the submarine. The command includes a remotely operated vehicle and vessels capable of rescuing people from bottomed submarines.
Pledges of help also came from Chile, Uruguay, Peru, Brazil and Britain, the latter sending a polar exploration vessel, HMS Protector.
Some relatives of the missing crew members took to social media on Monday to ask for support during the search.
"Pray so that my husband, Fernando Santilli can return home," Jesica Gopar wrote. "He's in the San Juan submarine."
https://twitter.com/JEKOGOPAR/status/932624740321234945
The submarine was originally scheduled to arrive on Monday at the navy's base in Mar del Plata, which is about 250 miles (400km) southeast of Buenos Aires.
Argentine president Mauricio Macri met with family members at the base as they waited anxiously for news about their loved ones.
Estuve en la base de Mar del Plata para acompañar y ofrecer todo mi apoyo a los familiares de la tripulación del submarino ARA San Juan en estas horas difíciles. Seguimos desplegando todos los recursos nacionales e internacionales disponibles para hallarlos lo antes posible. pic.twitter.com/gYDc1eGV1p

— Mauricio Macri (@mauriciomacri) November 20, 2017
"We can make up a thousand movies with happy and sad endings, but the reality is that the days pass by and not knowing anything kills you," Carlos Mendoza, the brother of submarine officer Fernando Ariel Mendoza, said.
"Every minute is oxygen that's worth gold."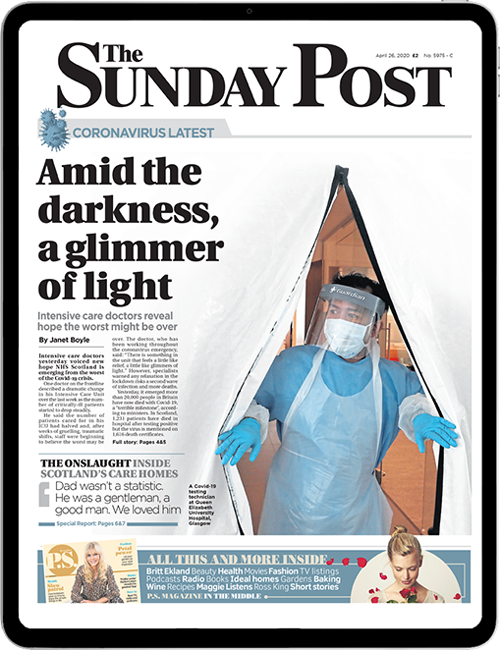 Enjoy the convenience of having The Sunday Post delivered as a digital ePaper straight to your smartphone, tablet or computer.
Subscribe for only £5.49 a month and enjoy all the benefits of the printed paper as a digital replica.
Subscribe