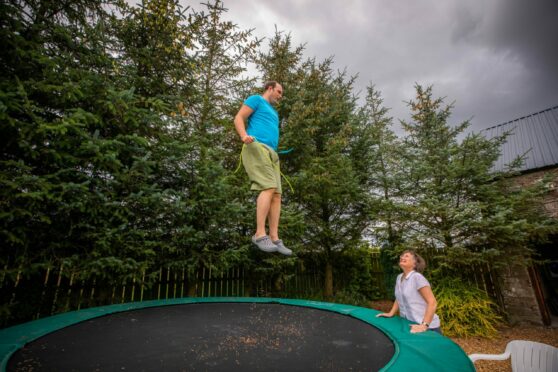 Families across Scotland are fighting to have their loved ones freed as hundreds of people with learning disabilities and autism remain locked in inappropriate secure hospital wards.
Kate Sainsbury, who lives in Comrie in Perthshire, and her son Louis have been working with academics at Napier University on how to help more people with complex needs live in their own homes.
Louis, 37, spent years detained in hospitals such as Dundee's Carseview mental health unit and out of area placements hundreds of miles from his family.
He now lives permanently at Appletree – a first of its kind specialist home.
It was purchased using funds awarded to Louis and his family following a legal battle over brain injuries he suffered as a baby in hospital.
The converted steading in Aberuthven provides a living space for Louis and his round the clock carers but also includes an art studio, barn, sensory room and garden.
The home has allowed Kate and Louis to build a community of friends, care workers and families of other people with learning disabilities.
The Scottish Government has set a target to move a significant number of people out of inappropriate hospital places by March next year and Kate believes Appletree could provide inspiration for a new generation of care.
More than just a house
She said: "Appletree is not only Louis' home. There is now a community around Louis.
"I live in Comrie and lots of people there have supported me, like Comrie Men's Shed will mend pieces of furniture for Louis. Friends will come over to parties.
"But there's something about how Louis is a leader in this. He offers hospitality in the barn alongside his house so that we can gather people around.
"So we've started to gather a really dynamic group of parents and supporters, and also some of the professionals involved in working in this really complex care system."
The care Louis received before he moved to Appletree was used as a case study for what can go wrong in a report by the Scottish Government into delayed discharges.
Kate was also on the working group that created the Coming Home Implementation report.
It followed a 2018 paper that found more than 400 people were still in care homes and hospitals out of their local area, with 109 needing to be brought home as a priority.
Leaving hospital with trauma
Louis spent six years in a care home until it closed in 2018.
He was then sent to a home in England 250 miles away from his family.
Kate was forced to stay nearby and help train staff to understand his needs but says protest behaviour shown by Louis was managed through restraint and injections.
He returned to Scotland eight months later and stayed at Carseview until Appletree was ready for him to move in last year.
Kate believes Louis and others like him are leaving deeply inappropriate care settings suffering from trauma that will take years to recover from.
She said: "People are coming out and they've been damaged more from being in hospital than if they'd never been there in the first place.
"They're going into hospital because there isn't enough social care and it's a sort of holding pen.
"The word trauma gets bandied around but Louis has come out of hospital with PTSD.
"He can be triggered by key words that people said to him when he was there."
We reported previously on the case of Gordon Hughes, who has spent years in the State Hospital at Carstairs – Scotland's most secure hospital for patients most at risk of harming themselves or others – despite never having hurt another person.
His mother described how a shattering series of decisions, taken by officials behind closed doors, mean her son may now be held at Carstairs permanently.
Delayed discharge
We also reported on Ryan Caswell, 20, who is currently being held as a delayed discharge after first being detained at Carseview in 2020.
His case was raised at First Minister's Questions last year after his parents, Paul and Irene, said they feared for his life following a series of incidents at the centre.
They are desperate to find a suitable placement for him outside of Carseview but so far nowhere has been found.
Nicola Sturgeon pledged to look into the case personally but more than 14 months later, the couple say here has been almost no progress.
Paul and Irene say Ryan was forced to endure months of unnecessary chronic pain and has at times been sedated and restrained instead of being given proper medical treatment.
The Mental Welfare Commission is also looking into how he has been able to repeatedly injure himself while in Carseview.
Human rights warning
Kate Sainsbury believes the hundreds of vulnerable Scots being locked up in hospital is a human rights issue that has too often been ignored – and she is not alone.
Jeremy Harris has been working on NHS England care and treatment reviews – something he says there is no real equivalent for in Scotland – after his daughter Beth was featured in a Care Quality Commission report.
Beth has mild learning disabilities and autism and was held in secure units for several years since she was a teenager.
Jeremy secretly filmed one of his visits while Beth was kept in isolation.
The footage, which included them only being able to communicate through a hatch in the door, was so shocking it triggered a review of her care that led to her release.
Jeremy says he now speaks to families almost every day and regularly hears of people who have spent years in hospital and are totally institutionalised.
He fears the strain being put on families is making it more difficult for vulnerable people to finally receive the help they need.
"I speak to lots of parents each week," he said.
"I often have chats with families to try to support and guide, and they all say the same thing: relationships have broken down.
"It puts families into a combative position. You're having to complain, you're having to constantly chase, question, demand.
"It's exhausting and trying to do that at the same time you've had your loved one taken away from you is incredibly traumatic."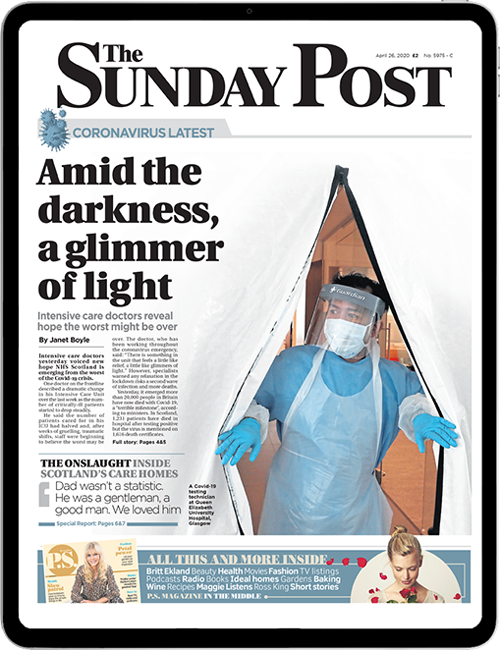 Enjoy the convenience of having The Sunday Post delivered as a digital ePaper straight to your smartphone, tablet or computer.
Subscribe for only £5.49 a month and enjoy all the benefits of the printed paper as a digital replica.
Subscribe