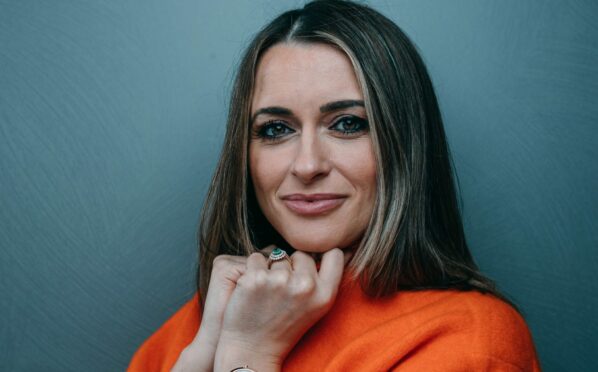 It was an idyllic haven of tranquillity. No internet, no mobile phone signal, no technology.
Anne Lundon, so used to the buzz of a newsroom, was apprehensive about being cut off from the world before she left for a recent break to Eilean Shona, a remote tidal island on Loch Moidart on the west coast.
But within a couple of days, the popular broadcaster found being off grid a relaxing, and much-needed, change of pace.
As a presenter on Landward and the late night Reporting Scotland bulletin, as well as a three times weekly Gaelic radio drivetime show host and a number of duties on BBC Alba, Lundon is used to being tied to technology with a need to know what is going on in the world.
"I didn't know how I would cope without social media or the internet, and then I was concerned about something happening and we were unreachable, but within a few days I found it really relaxing," she said with a smile.
"I would recommend everyone take a week off grid at least once a year – it's important to have that downtime. In a world where we are all now so reachable, and with such immediacy, people aren't switching off in the same way, but at Eilean Shona, there was no choice."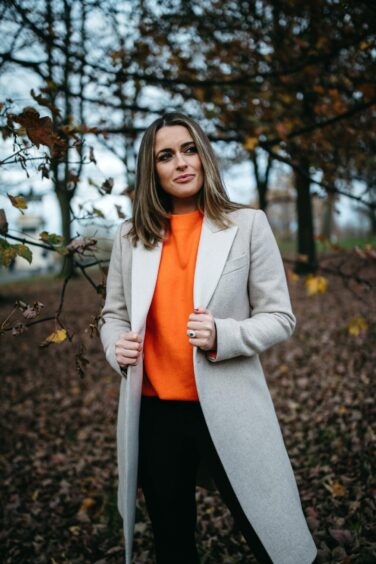 Lundon spent the remote break with her partner, camera operator Ken McAlpine.
"We did loads of walking and saw deer and stag, and I saw a pine marten for the first time. We saw in the visitor book that they were around, so we put out some nuts on the windowsill and they appeared – they were really tame and not at all bothered by our presence.
"The whole trip was magical, like nothing I've ever experienced."
That is high praise from someone who is very well travelled. As well as visiting all corners of Scotland for Landward, which she's presented since 2017, Anne's Alba duties have seen her visit everywhere from Vietnam and China to Chernobyl and a recent trip to Dubai.
"It's definitely a perk," she continued. "I've been lucky to travel my whole working life. With Eorpa, the European current affairs programme, I would be travelling every second or third week, for six to eight months a year. I've seen places I never would have seen without my job, and met some really interesting people."
Lundon's globe-trotting lifestyle is far removed from her time growing up near Stornoway on the Isle of Lewis. The youngest of four girls, holidays were used for catching up with family rather than flying off somewhere.
"We hardly did any travelling, growing up. Having a big family, it wasn't easy to get everyone together. I was only five by the time my eldest sister went off to university in Aberdeen and then another sister went off to Glasgow, so our holidays were mostly about catching up with family.
"I had a cousin from France who used to come over, and I went over there with my auntie once. They spoke French and Gaelic is our first language at home, so my mum says she remembers this weird gobbledygook of us trying to talk to each other.
"Mum was a full-time mum and Dad is a mechanic. His garage is attached to the house and it was always a very busy home, and it still is, just one of those places where there always seems to be a lot going on.
"Growing up there was amazing, such a really nice place to be with such a community feel and freedom. We would go off on our bikes all day and our parents wouldn't need to worry because there wasn't much to worry about. We were allowed to roam around the hills on our bikes.
"When I was really young and couldn't tell the time, my mum would draw a watch on my wrist with the time I had to be home for dinner, and I'd go around the older kids, pointing to my fake watch asking if it was time for me to go home! Any excuse to go back, I'm there, and I'm fortunate with work to have lots of excuses. My mum and dad and a lot of my friends are still there, so I make sure I never go more than a few months without a spell at home."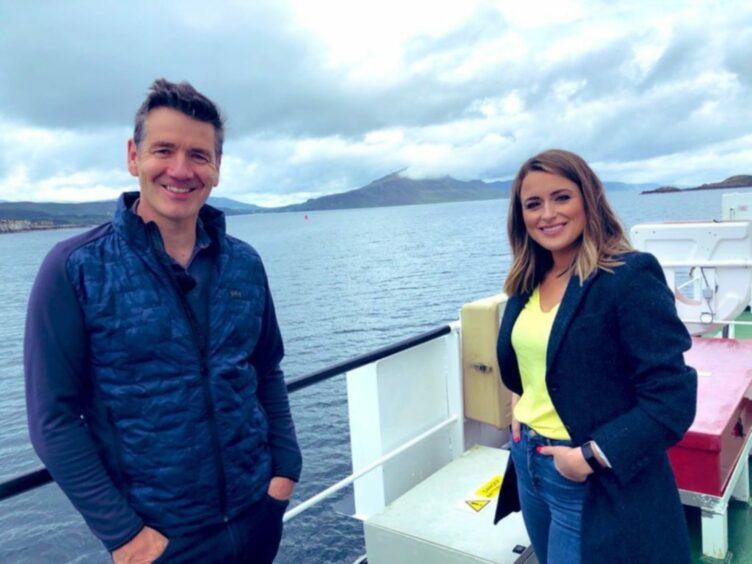 She's also seeing elsewhere in Scotland much more since becoming part of the Landward presenting team four years ago.
"I'm visiting places I wouldn't have without the show – I wasn't particularly well-travelled on the east coast in particular. We get to meet so many people who are so welcoming, inviting me into their homes or farms or businesses, letting us tell their stories. It's a privilege. I also have a big collection of warm winter coats and hats for every eventuality while filming, so I'm well-prepared."
Although there was an aborted attempt at a law degree in Glasgow after she left school, Lundon always wanted to get into broadcasting and, after completing a degree in Gaelic language and culture at the University of the Highlands & Islands, she moved into media.
"This is what I wanted to do. I remember my first foray into television as a contributor for De a-Nis, which I really enjoyed. I always wanted to be a Gaelic newsreader. When I was graduating, BBC Alba was in the offing and there was a recruitment drive to make programmes. I got a job with an independent company in Glasgow, MNE Media, where I learned an awful lot."
It was also through her work she met Ken.
"He's a freelance camera operator and we met while working on Eorpa. He's done the last two travel series I've worked on and he filmed The Minch. People always ask what it's like working together, but I like it. As a reporter, I think you need a rapport and a trust with your camera operator, because you're kind of talking to them when filming."
During lockdown, the couple purchased a piano, reigniting a shared love of music from their younger days. "We bought it second-hand and I feared it would become an ornament, but we play it all the time and it's the best purchase we've ever made," Lundon said. "Ken used to be in a band, so he is loving playing again, and I am self-taught in guitar and piano.
"I also learned the bagpipes in school, but gave them up after I fell off my bike when I was 14 and damaged my mouth quite badly. I have loads of scar tissue inside, so I can't grip the mouthpiece properly. It was a sore one."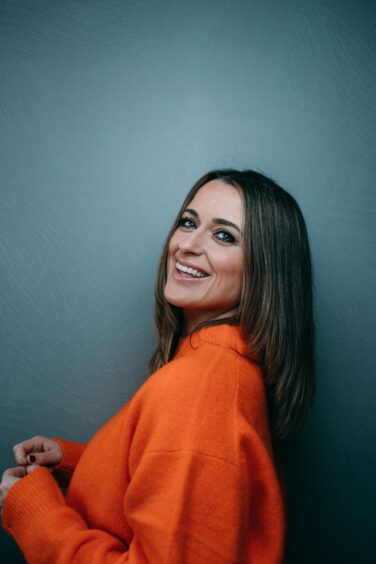 Although she has a hectic schedule, Lundon says she enjoys being able to present in both Gaelic and English.
"I love being able to do both and wouldn't like to do one without the other," she added. "Gaelic is a beautiful language and I get to speak it every day at work, which is good, because I don't have much opportunity to use it in Glasgow. It's my language of choice when speaking to my parents.
"I think it's important for Scotland to be represented properly and to have that geographical spread on screen, so I definitely feel I'm flying the flag.
"People say nice things and unkind things but I just let it wash over me – I really don't care if people don't like my accent. That's the way I speak and that's it."
---
Why Anne loves (and hates) the Minch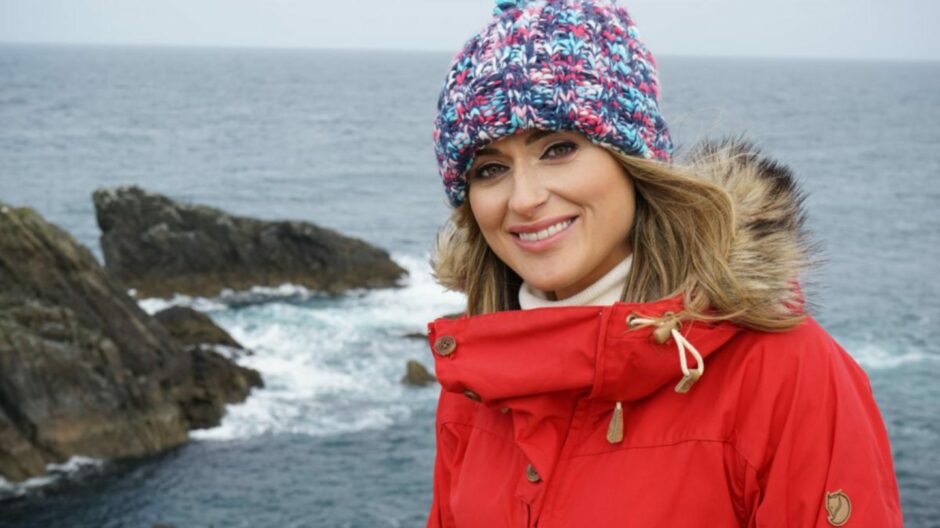 Anne Lundon's latest television series might have taken her back to a place she was very familiar with, but it also made her see it in a new light.
The Minch is a six-part series currently on BBC Alba, examining the stretch of sea from the west coast of the mainland to the east coast of the Hebrides, and those who work and live nearby.
"You can see it from my mum and dad's house, so it's a body of water close to my heart," she explained.
"You end up having a love-hate relationship with the Minch, as everyone has had to do a really bad crossing in gale force-10 weather on it.
"It was a dream programme for me to work on, getting to meet some interesting people who are connected through it by work or by hobbies, such as the rowing club in Ullapool or a wild swimmer.
"We began filming it in October 2020, so it was great to get out of Glasgow at that time. It was a lengthy project, working on it until a few weeks ago.
"I'm so glad we did it – it was such a nice programme to work on and it's definitely one of those ones where you don't know what you have on your doorstep."
---
The Minch (An Cuan Sgith), BBC Alba, Mon, 8.30pm, and the iPlayer.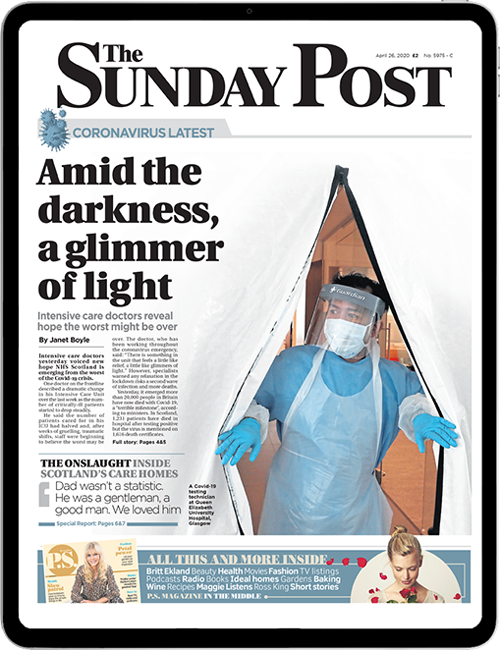 Enjoy the convenience of having The Sunday Post delivered as a digital ePaper straight to your smartphone, tablet or computer.
Subscribe for only £5.49 a month and enjoy all the benefits of the printed paper as a digital replica.
Subscribe