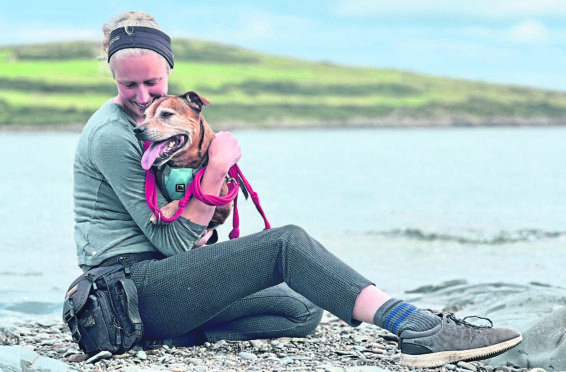 My earliest memories are of close relationships with animals – from dogs, cats, hens, ponies and sheep to the wild creatures that came later.
These strong bonds have etched gold contour lines like maps on my heart. Unfortunately, after all too short lives, memories and photographs are all that remain. But spending time with animals teaches you so much – not only about yourself but also about care and compassion.
Each has its own story and, despite sadness at their loss, for me a life without animals is unthinkable. Yet, as I get older, I increasingly find myself concerned that so many animals of all kinds are ill-treated and abandoned when it's no longer convenient to care for them.
It's not every day that you find yourself sitting on stage at Wigtown Book Festival with an eager audience and a large cockerel called Adam Jones strutting his stuff while enthusiastically crowing and attending to ruffled feathers.
It was here I met Alexis Fleming, an extraordinarily effervescent woman who takes the responsibility of animal husbandry to new heights.
Beside us, too, as we started to chat about her book – No Life Too Small – snored two tousled 18-year-old terriers, Digger and Badger. If she could have brought her pet sheep with her, Alexis would have done so.
Though sheep are far from stupid, they are not easily house-trained – and ovine incontinence might have proved unpopular with the event's organisers!
Alexis' stories, which fizz with hilarity, passion and occasionally earthy language, take you on an emotional rollercoaster. She can make you laugh and cry in the same breath. If there is a modern-day goddess watching over animals, it is Alexis Fleming.
On our first meeting, the animals accompanying her were just a few of those in her care, saved from horrible futures. Many have terminal illnesses.
Alexis knows only too well the misery of facing an excruciatingly painful disease. Some years ago, she was told her debilitating struggle with Crohn's would not end well – she only had months to live. Not only did she defy the diagnosis due to sheer grit, determination and the love of a dog but during that grim phase she rescued numerous animals that were on the scrapheap.
Alexis is adamant that animals suffering from terminal illnesses, like humans, need the finest palliative care. In 2013, she was so appalled at the number of discarded dogs on "death row" that she started Pounds for Poundies – raising funds to stop unclaimed dogs being destroyed.
Her campaign was so successful that she raised more than £10,000 in the first week, and money continued to flood in. Now she could find the dogs new homes.
During the worst phase of her illness, when Alexis often felt like taking her own life, a dog called Maggie gave her the will to live.
As she was scrolling through pages of sad dog adverts, she kept returning to a heart-rending image of a young bullmastiff bitch. It read: "Bought this bitch for breeding. Had 12 puppies but 10 died so it's no use to me. At my girlfriend's house but she doesn't want it and she's beating it up. 10 months old: £100." Soon after, Alexis collected Maggie and the two quickly became inseparable. Sadly, years later, Maggie became seriously ill and died on the vet's operating table.
Devastated by the loss of her faithful companion, who had helped her to overcome her own health issues, Alexis wanted to do something in her memory.
Her home in Speyside was now overflowing with livestock – bald battery hens that had never seen the light of day were learning how to scratch up the flowerbeds, piglets had overtaken the kitchen, sheep were pruning everything green and leafy, and several rescue dogs with temperament issues had to be kept apart in a tiny house.
Alexis got the idea to transform a derelict smallholding near Kirkcudbright into the world's first animal hospice.
Beside her – through all the chaos of new rescue dogs, sheep, hens and piglets – are her long-suffering, equally caring parents. Their support is paramount, acting as a temporary home for some of the charges – despite an unending round of mopping, wiping and rectifying the shambles that sometimes accompanies the latest inmate.
Palliative care takes an emotional toll on Alexis but the list of animals that have left their indelible mark on her continues to grow. There is Gimli – a particularly special sheep, who Alexis says has helped open people's eyes to how affectionate the animals are – and Osha and Bran, two old dogs with a terminal illness. There's a recovering battery hen called Georgia, and Adam Jones the cockerel.
Though Alexis might sometimes seem madcap, her ability to win over adversity is proof of her courage and strength of character.
She is open about her ill health – Crohn's disease is incurable – but she is at her happiest caring for her feathered and furred family at the hospice.
Thanks to that beautiful, unwanted bullmastiff, Alexis now runs the Maggie Fleming Animal Hospice, where she works around the clock, mainly without help, and thinks nothing of keeping an all-night vigil beside one of her dying friends.
The hospice website reveals Alexis's humour as she describes some of the accommodation for dogs: "The hospice has three suites, with indoor bedrooms and outdoor patios. There's a communal living room and kitchen and about half an acre to sniff, potter and play.
"It's a cosy place with a few day beds to choose from where auld men dugs gather around the fridge in the wee small hours, smokin', drinkin' and betting on who can get their pee furthest under the fridge."
This is a woman who went on a blind date in a remote part of the Highlands on a wild winter's night and picked up a sodden, sick, half-grown lamb en route. Bundling it into her car, she stripped off to use her own clothes to keep it warm. Arriving late, looking akin to the proverbial drowned rat, a pungent ovine aroma filled the room. Alexis laughingly admits her date was even more peculiar than she is and claims she had a narrow escape.
Her story leaves you with no doubt of the importance of recognising that all animals are sentient beings and, vitally, that compassion, kindness and love should be at the root of how we treat all living things. Alexis Fleming certainly has it in bucketloads.
---
Polly's People: pollypullar.com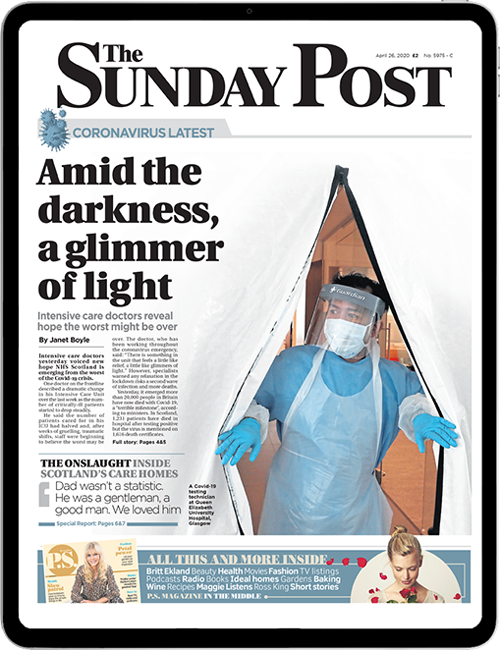 Enjoy the convenience of having The Sunday Post delivered as a digital ePaper straight to your smartphone, tablet or computer.
Subscribe for only £5.49 a month and enjoy all the benefits of the printed paper as a digital replica.
Subscribe