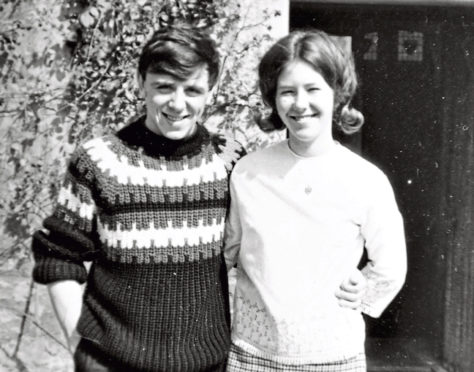 When Tom Pitcairn lost wife Issy to pancreatic cancer four years ago, he was determined to raise awareness of the disease.
Since then he has supported Pancreatic Cancer Action Scotland by holding fundraising events. Covid restrictions have curtailed Tom's plans but during Issy's two-year battle with cancer, Tom kept a diary.
To coincide with pancreatic cancer awareness month, Tom, 74, is sharing his journey, in memory of Issy, who was 69.
This diary section and words are also part of a book about his life which Tom has been focusing on during lockdown.
---
Good Times
We met at a party in 1964 when we were 17. We had quite an effect on each other. We married when we were 21. In 1979 we moved to Dumfries & Galloway. It's a great place to live.
France
I was working in community education and used to organize youth exchanges in France. I made a lot of friends, having had a lot of holidays there. We bought our own place there in 1993.
Issy's Battle: April – June 2014
We arrived at our wee French house in Prat near Salviac, but Issy was having problems with her digestive system. We saw a GP who insisted we go to A&E. A doctor told us Issy may have pancreatic cancer. Issy was kept in. I went home, stunned. It was the blackest night of our lives.
Despair turned to hope when. Issy had her op. A tumour of 2-3cm was removed but infected lymph nodes were found, and chemotherapy was recommended.
Our daughter Emma and granddaughter Rosie, who had joined us, were supposed to travel home but our campervan was broken into and our passports stolen. Issy was still in intensive care. Our friends drove Emma and Rosie over 100 miles to Bordeaux to get emergency passports.
Issy got out of hospital and we stayed in France, because she needed to recover.
July – Dec 2014
Our son Ross arrived from China. Issy started chemotherapy. The treatment took its toll, she had dryness in her mouth, loss of appetite, fatigue, and headaches.
In August, new passports arrived. Issy had her last chemo and flew home alone. Her sister Leslie looked after her at home while I travelled back with the campervan.
From October to December Issy had chemo in Dumfries Hospital. Just before Christmas we were told she could stop chemo. Issy was delighted.
2015
Normal life returned, we had friends over, we were invited out. We had wonderful days in the campervan, visiting Bannockburn, The Falkirk Wheel and the Kelpies.
We were quite hopeful.
May – Dec, 2015
Issy had a scan which found cancer in her liver, and it was inoperable. Issy asked: "How long?"and was told a year. I don't know how I managed the drive home from hospital. Issy was admitted to hospital in October. She lost a lot of weight. She started chemo again.
Ross came home from China and we were all together at Christmas.
Jan – May, 2016
At the end of March, chemo was stopped. By May Issy was so weak she remained in bed. We made the bedroom into a bedsit. District Nurses came twice a day, Marie Curie Nurses helped through the night and GP Neil Oliver went the extra mile. Everyone was wonderful.
These last few weeks were so bloody hard.
May 25, 10.20pm
Issy died peacefully at home, surrounded by family.
She was cremated at Roughan Loch Crematorium on June 25. It was a celebration of her life, and the place was packed with old friends.
I took some of Issy's ashes over to France. I scattered them at a track where we loved to walk. We had such good times there, with so many friends. But it wasn't the same without Issy.
Since she's gone I've tried to fundraise for Pancreatic Cancer Action Scotland, and I've had a lot of support from friends.
I think Issy would be pretty chuffed. She was always thinking about other people. She could go into a shop for a browse and she would always find something to buy for someone. When she was ill that was reciprocated, as people were there for her when she needed them.
We loved each other and we had such a good life together.
If I can help in some way to find a cure, so no other family lose a loved-one, then it'll be a fitting tribute to my lovely wife.
---
In the UK, almost 10,000 people are diagnosed with pancreatic cancer each year.
In the early stages, a tumour in the pancreas does not usually cause any symptoms, which makes it difficult to diagnose. It is important to know the symptoms of pancreatic cancer as there is a much better chance of survival if the disease is caught early.
Symptoms of pancreatic cancer include:
Pain in the mid back
Pain in the stomach, may be uncomfortable when eating
Weight loss without trying
Yellowing of the skin
Feeling sick/vomiting
Changes in bowel movement (could have pale and smelly stools)
Indigestion
Newly diagnosed diabetes can also be a symptom
If you have any of these symptoms which are new and wont go away, it may not be cancer, but it is important to book an appointment with your GP.
For more information, visit pancreaticcanceraction.org/about/scotland/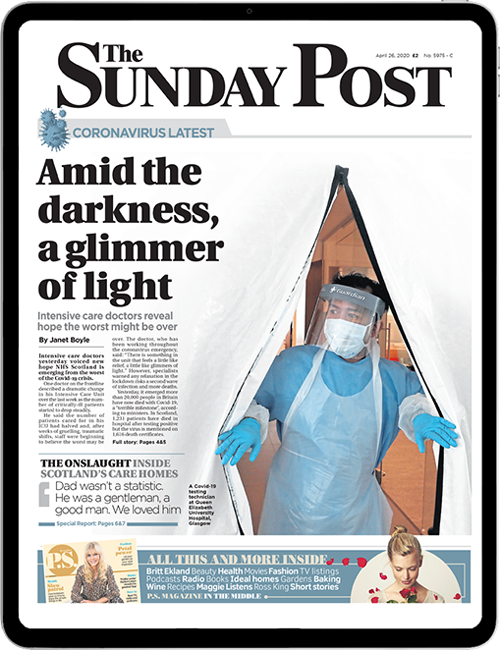 Enjoy the convenience of having The Sunday Post delivered as a digital ePaper straight to your smartphone, tablet or computer.
Subscribe for only £5.49 a month and enjoy all the benefits of the printed paper as a digital replica.
Subscribe