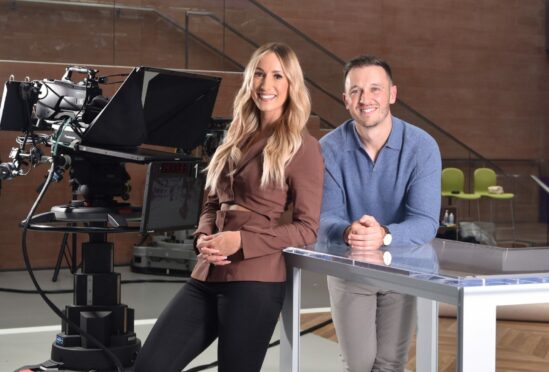 Tomorrow BBC Scotland sports presenter Amy Irons is planning to treat the programme's new start like one of the family.
Mainly because that's exactly what he is. Little brother, Lewis Irons, is joining the channel's flagship news programme, The Nine, as well as 5 Live as a sports reporter.
Here, the sports-loving siblings, whose dad is former football player and coach, Davie Irons, speak to STEVIE GALLACHER on the set of The Nine about sibling rivalry, their competitive spirit, and the prospect of working in the hectic world of broadcast news alongside each other.
---
Lewis on Amy: 'I'll be following her around and maybe heckling'
Lewis will arrive on set at the BBC clutching a microphone, a list of questions for interviewees and, most importantly, a Monopoly set.
He's due to start at the BBC's Pacific Quay tomorrow and, as well as gratefully learning from his big sister, who he's shadowing for the next couple of weeks, he's also planning to beat her at their favourite game. "I'm going to bring in Monopoly and beat her at that, that'll start us off as we mean to go on," he laughed.
"I was told when I joined I'd be shadowing a TV presenter," he said. "Of course it turned out to be Amy, so I'll be following her around tomorrow. Maybe heckling her from the sidelines from time to time."
Lewis, 29, added: "We were very competitive and we still are, I think it comes from playing board games at home. Frustration, Monopoly, Cluedo, Scrabble.
"But what we'd do is team up for charades. We would smash it, if Amy and I were on a team it was game over for everyone else. We got that competitiveness from Dad."
With a big sister keen on broadcasting from a young age, Lewis found himself dragged into the media industry as a child.
"Amy was two years ahead of me but I always remember her having this interest and passion for broadcasting even from a very early age.
"I think I was six or seven when Amy came to me and said, 'right, we're doing a radio show'. We'd record a show with Amy doing the news presenting and she'd throw to me and I'd be the roving reporter," he explained. "It would kill two hours before the age of PlayStations. We were clearly very bored."
Dad Davie was on hand to help following football matches, whether he wanted to or not. Lewis said: "Our dad would come home from a game, having been working all day, having done real-world media and he'd get in the door ready to relax. We'd be there to meet him with a microphone under his nose asking how he felt. He gave us his precious time to be fair."
Having a veteran manager who dealt with fellow players as a father helped Lewis when he worked with the SFA as a communications officer. "I worked in club TV and with the national team before and one of the things my dad did was give me advice on how to deal with players," he said.
Amy on Lewis: 'I'm chuffed he is here but there is a pecking order'
Having your wee brother join you at work sharing embarrassing stories would be enough to annoy most big sisters.
Amy, 31, is more relaxed about Lewis joining her at the BBC. In fact she wasn't even irritated when he started dating her best friend of 13 years.
"Everyone expected me to be annoyed by it, they said they would hate it if their friend was seeing their little brother," she said. "I wind Olivia up about that, she would never let me go out with her brother! But I'm delighted, my little brother is engaged to my best pal!"
When colleagues found out Lewis was joining the BBC Amy said the talk of the steamie was whether they got on.
"It's funny, a lot of people have said, 'how are you going to feel working with your brother on a small team?'" she said. "But that's the thing, we have such a close relationship anyway. He is one of my best friends, I'm not just saying this for a newspaper. Genuinely, we are very close.
"I felt he had a good chance of getting the job, but I had to remind myself I'm a bit biased when it comes to my wee brother. Then I heard from people on the interview panel that Lewis smashed it out the park. He did brilliantly.
"I'm so chuffed but, now he's in the door, I get to remind him there is a pecking order around here."
As children Amy said she dragged Lewis into her burgeoning broadcast empire. "We started making videos by borrowing cameras from relatives, and we came up with this show called Irons Lookaround. We grew up in Dumfries and Lookaround was a local news show and that was our wee version."
She said: "Because of my dad we grew up around the world of football which, when you think about it, is very competitive and not stable.
"That gave me an appreciation for the media which is quite a similar industry. It can be up or down and you can be criticised for things out of your control."
She also harbours ambitions for the pair to once more present their own show together for the BBC. "A show presented by the two of us would be the ultimate!" she said. "It's crazy to sit here and talk about it because now it might actually happen at some point. Maybe Irons Lookaround will be back?"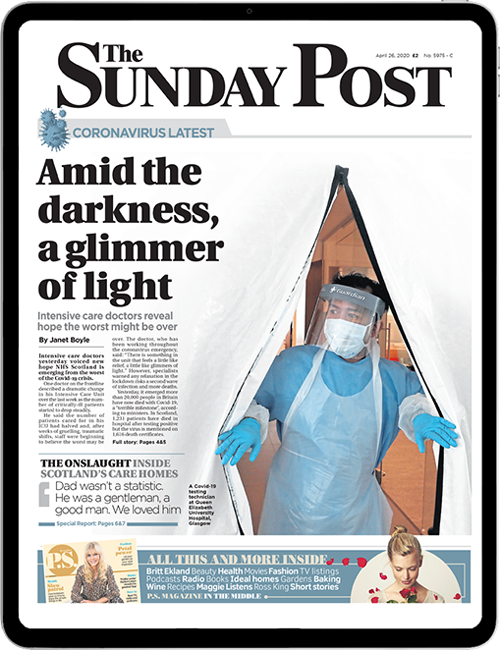 Enjoy the convenience of having The Sunday Post delivered as a digital ePaper straight to your smartphone, tablet or computer.
Subscribe for only £5.49 a month and enjoy all the benefits of the printed paper as a digital replica.
Subscribe