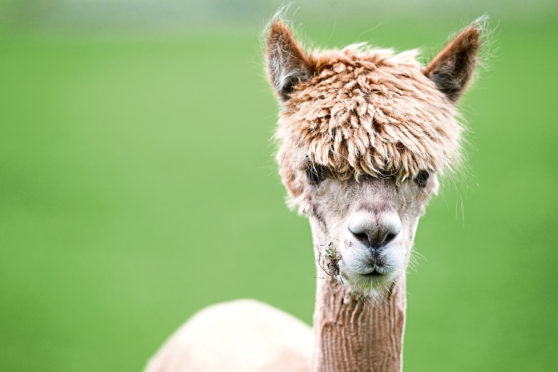 Alpacas are known for their cute looks and soft fleeces but are also loyal and friendly. As alpaca sanctuaries and trekking centres prepare to finally reopen across Scotland, Nicola Sanderson, who runs Senwick Alpaca Trekking, tells Laura Smith the Honest Truth about alpacas…
What are alpacas?
Alpacas are a domesticated species of camelid indigenous to South America. They are closely related to llamas but are very different. They are bred across South America for their soft, luxurious fibres. There are two main species, huacaya and suri, with huacaya being the most common. They are pack animals and like to stick together in a herd but actually have their own personalities.
When did you start keeping alpacas?
Our alpaca herd lives on our 320-acre, family-run farm near Borgue in Dumfries and Galloway. We got our first two alpacas, Ian and Ned, from a herd in Northumberland in 2016, after I had the idea that alpaca trekking would be a unique tourist attraction for the area. We were inundated with requests and later added five more males.
What do you think makes them so popular?
Trekking with alpacas is a very immersive and personal experience. We only take 10 people out at a time. People bond with their alpaca and physically relax during a trek.
Alpacas are very sweet and, for a lot of the year, are covered in fluffy fibres that make them very tactile and they love being petted. Alpacas are so friendly, docile and careful with children. Our youngest son, Joel, has been taking Dexter, his favourite, out on treks since he was two.
How have they adapted to life in Scotland?
Alpacas are from South America but would be grazing in the summer at 10,000 metres in places like Peru, so are actually used to cold temperatures. We bring them inside in winter when the weather is wet. They are outside to graze when the weather is nice and we bring them inside the lambing shed in bad weather to protect their beautiful fleeces.
Do alpacas make good therapy animals?
Yes, we offer therapy sessions for children and adults who have emotional and learning difficulties, and adults with dementia. Before the pandemic, we also took two alpacas to a local care home and the residents loved it.
We didn't set out to offer alpaca therapy but realised our gentle alpacas were amazing at putting people at ease. Even people in stressful jobs tell us being with the alpacas is good for their mental wellbeing.
We've had people who rarely go out or communicate light up when they're with the alpacas and open up. I think it's because alpacas are so patient, calm, gentle and intuitive; they don't overwhelm people. They break down emotional barriers and allow people to be themselves. It's the alpaca effect!
How do they get on with other animals?
The alpacas live in a paddock next to our farmhouse with our sheep. They've actually assimilated into the sheep flock. During lambing season, the alpacas were in the field while the treks were cancelled, and they actually acted as guards for the lambs and any ewes giving birth. If a ewe forgets about a lamb, the alpacas will circle it to protect it.
What have they been up to during lockdown?
The alpacas have spent the majority of the winter resting up during lockdown and have been companions to our flock of indoor lambing ewes in the warm cosy shed over the wettest part of winter.
The alpacas are very protective of the lambing ewes and will hum or sing to them.
We're looking forward to welcoming trekking guests from across Scotland from April 26.
We run alpaca treks, family meet and greet sessions, stress busting sessions and will hopefully host weddings later in the year, where brides and grooms can have pictures taken with our alpacas and guests can interact and pet our friendly boys throughout the day.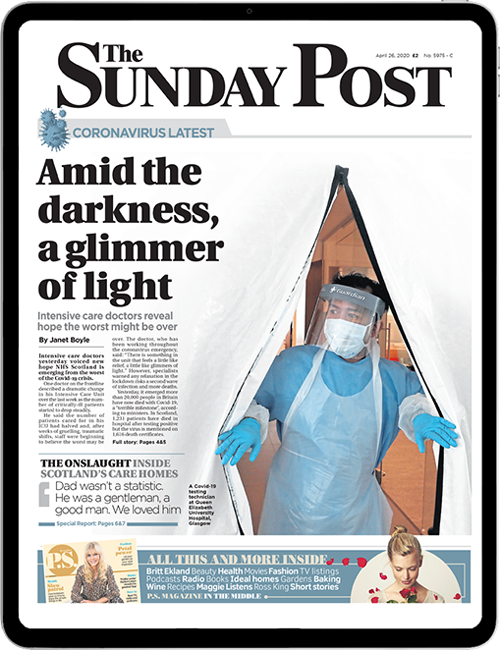 Enjoy the convenience of having The Sunday Post delivered as a digital ePaper straight to your smartphone, tablet or computer.
Subscribe for only £5.49 a month and enjoy all the benefits of the printed paper as a digital replica.
Subscribe