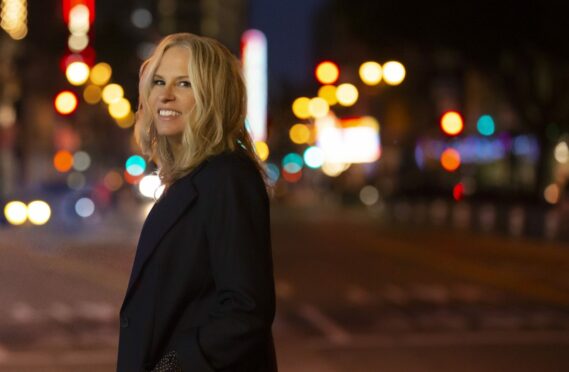 Vonda Shepard can remember watching an early preview of Ally McBeal and being so sure it would be a hit that she relocated from New York to Los Angeles in anticipation.
She had been hired to be the singer in the bar that McBeal and her colleagues frequented after work each night in the offbeat comedy drama, which was filmed in LA.
Shepard's intuition was right, because Ally McBeal was an immediate worldwide hit, winning a number of awards and making stars of each of its cast, including Shepard, who appeared in all 112 episodes.
Twenty-five years after the show began, and with a reboot in the works, the singer is in the UK to celebrate the anniversary by performing songs from the show, as well as tracks from her new album.
"Life changed overnight," she said about the surreal series set in a Boston legal firm, which first aired in September 1997. "I had been living in New York at the time but I moved back to LA once I saw the pilot because I knew it was really going to be something, it was going to be a success.
"It was a unique show, with quirky characters like John Cage, played by Peter MacNicol, and of women breaking through into the workforce and expressing themselves. The quirkiness of the show was a huge part of it and it felt like the series came along at a good time. It had a lot of different and cool elements to it, and then there was the music, which connected with people on an emotional level."
The series followed the title character, played by Calista Flockhart, who joined Boston law firm Cage & Fish, co-owned by her law school classmate Richard Fish. Her colleagues included Billy Thomas, an ex-boyfriend she was still hung up on, and his wife, Georgia. The dynamic between the trio drove the plot for the first three seasons of the show. Robert Downey Jr then joined in the fourth season as McBeal's love interest.
Throw in moments of surrealism such as the dancing baby and McBeal's tendency to fall over when she met someone she found attractive, and it added up to a winning combination.
Creator David E Kelley, who also wrote LA Law, The Practice and Big Little Lies, had originally envisioned star Calista Flockhart to be pouring out her emotions through song at the end of each episode, but after watching Shepard perform in a club one evening, he approached her to be the show's musical voice instead, acting as the Greek chorus to the series' characters.
Her song, Searchin' My Soul, which she had recorded years earlier, became the theme tune and reached No. 10 in the UK charts.
Shepard, 59, had no idea what she was agreeing to when Kelley offered her the job, but soon realised it would lead to the success she had been looking for since becoming a professional singer 10 years earlier.
"Suddenly there was a budget for clothing and there was attention and interviews and an insanely busy schedule," she smiled. "It took a lot of getting used to but it also came naturally to me in some ways. I think part of that is down to the amount of excitement there was after years and years of working so hard and finally getting to a place where there was some recognition.
"I remember playing a festival in the Midwest right at the beginning of Ally McBeal, and when I stepped out on stage there were thousands of people screaming. It was my first experience of that and I was over 30 years old. I remember thinking, 'something is happening here, something real'."
Shepard had begun singing and playing piano at a young age. Her dad was a mime artist and improvisational actor, and the family home would often be populated by clowns and circus performers he befriended. Shepard was very shy amid this unusual backdrop but found an outlet through music.
She performed in clubs from the age of 14 and six years later was invited to join Rickie Lee Jones' band as keyboard player and backing singer. It was the start of a long career as a back-up vocalist, which she did while trying to launch herself as a solo star.
"I've been all around the world as a back-up," she said. "I played some huge places when I was really young, like Wembley Arena with Al Jarreau. I worked with Jackson Browne as well, he let me open for him and let me be part of his band, so I could earn a living while I was working on my albums."
While she was touring with these acts, she was signed by Warner Bros and released her debut album in 1989. Her follow-up two years later, The Radical Light, contained the original version of Searchin' My Soul, but she was dropped by her label and went down the independent route for third album, It's Good, Eve, which she was promoting when David E Kelley provided her with the break she had been looking for.
"I was very happy with the music, especially It's Good, Eve, but I wasn't fulfilled by my success levels," she admitted. "I had what I thought was a really good album and I was struggling to promote it. I was living in New York City, playing the tunes to 20 or 30 people a night, so it was rough. I had great moments and times during that period, but Ally blew open the doors for me to tour all over the world, which was a real gift. I needed it and I wanted it."
Shepard wasn't just performing a song at the end of each episode of Ally McBeal. Music was such an integral part of the series that she was hired as its music producer, and she produced more than 500 songs, recorded covers and also collaborated in the studio with some of the world's biggest musical stars.
"That made up most of my work on the show – I'd go to the studio at 10am and would sometimes stay until 3am. Some episodes contained 20 songs. David E Kelley leaned a lot on the music. I think he used about 12 songs from It's Good, Eve in the show, which was incredible, a dream come true.
"I worked with all of these amazing artists like Sting, Jon Bon Jovi, Gladys Knight, Al Green and Randy Newman. I felt really comfortable in the studio because I'd been there since I was eight years old recording my demos, so it was a natural environment for me. I worked constantly and then during the hiatus in the summer I would go on tour in Europe and the UK."
Shepard recorded four albums for Ally McBeal, in addition to her nine solo releases, the latest of which, Red Light, Green Light, has just been released. She recorded it with her husband, Mitchell Froom, the renowned record producer and current Crowded House band member with whom she has a son, Jack.
It was written and recorded during the pandemic and was a reaction to world events.
"I felt such a need to get some of these things off of my mind and converted into something beautiful and lasting that was positive, because it was so painful going through the pandemic and the political landscape. It was cathartic to write about all of this going on in the world and about being a mom, so I focused and hunkered down.
"Working with my husband is not the easiest thing but I've got used to it and I know how to work with him. He knows I'm pretty sensitive so he has to be careful with his comments, but he's a very honest person and an incredible arranger-producer-musician. I love 90% of his ideas and I'm always really excited to hear what his brain has put together. I have so much respect for him and the experience is mostly amazing."
Shepard is looking forward to performing again in the UK and she's also excited about the prospect of an Ally McBeal reboot, featuring a new cast.
"I've just heard that it's most likely happening, for real," added Shepard. "I've not been approached yet but I would love to be – it would be so much fun to go back and do that show.
"It's a whole different vibe, which is awesome, and I'm dying of curiosity to see what it's all about."
---
Vonda Shepard, Oran Mor, Glasgow, Thursday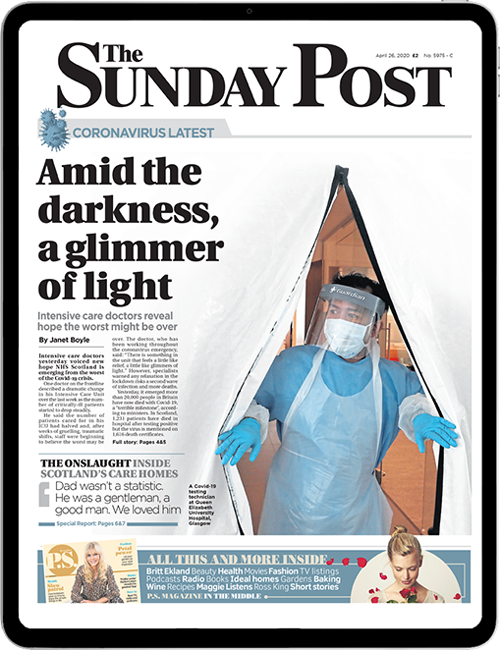 Enjoy the convenience of having The Sunday Post delivered as a digital ePaper straight to your smartphone, tablet or computer.
Subscribe for only £5.49 a month and enjoy all the benefits of the printed paper as a digital replica.
Subscribe