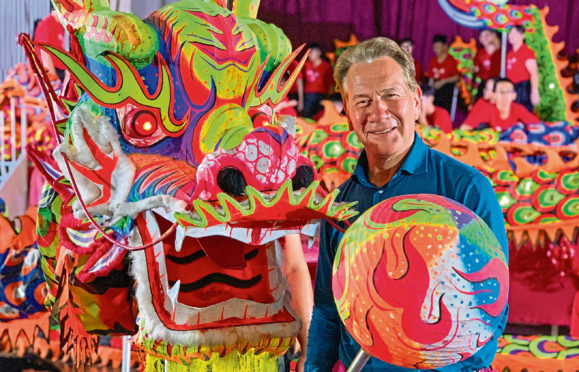 Michael Portillo is partial to a colourful blazer or two.
Those who have seen the politician-turned-broadcaster in action on Great British Railway Journeys will have noted his clashing combos become a series staple – a "standing joke" that has grown with the show.
And the more flamboyant the better, he has said previously: "For it has a couple of advantages as far as TV is concerned: one is you're bright and joyful at the beginning of a show; and the other is that in a long shot I'll be the only person dressed in a shiny pink jacket on the bridge, so you can see where I am!"
"It's funny that you should mention this… I spent part of this morning with my tailor planning new jackets for next year!" Portillo, 66, chuckles now, when we speak on the phone.
"Normally I get two or three new ones a year, so there's not a total turnover – viewers will be able to see old favourites from several years ago no doubt – but the stock is refreshed!
"And then of course there has to be new accessories, new shirts, new trousers, new socks, new pocket handkerchiefs, new nightshirts…" he tails off.
It's been 15 years since the Hertfordshire-born star left politics behind.
The successful minister – who has served on everything from transport to employment to defence – announced he would stand down in 2005, by which time he had already built up a portfolio of media work.
Since then, Portillo has transformed himself from a once stressed (his own words) politician to that of a popular presenter, fronting everything from straight history in Hidden History Of Britain to documentaries and beyond.
"I don't look back (at my political career) with any sense of nostalgia," he insists.
"I've been lucky because there are vast numbers of former politicians – mountain loads – who I expect would each like to spend his or her second career in television, but not many of us have got to do it!
"So I've enjoyed both halves of my career very much indeed."
The latter half has seen him travel the globe, with Great British Railway Journeys – now on its 11th season – extending its travel documentary format to other territories including America, India, Australia and Canada.
Now Portillo has embarked on another adventure in Great Asian Railway Journeys, taking in the likes of Hong Kong, Thailand, Vietnam, Indonesia, Malaysia and Singapore over a 20-episode run that sees him explore everywhere from towering megacities to magnificent mosques.
"I've been keen to take the series somewhere new each year," he reasons of the spectacular 2,500-mile journey, undertaken with his 1913 Bradshaw's Handbook.
"The basic elements are the same: we're travelling by train, but we're uncovering history.
"I was looking forward to going to Vietnam because I'm of a generation that remembers the Vietnam War.
"And when you get there, the Vietnamese people are so generous after a war that was so destructive.
"I think the 21st Century is going to belong to Asia; there's such a lot of activity, development and so much infrastructure, such energy, so much education, it's a very dynamic place. I felt a sense of passing the baton, if you like, from the older world to this one."
And where to next?
"Later in the year, we've got a series in Europe," he details. "(As for further afield), what we need to determine where we go is referenced in our Bradshaw's Guide and sufficient railway infrastructure to get around.
"If you go to China and Japan, to name places that I would like to go in the future, because of high-speed trains you can cover huge amounts of distance without taking up a lot of the schedule… on trains!"
---
Great Asian Railway Journeys is on BBC2, weeknights at 6.30pm.