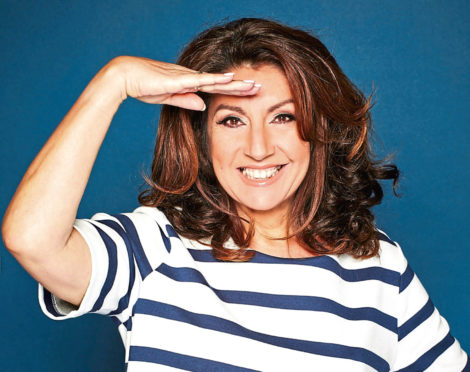 Jane McDonald is delighted to be back with new episodes of her Cruising series on Channel 5.
In Friday's show, the second in this series, she's off to the Mediterranean Riviera.
"This is Europe at its best," enthuses Jane. "Rome, Florence, Pisa, Monte Carlo… places we've all heard of, but then having a private guide now and again, to show you places that you would never, ever have dreamt of.
"And this was a foodie cruise, on Oceania – oh my! That is the first cruise I've put on about eight pounds.
"Normally I manage to avoid putting on weight while filming.
"I cut myself down. If I have a breakfast, I don't have a lunch. If I have a lunch, I don't eat breakfast.
"But my biggest advice: take something with an elasticated waist for the end, because you're going to need it.
"I've cut down on sugar quite a lot," she adds. "I eat a lot of salads when I'm at home.
"But when I'm away, I'm away, and I don't want to be on a diet on a cruise because I want people to see what they can have. If I'm going, 'Oh no, I can't have that' then what's the point of going on a cruise? So I have a taste of everything, no matter what it is."
In the third episode of the new series, Jane heads to the Balkans.
"I would never have thought, 'Where shall I go? I know, Bratislava and Belgrade.' But what a cruise that was.
"To sail out of Budapest on a night and see that skyline all lit up with golden light, glass of champagne, meeting the passengers; it's just breathtaking."
She also sailed through the Iron Gates (a gorge on the River Danube between Serbia and Romania) at six in the morning…
"For me to get up at 5am – never heard of," she laughs. "But I'm really glad I did it, and honestly, I've got no make-up on, I'm in my dressing gown – I look shocking.
"But it doesn't matter, because that view, and the fact that people have also got up with no make-up on, in their dressing gowns…
"Having a cup of tea, on the top of a river cruise, at 6am watching the sun come up – I mean, wow. Things like that don't happen.
"Basicall
---
y, that is my life right now. Tired doesn't come into it, really, because I'm that excited about everything that I'm doing.
"And on Jane And Friends (her variety series which also airs on Channel 5), I work with the band and all my mates.
"We spend half a year on a tour bus; we're all very close. So, to actually to be in a TV studio with these people and having a really good old time… you can see the chemistry."
Does she ever worry about burning out?
"Yeah, but I have got bundles and bundles of energy. If I've got nothing to do, I'm dangerous.
"And I've already planned next year – next year is already full. I don't give myself time to be ill or poorly or think, 'I can't do that.' I'm just thinking, 'I've got all that next year, how fantastic is that.'
"I'm doing two arenas at the end of the year as well, for a big Christmas show that we've put together with the band. So, I work right up until Christmas."
Her other half must be very understanding…
"I call him the silent assassin, because Ed is the one who sits down and works out my year with me," says Jane.
"He's very much a part of every contract that I sign – we sit and discuss absolutely everything. So, if people think 'God she's leaving him again' actually he's part of my business.
"He's the one that says, 'Go off and do it while you can' because he did – he did it for 35 years. Now he's enjoying his time at home, and he'll say, 'This is your time now, go and enjoy it.'"
---
Cruising With Jane McDonald is on Channel 5, Fridays at 9pm.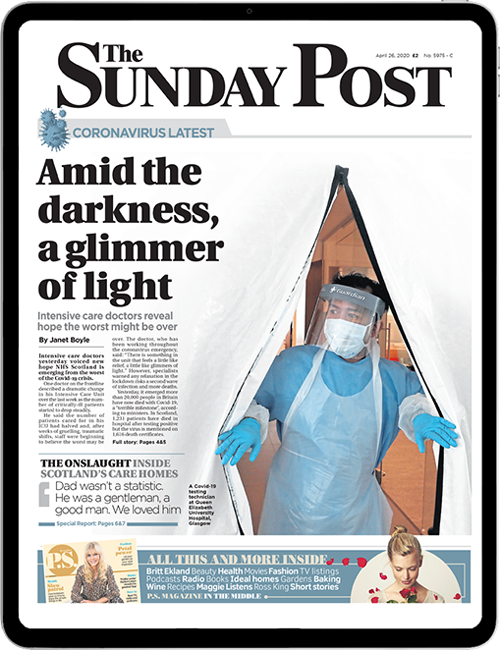 Enjoy the convenience of having The Sunday Post delivered as a digital ePaper straight to your smartphone, tablet or computer.
Subscribe for only £5.49 a month and enjoy all the benefits of the printed paper as a digital replica.
Subscribe