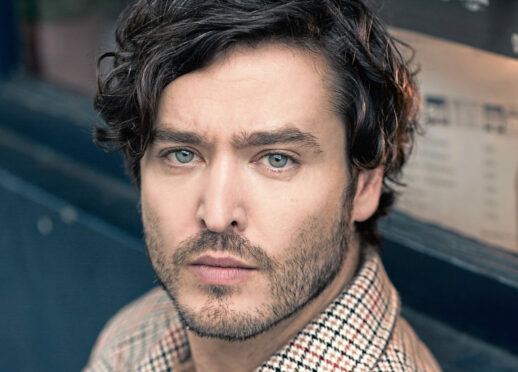 The Welsh actor talks about joining the cast of Outlander, period dramas and working with Kenneth Branagh.
How does it feel to be joining Outlander?
It's a little daunting to be stepping into a juggernaut of a show. It felt like the first day of school a little bit – hoping they liked me. But Sam (Heughan) and Cat (Balfe) are the most wonderful company leaders and welcomed us in. I can't speak highly enough of them.
Who is your character?
Allan Christie is an overprotective brother and he lives in his father's shadow, but it quickly becomes clear he is very different from his father.
There's a mischievous side to him but there is also a dark storyline bubbling under the surface right until the end of the season. The Allan we meet in episode one and the one we're left with are two very different people. It's great to work on a character arc like that.
How was it filming in Scotland during lockdown?
It was odd. The world was grieving and mourning, but through that you realise you need to create art and put your passion and talent into something like this, so that the fans can have relief from what's happening outside.
Outlander pair on how the fun never stopped on their grand tour of the Highlands
It felt like a service. Filming in Scotland was wonderful but I missed not socialising with the team, because I love the social aspect of the job.
I experienced every season in Scotland and it was beautiful. We started in the first week of January, so I had snow, a beautiful spring, and then summer – and the dreaded midges. I was talking to locals and they told me I just had to let them do their thing. Are you serious, I asked!
Did you have to master a Scottish accent?
I did. During our early read-throughs, our dialect coach, Carol Ann Crawford, told me I was doing a lot of Trainspotting. I was in Scotland, at least, but it was the wrong city.
Are you ready for the level of fandom that comes with a show like Outlander?
Being in shows like Merlin and Versailles, I know about diehard fans, but Outlander is on another level. I think the fans who watched Versailles also watch Outlander. From my experiences, with great fandom comes a lot of love.
Outlander star Colin McFarlane keen to explore his Scottish links further
How did your role as Monsieur Philippe d'Orleans lead to you being cast in Outlander?
One of Outlander's showrunners, Matt Roberts, turned on his TV after coming home one day and saw me on Versailles. This was a few years ago. Versailles led to this offer, for which I'm eternally grateful. They always said I'd be their Allan, but I don't know if it's a compliment!
You've also joined the cast of another period drama, Sanditon?
I've done lots of period dramas – I don't know what it is, but I'm super happy they are seeing something in me.
I went straight to Bristol from Outlander for Sanditon and we did seasons two and three back to back, which was intense.
I play Charles Lockhart, an extroverted artist, who shakes things up a bit. He's nothing like Allan. You're going to see a lot of me on TV screens in March.
What was it like working with Kenneth Branagh on Macbeth?
He's a genius. He really took me under his wing and looked after me when we performed. It was very strange to be acting alongside him – his brain is so quick, so he can direct himself.
He would come out of a scene, give notes, and then go back in, and I looked at him, wondering who can compartmentalise like that, to play Macbeth and also direct 16 people. He's a wonderful man.
You're interested in directing?
I have my own production company, Cowhouse Films, and I'm in the process of finishing writing my feature film, which I hope to get going. This is my passion – it's the part that give me the most fulfilment.
---
Outlander starts today on StarzPlay via Amazon Prime. Sanditon begins on Britbox on March 21 and later in the year on ITV.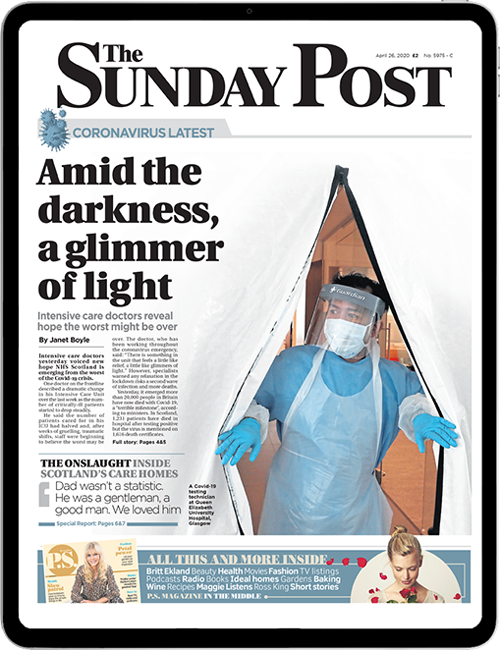 Enjoy the convenience of having The Sunday Post delivered as a digital ePaper straight to your smartphone, tablet or computer.
Subscribe for only £5.49 a month and enjoy all the benefits of the printed paper as a digital replica.
Subscribe