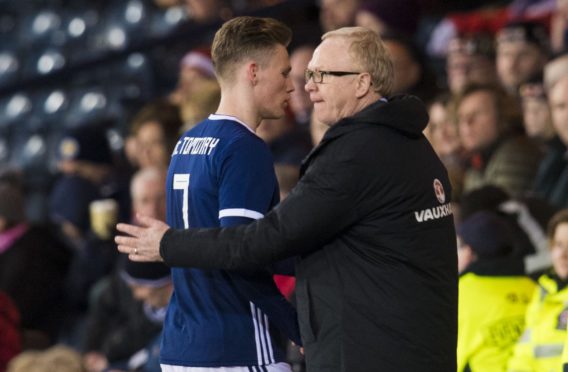 A keen film fan, Alex McLeish is tickled by the idea that were Hollywood ever to tackle Scott McTominay's career, his own part in the tale has scope to be spun into a quest of Indiana Jones proportions.
It was three years ago this month that the then Scotland boss battled his way through the "Beast From The East" to ensure the Manchester United midfielder committed himself to the land of his father's birth.
McTominay will go to the Euros in the summer as one of the country's key players – and is fast becoming one of the English Premier League's hottest talents.
His extra-time goal against West Ham got United into the FA Cup quarter-finals, and he has come a long way since the storms of 2018.
"It is a good story to look back on, even if it does all sound a bit mad now," admits McLeish.
"The Beast was pretty fierce, and on the night I went to see Scott, we were talking snow storms plus planes and trains getting cancelled left, right and centre.
"At the time, though, there were rumours of Gareth Southgate and England being poised to pounce, and I did fear he was going to go with them.
"My thinking then was : 'Southgate is going to phone him in the next 24 hours, and if I don't get there, we will lose him'.
"This was at a time, too, when we really were craving a wee upgrade in quality.
"So in spite all the bad weather, I battered on. But it wasn't easy as the trains kept getting stopped or delayed.
"By the time I got to York, it must have been two in the morning.
"There were two trains left. One that would have taken me home, and the other on to Manchester.
"You have that parrot on your left shoulder, saying: 'Just quit and go home to your bed', while the one on the right is telling you: 'No, you have come this far, you can't stop.
"So I listened to the second one, travelled on to Manchester, and must have got in about 4am.
"Listen, I could have made a phone call to Scott. But I wanted to see him face-to-face, to show our commitment to him.
"Jose Mourinho had made a public invitation to us by saying: 'I think Alex McLeish has to give me a call'.
"And having seen him in action for myself by then, I believed he could be a player for us.
"So that was what the trip was all about, and having survived my battle with the elements, I went in to see Jose the next day.
"He was in good form and, after a bit of lunch, we got Scott into his office.
"I said: 'OK, $64,000 question, big man – will you be willing to play for Scotland?'.
"He replied straight away: 'I never had any other idea in my head!' which was fantastic news.
"I told Scott he had made my trip, and said that I was sure once he established himself with United, he would go on to be a Scotland regular."
While that is now very much the case, the midfielder has had to develop on the job.
McLeish acknowledged: "Listen, he was not going to come to us and, in the very first game, say: 'I have got all the answers for you, Alex'.
"But look at the strides he has made now.
"We experimented in that Costa Rica game (a 1-0 defeat at Hampden), and put in eight new faces.
"Years ago that would never have happened, but I thought before we had to saddle up for the competitive games: 'Let's have a look at all the lads who are just beginning to play for clubs at the top level'.
"So we had Scott and also the likes of the lads at Fulham, Tom Cairney and Kevin McDonald.
"People thought with Scott: "He is Man. United, so he must be brilliant – let's assess him instantly'.
"In that Costa Rica game, we were trying to find a bit of rhythm, and the game passed by a lot of the boys in a bit of blur, to be honest.
"But the more they play at the highest level, the more they come on.
"There was a time when I said to Scott's agent: 'Do you not want him out (on loan) because if you do that, he will play every single week?'.
"Then, all of a sudden, Scott just started to play regularly – not as an absolute first-choice, but he was coming on in wee bits and pieces.
"Since then, he has grown in confidence. He was always a big lad with a good physique, and he now has a real stature on the football pitch.
"An example is his passing. He used to really strike the short ones – the five or 10-yarders – right at his team-mates, and I remember saying to him: 'You can have a feather touch at times'. Now when you watch him, he has got that in his game. He has a real range of passing, and is looking extremely comfortable.
"Steve Clarke has a done a good job with him as well, giving him experience in the back three with much success.
"We have qualified for the Euros, and it is down in no small part to big Scott playing in there."
Manchester United manager Ole Gunnar Solskjaer has spoken of asking the Scot to push forward whenever he is able, and McLeish expects the current Scotland boss to follow suit.
"I would think that will now be a feature of our play," he said.
"While John McGinn was in impeccable scoring form in the games, our strikers were not always looking like they would score," he said.
"Scott is a powerful man, and if he gets to the edge of the box he has the ability to really his shots in.
"He has the ability to do a protection job as well, but he also has the legs to go up and down so he could be a No.8, and go box to box.
"It does look like one of those rises to a high status in the game. It is great Scott is doing so well and it is fantastic for the country.
"We have got him at the highest level. We have John McGinn, Andy Robertson, Kieran Tierney and Stuart Armstrong. All these boys are performing at the highest level in the EPL.
"Nothing is going to scare them, and they will impart knowledge and confidence onto the boys who are playing in Scotland and elsewhere.
"With the Covid vaccine with us now, not only do we have the exciting prospect of them all playing at Wembley against England in the Euros, but that there will be fans at the game, too.
"England versus Scotland is one to evoke all sorts of memories.
"There are some famous Scottish victories for us to look back on and, of course, England will be flying their flag as well.
"We have all been through some hard times and the qualification is a boost for us all.
"Will I be proud to see Scott run out in those games? Of course, I will – but I think any manager in my position would have done the same.
"His enthusiasm on hearing my question about playing for us told me that I could have probably delayed it.
"But he was worth my adventure!"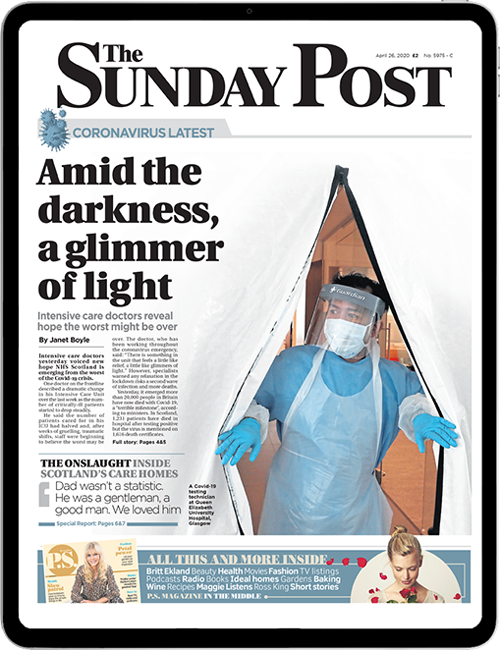 Enjoy the convenience of having The Sunday Post delivered as a digital ePaper straight to your smartphone, tablet or computer.
Subscribe for only £5.49 a month and enjoy all the benefits of the printed paper as a digital replica.
Subscribe