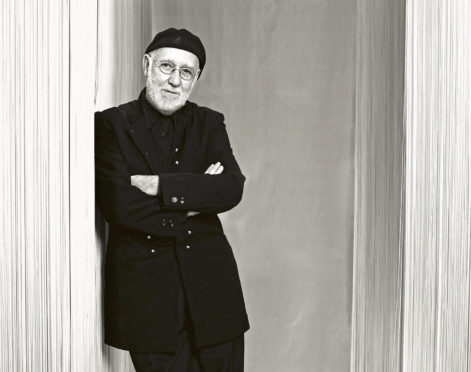 To become one of the world's foremost fashion, art and celebrity photographers Albert Watson uses a secret weapon: being Scottish.
With more than 100 Vogue and dozens of Rolling Stone covers under his belt, the New York-based snapper says his Scots charm has helped him take portraits of some of the world's most famous people, from Al Pacino to Jack Nicholson to Mick Jagger.
"My secret weapon is I'm Scottish," says Edinburgh-born Watson. "Compared to other nations we are quite chatty. And more than simply being chatty, I think Scottish people are very often genuinely interested when they talk to somebody.
"We're not fake. You can't do that with a lot of heavyweight personalities like presidents or royalty. They tend to see right through that. If I'm photographing somebody like that I can't just start saying, 'you're fabulous, you're incredible, you're gorgeous'. It doesn't really work at that level. Your best weapon as a photographer is your own personality. I always say to young students to use your personality as much as your equipment."
Watson, 79, studied at Duncan of Jordanstone College of Art and Design in Dundee and, during the course of a stellar career, has gathered much more than just a portfolio of incredible images.
He has also collected a wealth of experience he's now sharing in a book called Creating Photographs.
As well as a selection of some of his most memorable images the book also contains tips for aspiring photographers.
"It's a bit like buying a home where location, location, location is important. With photography the key is preparation, preparation, preparation. A lot of young photographers don't like to prepare, they want to be spontaneous. Spontaneous is good, spontaneous can work.
"But call spontaneity your Plan B. Your Plan A is to be organised and disciplined and prepared.
"It's not to say don't capture something unplanned. If something magical happens spontaneously that's great. If you're prepared you'll be ready for it."
Having invited Al Pacino to his studio for a shoot, Watson prepared for his subject as much as he prepared his film and lenses.
"I contacted his assistant and asked if he would like breakfast but apparently he doesn't eat in the morning," explains Albert.
"He does drink coffee though. His assistant told me Al likes Sicilian espresso coffee served with lemon rind so I went out and bought an espresso machine. The next morning I gave him his favourite coffee. It made a big difference to the shooting because he knew we had done the homework."
Albert Watson: Creating Photographs is released on Thursday
---
Here, Watson shares the stories behind his most famous shots.
---
Gigi Hadid, 2019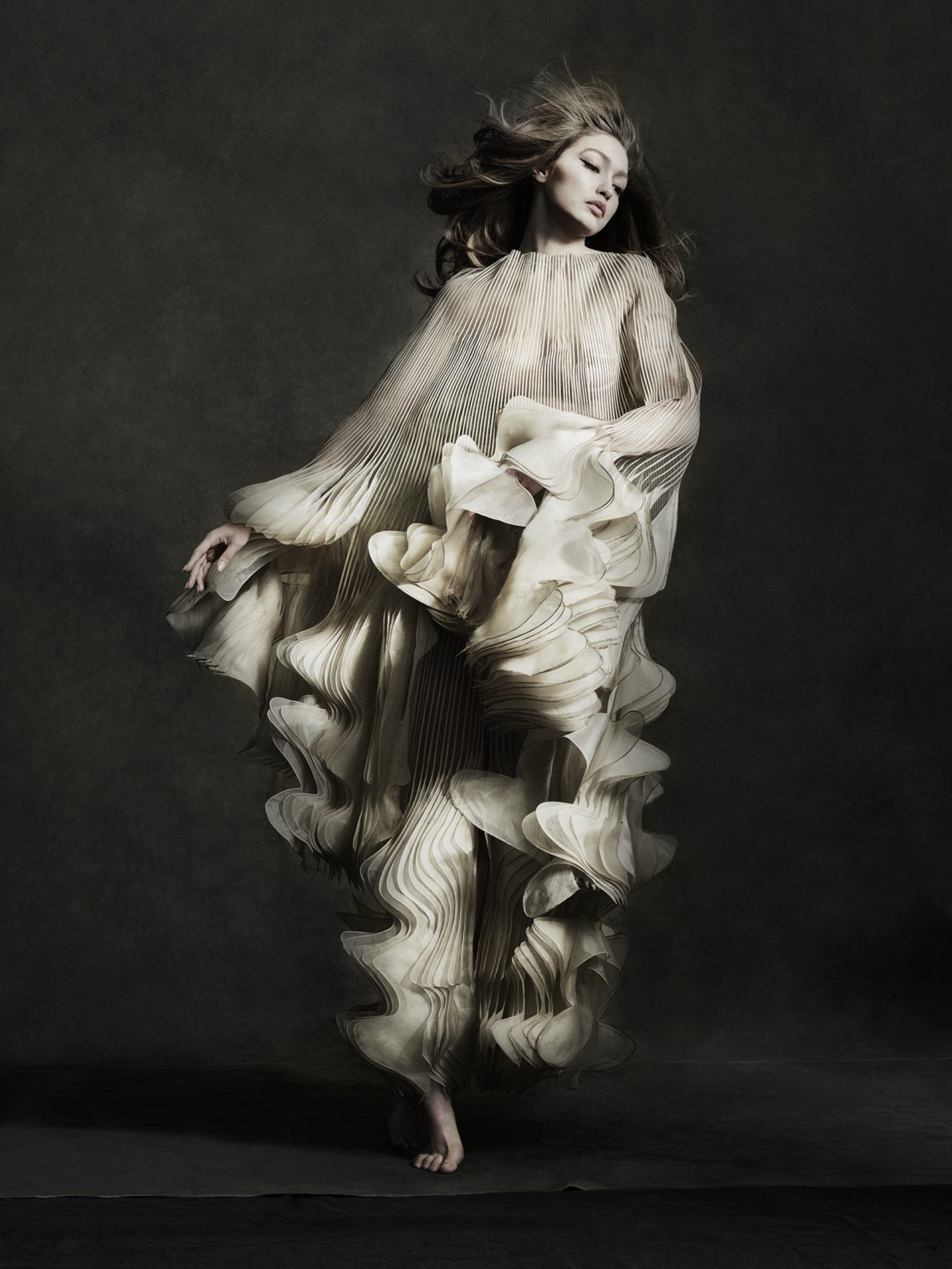 "Gigi is wearing a van Herpen dress which sell for about £40,000.
"There are certain models who are brilliant with wearing clothes, understanding clothes and moving in clothes, like Christy Turlington or Naomi Campbell.
"Whereas Gigi is a more modern model in that she runs through about 30 or 40 poses and you just have to shoot them and hope something is right. It's a bit like Russian roulette.
"I wanted to control her a lot more and we worked out a system where I got her to move in a certain way.
"To get her to move like that was a little difficult. She's very professional and she followed that suggestion and that's how we got this shot."
---
Mick Jagger, 1992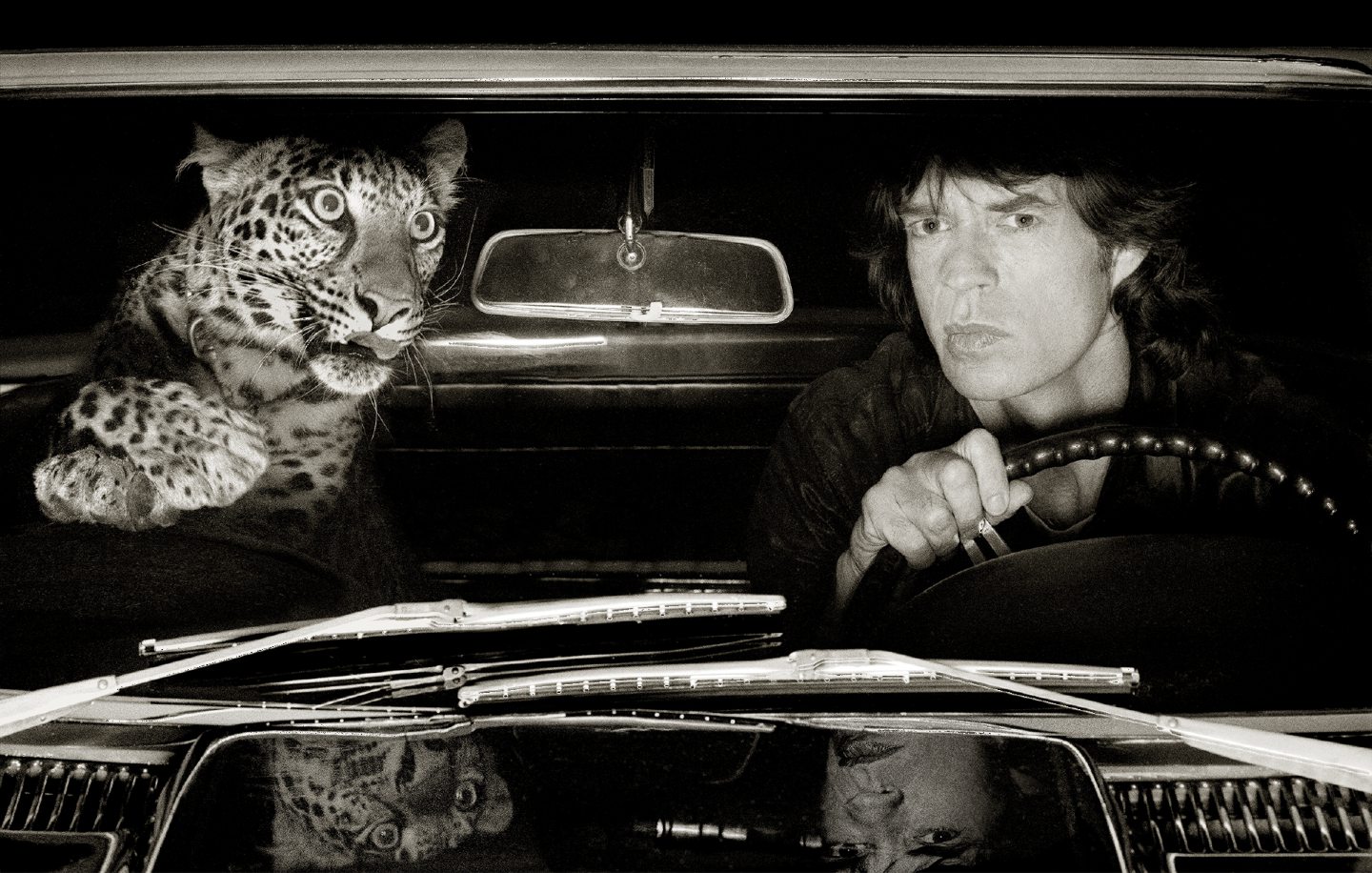 "The idea for this Rolling Stone shoot was to shoot Mick in the car with a plexiglass partition separating him from the leopard. The plan was to put the partition down the middle of the page, in the gutter, so it couldn't be seen.
"I was hoping the leopard was going to behave. Of course it was very interested in Mick and not as a fan. It looked a bit hungry; Mick was obviously very concerned about this.
"Over the years I've photographed a lot of cats. I once photographed the King of Morocco with his pet cheetah, and it was much easier to deal with than a leopard, which is closer in ferocity to a lion. I told Mick cheetahs were easier to deal with and he said, 'well why didn't you get a cheetah then?'"
---
Chrissy Turlington, 1987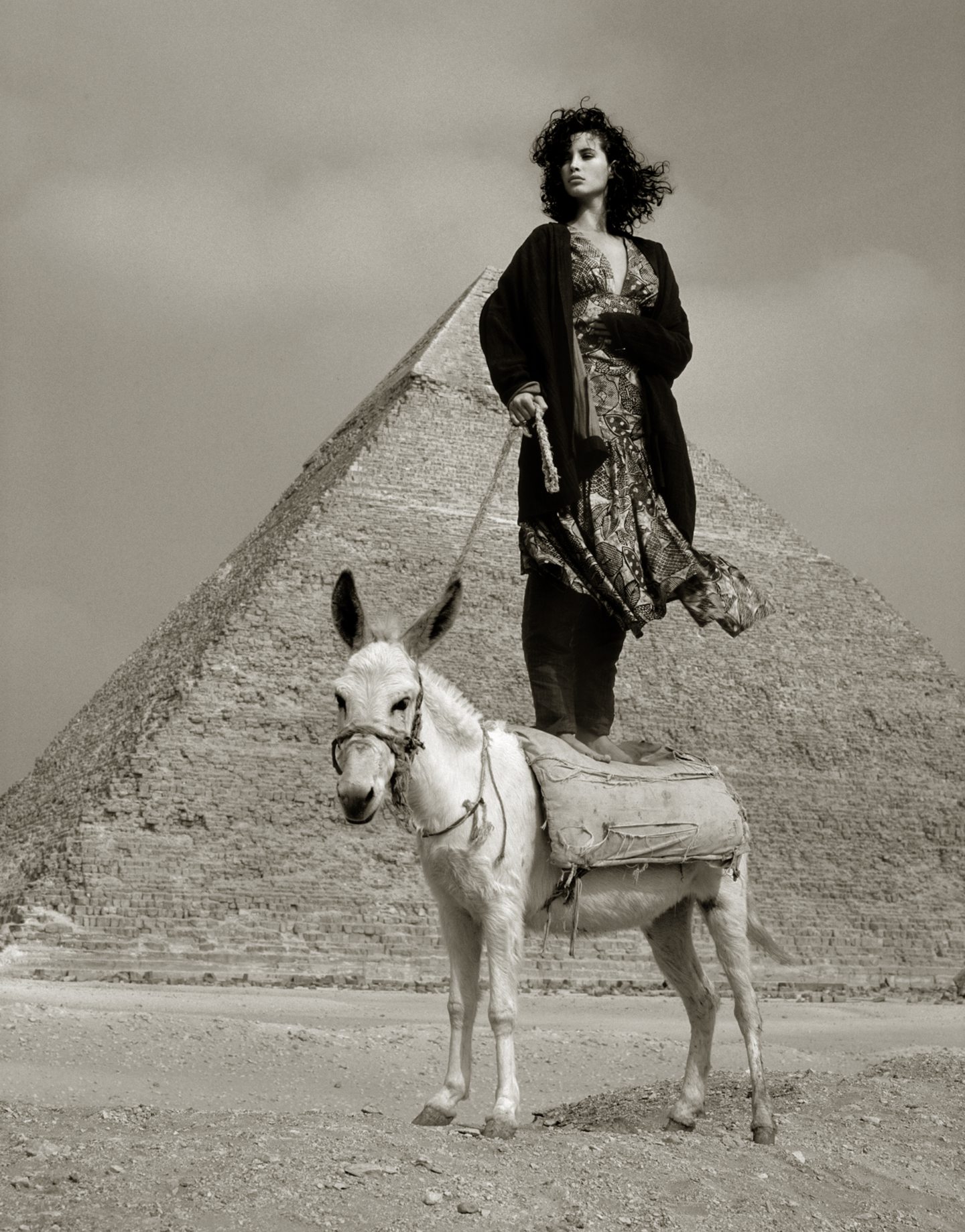 "The way these assignments work is you have to photograph the dress you're given. I can't say if I've been given a red dress to say I fancy photographing a blue dress.
"So we have Christy Turlington in Egypt wearing this dress. What am I going to do here, I thought.
"We're in Egypt so I could have got a picture of her with some sand in the background, but it could have just looked like Broughty Ferry with a beach in the background.
"Christy in front of a pyramid was an option. Christy with the donkey in front of the pyramid was another. That felt a bit corny.
"Then I had an idea to have her stand on the donkey.
"For me it made the shot more surreal, and it was also a pristinely perfect shot of that dress."
---
WKate Moss, 1993
"This shot is what we call solarised, which gives it a slightly strange look. You reverse the tones through overexposure, which has the effect of looking like a negative image.
"The process was discovered accidentally by an American artist called Man Ray. He was developing a black and white print and somebody came in and put the light on briefly in the darkroom. That flash of light causes the print to solarise.
"This shoot came at an interesting time when models were becoming supermodels. I worked a 14-hour day with Kate at a villa in Morocco and it was only at the end of the day Kate told me it was, in fact, her 19th birthday.
"I give her great credit for that; Kate is just super-professional."
---
Andy Warhol, 1985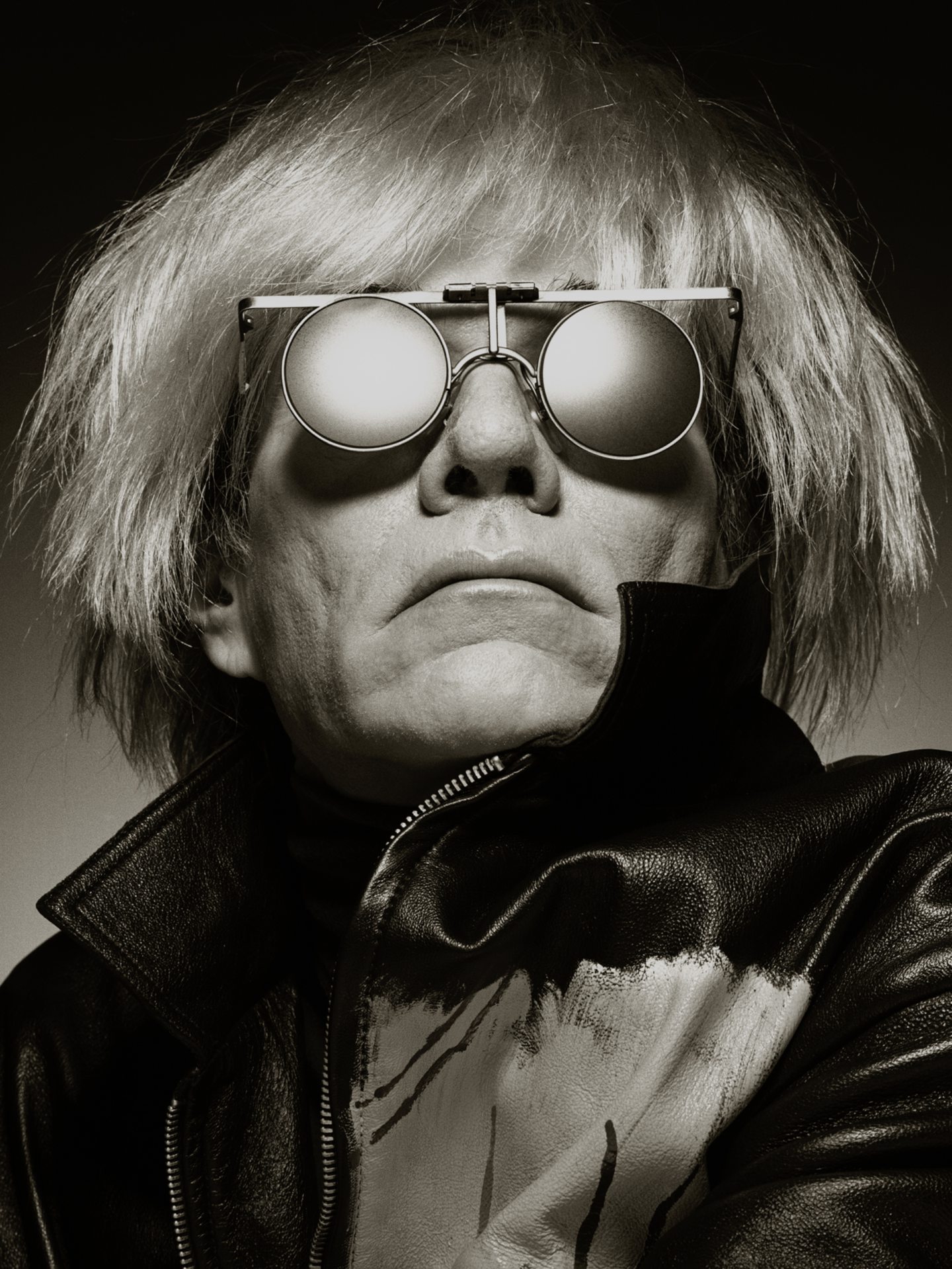 "It's perhaps not very well known but Andy Warhol was on the books of a modelling agency and, although he was shy, absolutely loved being photographed.
"He came in with a page torn from a magazine and said, in his squeaky, high-pitched voice, 'I was wondering, can you make me look like this?' It was a poster for Arnold Schwarzenegger's The Terminator. He ended up saying it was his favourite picture of himself.
"Andy was very funny. He told me he how once he was invited to Yale to give a lecture to students but the university were furious when they found out he'd sent a lookalike in his place.
"He said he didn't understand why they were so upset as the guy he'd hired gave a really good lecture…"
---
Glenda Jackson, 2018
"The interesting thing about the shoot with Glenda was that she shocked me…by turning up early. That's quite unusual!
"The shoot was at 10 o'clock and we arrived at 7.30am to set up. Glenda wasn't due until 10 but she turned up at 8.30am.
"She said, 'sorry I'm early but I'm hoping to get a smoke and a cup of coffee'.
"Glenda knows photography and these shoots are a necessary evil for an actor. She thinks, 'If I do what the photographer tells me, I'm going to get out of here quicker.
Of course she's quite choice with her words. She's not shy with using language. I thought she was beyond fabulous, very easy to photograph.
"The crown comes from King Lear, which Glenda was starring in at the time. We wanted this object she was thinking about, and we wanted to do the lighting in a clean and modern way."
All images by Albert Watson.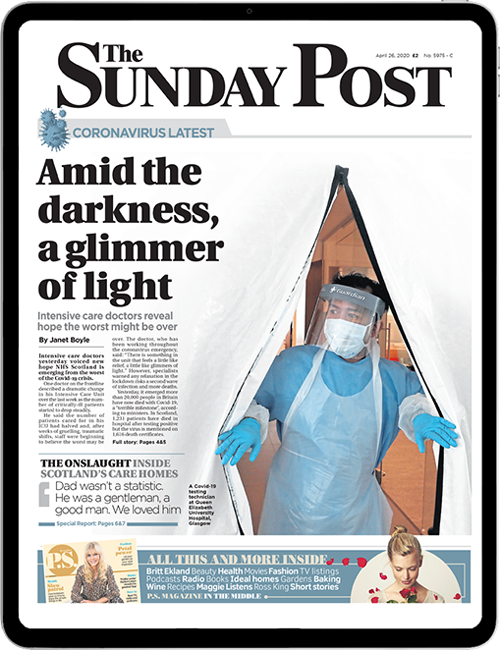 Enjoy the convenience of having The Sunday Post delivered as a digital ePaper straight to your smartphone, tablet or computer.
Subscribe for only £5.49 a month and enjoy all the benefits of the printed paper as a digital replica.
Subscribe