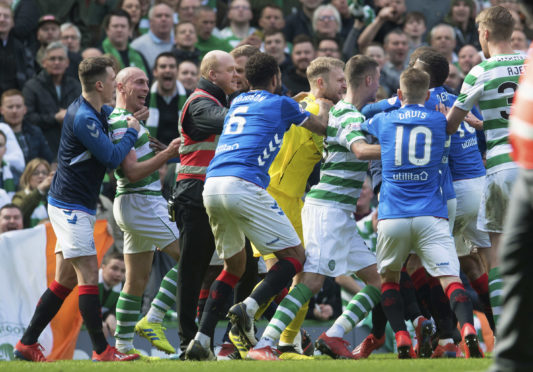 The SFA were absolutely right to fine Celtic and Rangers for the undignified scenes after the last Old Firm game.
But what sort of deterrent is £7,500 supposed to be?
I bet the day's bar bill in the Celtic Park chairman's lounge was bigger!
Honestly, hitting clubs with the Old Firm's resources with such paltry fines is a waste of time – simple as that.
We see it elsewhere – from FIFA and UEFA – when financial penalties are dished out for racism.
They are not doing the job they're supposed to.
So I'm not convinced the governing bodies – including the SFA – have any real will to get misbehaving clubs in line.
If they did, they wouldn't be asking for £7,500 a pop – they'd be asking for £100,000.
That's what they should have done this time around.
Someone at Hampden should have had the guts to say: "Right, that's it. We're cracking down"
They should have hammered the Hoops and the Gers to set an example.
They'd probably be accused of profiteering.
But there's an easy way out of that one.
Just round up the cash and hand it out to charities in Glasgow.
Whack it out to the Hospital for Sick Children, courtesy of the Old Firm.
That would have sent a real message.
It would have said: "Control your players, or else".
Instead, nothing has happened that will force either club to put a rein on anything.
In fact, the paltry punishment handed down proves why clubs are so opposed to strict liability.
If full responsibility fell on them for the behaviour of players, fans and whatever else, and the punishments hit them hard in the pocket and their points tally, clubs would have to shell out loads of cash to beef up security.
As it stands, it's cheaper to just let players and fans have a riot and take the punishment.
The evidence is right there – £7,500! What a joke!
It proves the SFA are completely toothless as an organisation.
Back in my day, they were being called a bunch of clowns. These days, if anything, it's even worse.
What I don't understand is why, at some stage, they haven't got a real top businessman in there – a guy like Willie Haughey – to get a grip of things.
They've needed someone with guts and know-how in there for years.
Instead, they've set the bar so low that they've lost all control.
I just look at them and I think: "There's no wonder Scotland are struggling at international level".
The SFA can't get a grip of the club game, so how can they be expected to come up with a strategy to get us back to major finals again?
We need a strong hand at Hampden.
If it needs somebody to come in and be a bit of a dictator for a while, fair enough, if that's what the situation demands.
After all, without a change, clubs will continue to get away with things as they always have.
Nobody at Celtic or Rangers will be sweating over losing £7,500 this time around.
And for as long as it remains easier and cheaper to cough up after the fact than work to prevent problems arising, neither will be worried going forward.