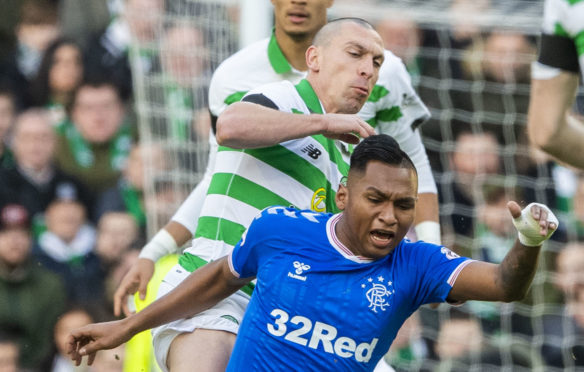 Celtic and Rangers' post-Old Firm row has descended to playground level.
But I'm a firm believer that your school days are the best days of your life!
I know I'll get stick for saying this, but I don't care.
I think it's great that the Glasgow giants are at each others' throats.
I've heard people criticising both clubs for the way they've carried on since Rangers' win at Celtic Park.
And, yes, the whole argument about Ryan Christie's suspension has been dragged out way longer than it ordinarily would have been.
The Premiership going straight into its winter shutdown has meant there have been no fresh stories to move things on.
But for me, the whole stooshie is a sign the Old Firm rivalry is finally competitive again. That can only be a good thing.
Anyway, there has always been a bit of pantomime about these meetings of Glasgow's giants.
It's part of what we, as fans, love about them.
Christie grabbing Gers striker Alfredo Morelos by his delicate parts was punishable under the laws of the game.
But did it merit a two-game ban? It's no wonder the argument that followed has been so silly. The incident that sparked it was daft itself!
The SFA called it "brutality".
Really? As far as I can remember, far worse things used to happen in Old Firm games.
It was almost traditional back when I was a young lad watching from the terraces that in the first 10 minutes, you let your opponent know you were there.
I can remember John Greig practically playing keepie-up with Jimmy Johnstone at times.
Things like that got the players going on both sides – and they got the crowd going too.
Like the Christie/Morelos incident, these things were against the rules.
But, as I said before, it was all part of the Old Firm pantomime.
It didn't hurt either that the two teams were in fierce competition at the time.
Finally, after years of Celtic trotting to victory in a one-horse race, it looks like we've got a genuine contest between the Glasgow teams again.
Both managers have had their say about the last game, and they'll probably keep having it until their respective campaigns are up and running again.
But, of the two, I suspect Neil Lennon will be the happier with the break arriving when it did.
It's a chance for Celtic to take a deep breath, take stock and reset ahead of the run-in.
I doubt Steven Gerrard will see it the same way.
For him, and Rangers, a few weeks off will feel like an opportunity lost.
They had momentum on their side, and would have been desperate for the next game to come along.
They'd have fancied themselves to kick on and put Celtic under major pressure. Instead, they're kicking their heels.
Don't get me wrong, I'm not saying a week in Dubai is any great hardship.
They'll put their work in over there, just as Celtic will.
But instead of backing the Hoops into a corner after their Parkhead victory, Rangers have been sent back to theirs.
Listen, it might work out for the Gers anyway.
But I think it's just as likely to work in Celtic's favour.
That's why the Christie row has rumbled on.
These fine margins are going to matter once the title race gets up and running again.
And I reckon fans of both sides are entitled to make the most of the pantomime that's taking place around it.