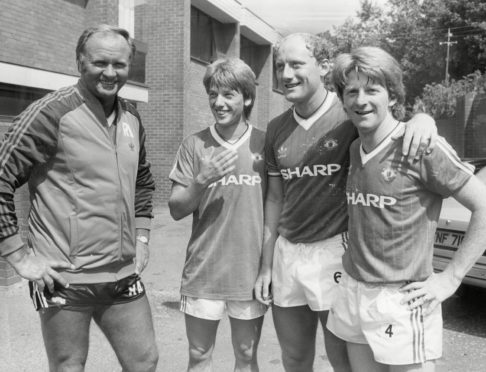 Has there ever been a more difficult time to be a manager?
I have to admit I didn't always appreciate how much stress comes with taking charge of a team.
There were times when a decision made by my boss would really frustrate me.
I think back to a night out in 1986 when I was with Manchester United.
It ended up in a pub on the outskirts of Manchester, where I saw the rock band Sad Café. You might remember their big hit, Every Day Hurts.
Former Leicester City and England striker, Frank Worthington – by then at Tranmere Rovers – was playing the drums at one point!
It was a great night and I enjoyed myself because the next day was a day off – or so I thought.
My wife, Jill, woke me up the following morning to say I had to go to training.
That didn't make sense to me. I had a day off.
But she told me Ron Atkinson had been on the phone to say he'd called a practice match.
It was to be the first team against the reserves.
I played for the reserve side and banged in three goals.
That was on a Wednesday, and I was feeling good about myself.
But that weekend, I wasn't even in the squad for our league match.
I knew then that it was time to leave Old Trafford.
I was with one of the biggest clubs in the world, yes – but I wasn't getting a game.
The Coventry City manager, Donald Mackay, came to see me and I was off to Highfield Road.
People wondered how I could leave United when I still had two-and-a-half years of my contract to run.
But that was me – I had to play.
I'm not having a go at Ron Atkinson, but I wasn't happy at the time.
I could score two goals for United, then have a blank in midweek and be dropped for the weekend.
I didn't understand that.
What I realise now is that he was under a lot of pressure.
Liverpool and Everton were flying at the time, and he had tough decisions to make as he tried to get United further up the table.
It isn't until you're older that you take another look at yourself and admit you weren't doing as well as you should have been.
In my case, I was suffering from an ongoing injury that meant my top-level career would be over just 18 months later.
I could be a bit grumpy during my early days with Ipswich Town.
I was playing for Bobby Robson, the manager who helped turn me from a boy to a man.
My main aim was to score goals, but sometimes I'd be pulled out on to the left wing if the team was struggling a bit.
I'd think: "Hang on, why are you doing this to me?".
Now I know why. It was done to give the side a bit of balance.
Managers have to make hard decisions – and few harder than the ones being made at the moment.
The coronavirus crisis is forcing some clubs to release most of their players.
It must be so difficult to tell guys – via your mobile or a Zoom call – that there's no contract for them during this frightening time.
Getting news like that is devastating at the best of times. But it makes it just a little easier if you're told the truth and it comes face-to-face.
I like the great man-managers, people who will give you all the credit you deserve and also kick you up the backside if you're getting too big-headed.
But, let me tell you, there's a lot of false people in football. A lot of pretenders and jokers.
Maybe that's why foreign managers have come here and done well.
While they're not all brilliant, the gems like Klopp, Mourinho and Guardiola have shown how to handle big players and win trophies.
I admire their work but I like to see the home-grown bosses doing well.
That's why I feel for Steve Bruce.
It looks like the Saudi takeover will go ahead at Newcastle United and my gut feeling is they'll bring in a new manager to appease the fans.
The Toon Army didn't want him at St James' in the first place, but I think Brucey has done a brilliant job there.
If he leaves, it will be with a handsome pay-off. But his pride will be hurt.
Getting rid of a good manager who cares for the club makes no sense.