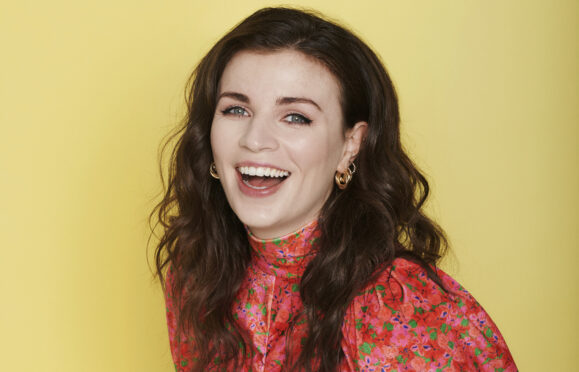 For Aisling Bea there are three Edinburghs. One is where she performed a series of award-winning live shows, at the annual Fringe Festival; the other is where she lived during that heady, successful period of cutting her teeth on stage.
Quite literally lying between the late-night stand-up shows on the Grassmarket and her rented accommodation for the month was the third Edinburgh. A peaceful, grassy expanse known as The Meadows.
"Edinburgh felt split up to me," explains Aisling. "There was the Edinburgh on one side where we performed, then the other side where all the performers lived, then The Meadows in the middle.
"I always remember crossing The Meadows on my own after the shows and thinking that was the moment where I washed off the day.
"Every time I'm in Edinburgh now I go and sit in The Meadows. It's almost a calendar for me.
"There's something about Edinburgh compared to other places where I spend a lot of time, like London or Los Angeles, which makes it feel like a clock. Like New Year's Eve, I sort of measure where I am or where my headspace is.
"I just love being in Scotland. It's real, there. They want you to win but they're not afraid to shout at you.
"Edinburgh holds a very special place in my heart. It's where I developed all the skills I use now."
If Aisling was to visit the Scottish capital now and think about how far she's come since winning the So You Think You're Funny award for new comedians in 2012 she would be able to reflect on a career which appears to be going stratospheric.
As well as stand-up the 37-year-old from Kildare in Ireland is also an accomplished writer, having penned hit Channel 4 comedy drama This Way Up. She also stars opposite friend and mentor Sharon Horgan in the show, which returns to Channel 4 next week. There's a Netflix series, Living With Yourself, opposite Paul Rudd; not to mention her role in a reboot of Home Alone with friend Rob Delaney.
Yet Aisling, at the moment, seems to have a heavy heart after coming off what turned out to be a difficult shoot for This Way Up.
"It was awful. Really really awful," she says. "We were very lucky I had such a wonderful crew but it was so tough. Sad and tough. Three people lost their parents while we were filming, two of them to Covid. Just very difficult. Everyone was having their own battles. I still feel quite battered by it to be honest.
"With it being my show I felt responsibility for everyone. What if someone had gotten sick from coming to work on my show?
"It was a national lockdown so I couldn't even understand why we were allowed to shoot but I was grateful we could. I was grateful no one got sick."
The show is a little like Horgan's domestic comedy drama Catastrophe. A light sponge of comedy doused in sharp pathos and honesty, Aisling has the lead role of an English tutor battling back from a mental breakdown.
In between laughs there is sadness borne from persistent loneliness. After a year of isolation on a planetary scale it seems like This Way Up couldn't have been timed better.
"Maybe now more people will get it when you say you're sad?" ponders Aisling. "That's what depression is, it's something in the air you can't see that forces people to stay in their house.
"I was interested in trying to do the subject in a comical way. Loneliness is such a taboo subject; more taboo than sex, even.
"People admitting they're lonely, it feels like a disease you could catch. When you talk about loneliness it feels like you're going to ruin the dinner party so it's like this secret stigma.
"Admitting to it is like saying you've got no friends, or you're like some sort of abandoned donkey on a farm from an advert. I was speaking to a friend who said something true. He said he doesn't miss close friends as they stay in touch and he knows the relationship will be grand and they're staying in touch.
"What he missed was the incidental people. The person in the shop or the person you meet in the street who you sort of know or go for a coffee with once in a while.
"Those are the interactions which make up the fabric of society. You're just having all the food with no flavour."
Aisling is rumoured to have dated actors Michael Sheen and Andrew Garfield, but she doesn't talk publicly about her love life or reveal her current living arrangements. Though she admits to suffering from loneliness, it's the everyday kind most of us felt during the unsettling months of lockdown.
As someone who makes people smile for a living, it's something she's missed during what she says were long months feeling lonely; mandatory masks may keep the virus spreading but they have a subtler, sadder result: we don't see anyone smile.
"Think how many times we've missed people giving us a smile?" she adds. "It's a form of dripping water torture. That's why I found the shoot so knackering. I was trying my best to do crew morale, because I could see how it could go so easily missing with no smiles.
"We did Covid competitions every Friday for the most Covid-secure departments, with prizes! Which I hope is not a sport that will make it to the Winter Olympics."
Aisling may seem a little downbeat but her rapid observations come peppered with disarming quips and charm. You veer from sympathy to mirth, often in the same sentence.
It's what This Way Up does so well, although she bristles with some jocularity at any attempts to describe it as autobiographical.
"Not to be too dramatic but it's almost an insult to a writer to say, 'what bits are real?'," she explains. "I wrote a television show, I didn't just do a documentary.
"Writing is a bit like stand-up. You can't really just go, 'this was my crazy day! It was so ker-azy!' because it's not that interesting.
"There's a bit of me in every character but I pull in things from other people. Like I'll think of you sitting at home and what your life is like and click! That goes into the brain and might combine with something else and there's the fabric of a character."
Pouring her energy into writing about something as difficult as depression was difficult for that reason. The creative fire simply didn't have the fuel it needed.
"If you're going to create something you need compost for your brain but, during the pandemic, all the compost was dried off and thrown in the bin.
"Trying to make the show when you've got nothing to bounce off or look forward to, and it's actually about loneliness, was awful. I write to show people, I don't want to be stuck in a closet for a year and a half just to write for me. I suppose that's the egomaniac in me talking. But showing it to people? That's the joyful part."
Perhaps there will be some happiness for Aisling, then, once This Way Up arrives on our screens. After that maybe she can have a break and, she suggests, revisit some old ground. This time though it won't be by herself.
"Oh God, visiting Edinburgh would be lovely. I don't want a holiday after all this. I just want to sit around with my friends spitting nonsense at each other. On the Meadows, ideally!"
---
This Way Up, Channel 4, Wednesday, July 14, 10pm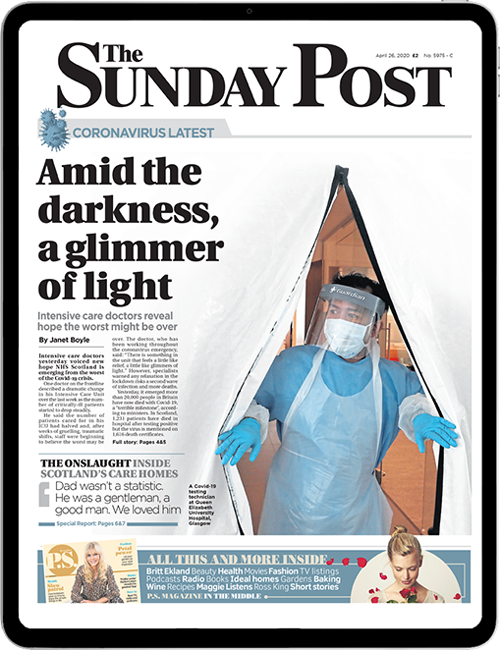 Enjoy the convenience of having The Sunday Post delivered as a digital ePaper straight to your smartphone, tablet or computer.
Subscribe for only £5.49 a month and enjoy all the benefits of the printed paper as a digital replica.
Subscribe