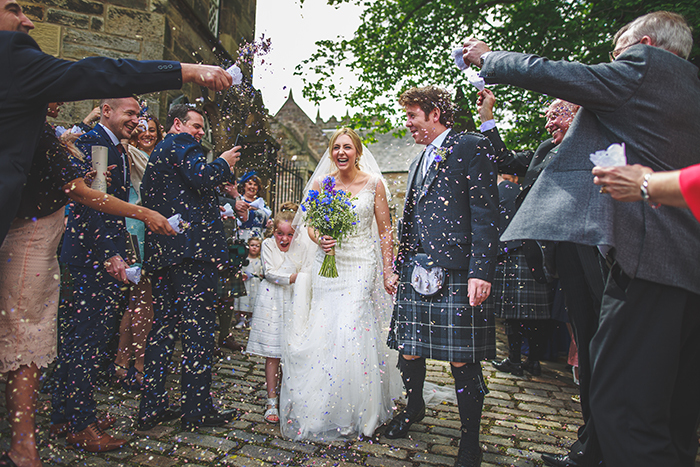 IT used to be most brides' dream to walk down the aisle of a church to exchange vows at the altar.
Sunlight peeping through stained glass windows as couples pledged their lifelong love was, for a long time, how weddings were meant to be.
That, however, is all changing and the romance of tying the knot in a church seems to be fading fast for many couples.
Figures recently published by the Registrar General for Scotland show that the number of weddings conducted by humanist celebrants have now exceeded those conducted by Church of Scotland ministers.
Now, desperate to keep church weddings on the agenda, a former Church of Scotland Moderator has called for ministers to set up shop at wedding fairs to entice couples.
The Very Rev Dr John Chalmers, former Moderator of the General Assembly of the Church of Scotland and an honorary chaplain to the Queen has put out a call to Kirk clergy to set up shop beside Humanists at marriage exhibitions.
A happy marriage is a piece of cake: Couples reveal secrets of wedded bliss
The honorary chaplain to the Queen feels they should mingle with Humanists, wedding gown makers, cake creators and hotels to big-up Kirk weddings.
Dr Chalmers said: "Almost 40 years ago, as a young minister in the west of Scotland, I could not have imagined such a sea change in society.
"We conducted weddings week in and week out. It was considered an expectation to
attend the reception and act as the master of ceremonies at the top-table.
"To refuse the invitation was considered an insult," writes Dr Chalmers in next month's Life And Work, the house magazine of the Kirk.
"Ministers today are taking stalls at wedding fairs in order to offer couples, who may be
thinking of getting married, an invitation to include God in the most special event of their lives – 40 years ago I could not have imagined having to go to a wedding fair to encourage people to get married in church."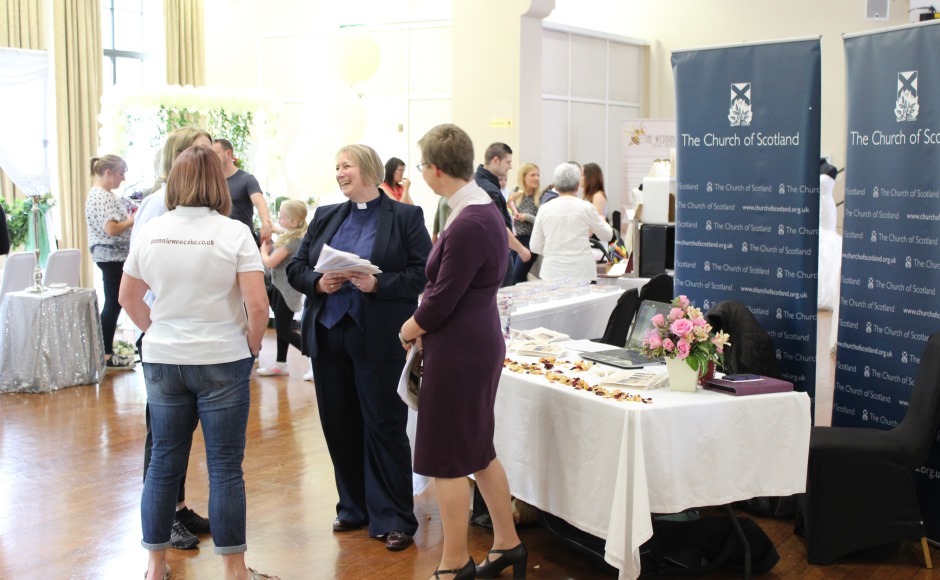 Last year Rev Mary Ann Rennie and Rev Monika Redman presided over an
information stand at the Glen Wedding show in Dunfermline.
Their mantra was convincing couples that they should marry in a "safe, sacred place."
Mrs Rennie said the Church was almost doing itself a disservice by not attending wedding fairs.
"We expect people just to come to us but the reality is that is not Christian faith," she said.
"It is about going to where the public is and a recognition there are people already going to wedding fairs who offer a different understanding of marriage.
"Jesus did not hide in the synagogue, he was out there talking to people and for me
that is what it is all about at the deepest level."
But swimming against the tide of weddings in castles, country houses, beaches and even on mountain tops is no mean feat for the Kirk.
The explosion of Humanist celebrants offering a myriad of personalised ceremonies
has wooed away thousands of Scots couples.
Humanist celebrant Maggie Kinloch, 63, believes Humanist wedding ceremonies or civil
partnerships are personal and unique to couples.
First same-sex church wedding in UK takes place in Edinburgh
She is professor emerita of the Royal Conservatoire of Scotland, having served as deputy principal until August 2016.
She said: "Couples ask me to conduct their weddings because they say they are not particularly religious and need a ceremony which is personal to them and tells their own love story.
"Some have been brought up in a faith but no longer have those beliefs."
Meanwhile, the UK's first same-sex church wedding took place in Edinburgh two weeks ago.
Peter Matthews and Alistair Dinnie married at St John's Church Scottish Episcopal Church in the city.
It happened after the SEC overturned the Anglican canon law rule of marriage only between men and women.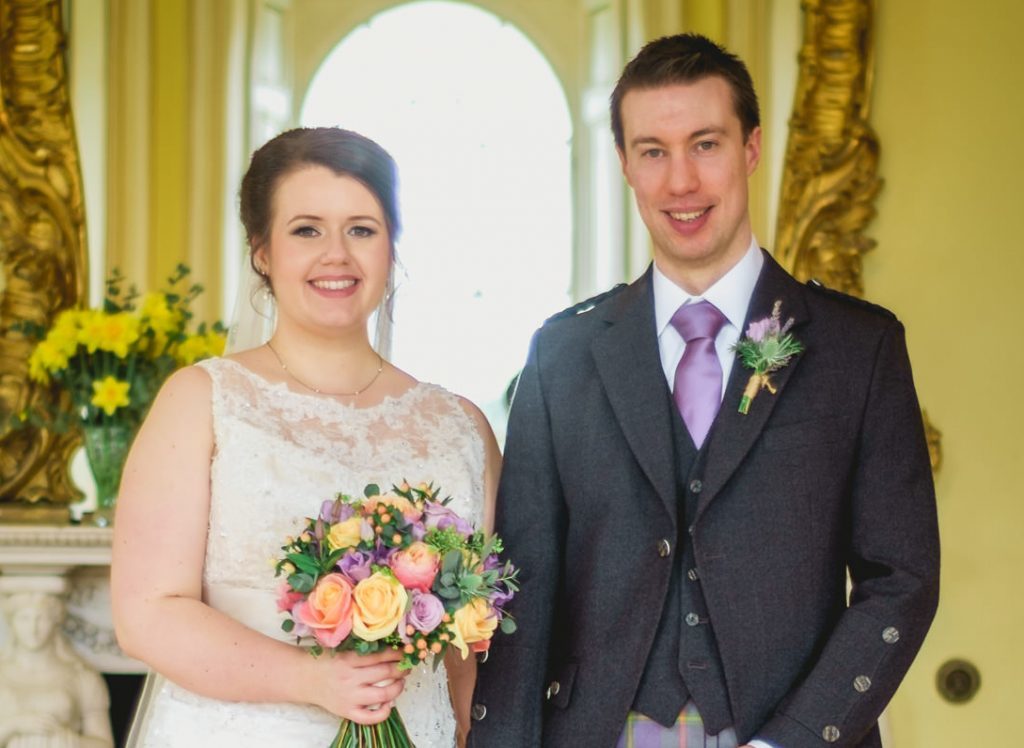 A religious ceremony just wasn't right for us. We had a perfect day
– Kirsty and Tam Meriman
Tam and Kirsty were determined to marry in the sumptuous surroundings of a country house in a strictly 'no-religion wedding'.
The couple met on an online dating site in 2010 and held their ceremony in the ballroom of Oxenfoord Castle near Pathhead, Midlothian.
Civil servant Kirsty from Haddington, East Lothian, said: "We are both atheists and did not want a church wedding.
"It was important that we chose our own vows in the friendly atmosphere of a home. We had been to eight weddings the previous year and knew we wanted a ceremony in a friendly location.
"Oxenfoord is a family home which suited us perfectly.
"We considered a civil ceremony but I had been to one at a registrar's office before and wanted something different."
Legal worker Tam, 35, said: "A religious wedding would not have been right. We didn't want anything too stuffy or uptight.
"It was important for us that everyone felt comfortable.
"People wore their Sunday best but at the same time, felt relaxed and comfortable.
"It was the perfect day."
Do they agree with the Kirk marketing itself at wedding fairs?
Tam said: "There is nothing wrong with that. Each to their own."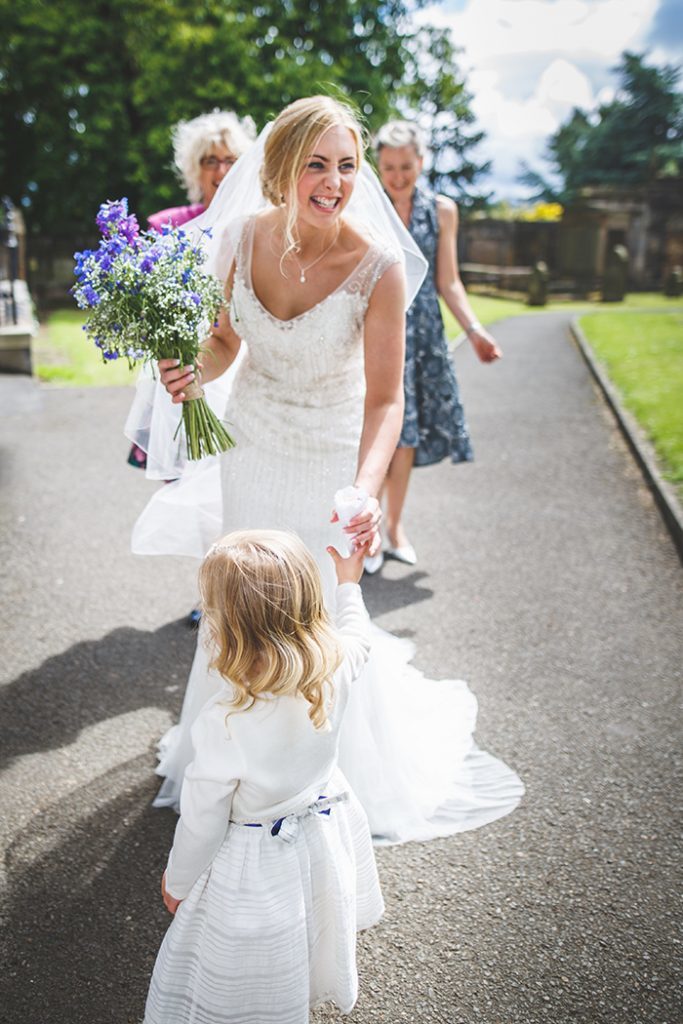 All my family got married in church. It felt the natural thing
– Kate and Michael Fahy-lang
When Kate and Michael got engaged in the grounds of Duddingston Kirk by Holyrood Park, Edinburgh, it seemed only logical they would marry in the church.
The couple had been going out for 10 years when Michael popped the question.
Kate, 32, had always assumed they would marry in church.
Kate, a children's mental health worker, said: "For us it was the perfect setting.
"Michael is a Catholic and a religious ceremony was important to us.
"All my family has married in church and it was the natural thing for us to do.
"The minister, the Rev James Jack, went to great lengths to make sure everyone felt welcome and included.
"We also felt attached to the church having got engaged in the gardens."
Michael, 35, from County Mayo, Ireland, said: "Duddingston Kirk suited us perfectly.
"I knew we would always have a religious ceremony. "Duddingston Kirk is a place of worship where marriages have been conducted since the 12th Century.
"It's steeped in its history of reverence and service to others. That added to the day and we knew it had cared for its congregation over the centuries.
"The Rev Jack's warmth engaged everyone."
Sir Walter Scott was ordained as an elder of the church in 1806 and is reputed to have worked on his novel The Heart of Midlothian in the manse garden.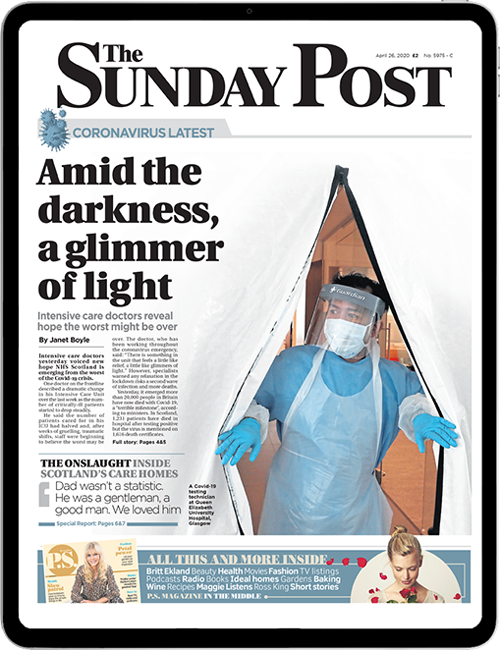 Enjoy the convenience of having The Sunday Post delivered as a digital ePaper straight to your smartphone, tablet or computer.
Subscribe for only £5.49 a month and enjoy all the benefits of the printed paper as a digital replica.
Subscribe