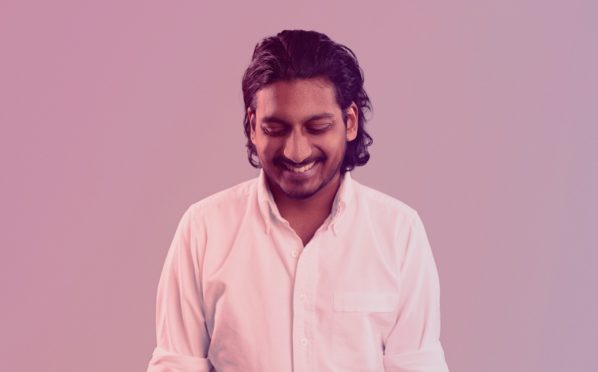 Ahir Shah says we have his dad to either thank or blame for his career in stand-up.
The 28-year-old, who brings his latest tour to The Stand in Edinburgh and Glasgow later this month, started in the world of comedy at a very early age.
"When I was a teenager my dad would always suggest that I did different sorts of extra-curricular things just to see if anything particularly took my fancy," he recalls.
"When I was 15 he told me to do stand-up comedy and I dutifully listened like the dutiful son I am, he is either to thank or blame depending on your perspective!
"I didn't really know what it was before he suggested that I learn about it and try it out.
"It's not like I had anything particularly worthwhile to discuss at that age. It was a little bit of fun and a bit of a hobby at the time which has cruelly mutated into my only marketable skill.
"My dad made a bold suggestion about a decade and a half ago and now I've closed too many doors to stop."
Nominated for Best Show at the Edinburgh Comedy Awards in 2017 and 2018, Ahir is taking his latest show Dots around the country over the winter.
"I'm really looking forward to being extremely lonely in a variety of new locations, it's getting a bit samey being lonely in London," he laughs.
"Glasgow and Edinburgh are always fantastic to play. Edinburgh outside the context of the Fringe particularly – where I'm not just going absolutely insane! I can go to all of my favourite takeaways and the queues will be shorter."
Despite the queues, Ahir enjoyed this year's Fringe experience, saying it was "markedly different" from his time at the festival in 2018.
It was the first he'd done where he wasn't taking anti-depressants, and he noticed he began to fatigue very quickly during the run.
"I started taking anti-depressants in my early 20s, I came off them for a little while and was just constantly really tired and had no idea why, until about two thirds of the way through where I realised I'd been running on serotonin fumes for the entire time.
"I felt marginally more stable this year but then during the festival, stability means something entirely different to what it means for the other eleven months of the year."
Stability certainly isn't the word you'd used to describe the audiences at the Fringe, with every day bringing a new crowd and a new challenge.
But it's something Ahir relishes.
"You don't want to be an actor reading out a script you wrote once," he says. "You can end up feeling like a cross between a jukebox and a tribute act.
"I always try to incorporate an element of the specific environment to ensure that this thing that's happening couldn't happen in the same way ever again, or have happened in the same way ever before.
"That just reaffirms the fact that this is live and worthwhile to go to a place and see something."
Ahir's show Dots, he explains, is all about the "necessity, utility and absence of certainty".
He laughs: "That's the best I've got towards an elevator pitch. I realise it doesn't sound remotely funny so people will have to just trust me!
"It's largely about uncertainty and hopelessness and you can readily see how that fits in to our overall mood as a nation at the moment."
Ahir studied politics, so naturally social and political elements do creep into his comedy.
"It's such a full-on element of our world right now," he says.
"I've got a story that I want to tell in the show and the broader arc of the story is just on a personal, social, spiritual, political, romantic level being uncertain on all sorts of elements of life.
"I think that that will hopefully be something that people can readily identify with regardless of pre-existing beliefs, just because we've all felt a bit like that as human beings at some point."
Comedy, Ahir says, is united by an end rather than a means.
"As long as you're making an audience laugh, that's the purpose of comedy," he adds.
"The mechanisms that you do that by are entirely up to you and if you want to tell silly one liners and puns and things that's brilliant, do it that way.
"If you want to tell an involved personal story or go on a political journey you can also do these things.
"Making people laugh is the one thing you have to do."
---
Ahir Shah will be performing his latest show Dots in Glasgow on 17th November and Edinburgh on 18th November. For tickets and more info please visit www.ahirshah.com