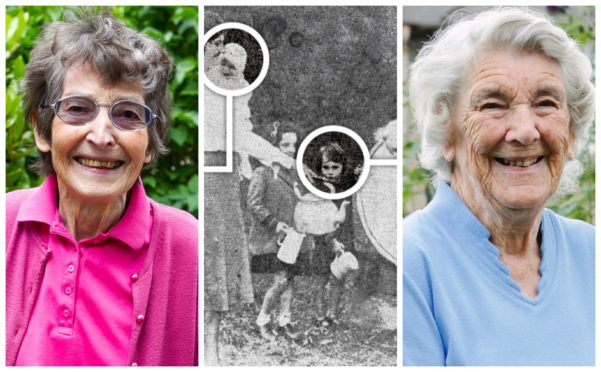 It is a long-forgotten story of a village where the water tasted like whisky but the faded, treasured cutting from the Sunday Post captures the beginnings of a remarkable friendship.
It was August 1934 and Margaret Burns, then a little girl, is collecting water from a barrel; in her mother's arms, Sheila McGown is just a baby.
But the women would soon become the firmest friends, best pals for life, by each other's side for almost 90 years of joy and sadness.
They have marked milestone birthdays together, travelled the globe in tandem, supported each other through the loss of loved ones and toasted the births of new bundles of joy.
But the bedrock of the pensioners' long-lasting friendship is a weekly blether on the blower. "We always make sure we are free at 6.30pm on the dot every Sunday for a catch up on the phone," said Margaret, 89. "Who calls who depends on which one of us gets to the phone first. We just have a wee blether about what we've been up to and what we're doing the following week. It's lovely and we both really look forward to it.
"After all these years we have had our own lives, but we still make time for each other."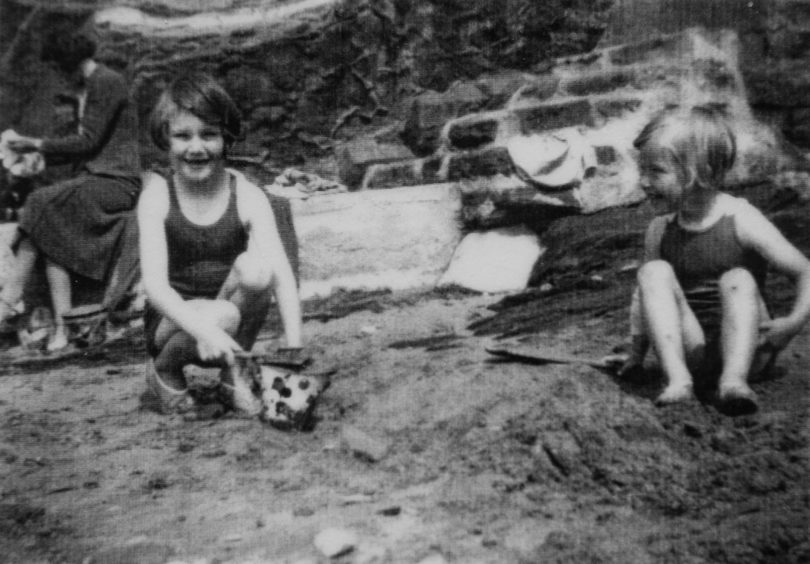 Sheila, 86, added: "We used to say when we were younger that we would be friends forever. I suppose you could say 80-odd years is forever!"
The pair first met in 1934, months after Sheila was born. Margaret was three at the time and lived next door in the village of Cardross, Dunbartonshire. The families were close, with the girls' fathers both serving in the Merchant Navy.
"There was an age gap between us, but we played together a lot, went to the same school and even went on family holidays together to Pittenweem," said Sheila.
"We were the best of friends and just loved each other. I was an only child, so Margaret was like the sister I never had."
The women have been there for each other through thick and thin. Over the decades, there have been tears of joy – and tears of sadness.
When Margaret wed husband Jim, Sheila was by her side as a bridesmaid – and when he died from lung cancer, she was the shoulder to cry on.
The ladies' friendship has survived Margaret moving away to Oban, Aberdeen and settling in Renfrew and the loss of their parents, as well as the arrival of Margaret's three children, six grandchildren and eight great-grandchildren.
And when Sheila had a stroke 10 years ago, there was nobody better to comfort and take care of her than her best friend.
The women share a beautiful bond, and happy memories were stirred recently when Sheila stumbled across an old cutting from The Sunday Post from 1934. The pair are seen alongside their mothers in a picture accompanying a story about water shortages.
Former bank manager Sheila said: "This page from the paper is all yellow with age and curling up at the corners, but it brings the memories of our childhood years together flooding back. I still live in Cardross. I have lived here all my life and never felt the need to move elsewhere. Everything I need is right here. It's my home.
"In the beginning, it was a very small village. I knew most of the people who lived here.But then a few big housing estates were built and more people came and it got busier. I went on to work in the bank, starting at the bottom and climbing my way up the ladder.
"Margaret moved away. She has lived in a few different places over the years, but we never lost touch. In fact, we went on holiday every year together, all over the continent. We travelled to Italy, Germany, Switzerland, Greece. We made some amazing memories and I can't think of anyone I would rather share it with. But about 10 years ago, I had a stroke which meant I couldn't do that so much any more.
"Limited in how far we could go, Margaret and I used to meet regularly for coffee in Glasgow. Now my health makes things a bit more problematic, but we still have a weekly catch-up on the phone."
Sheila, who never married or had children, has long been regarded as a big part of her best friend's growing family.
"Sheila has been there throughout all the milestones in my life," said Margaret. "She has always just been there for me. She's a great listener and a great friend. Sheila may not have had her own family, but she has always been part of ours. Even my daughters keep in touch with her by text.
"I always call Cardross home and do miss it – but Sheila gives me an excuse to come back.
"Because of our age, we are staying at home, and trying to stay safe. But when this is all over I'll be over to see Sheila.
"I'm really missing her but at least, although she's pretty good at technology with her emails and Kindle and I am hopeless at all that, we both love nothing better than a catch up on the phone.
"With everything so uncertain at the moment, it is the one thing we can put on the calendar and look forward to. And even though we're stuck at home, we are never short of things to talk about."
Sheila added: "Not many people can say they are still friends with someone they met as a baby. We always used to say we would be friends for life – and we have kept that promise."
---
AUGUST 5, 1934: Ugh! Whatever the taste, it's certainly not whisky…This stuff is nasty
A village where whisky is on tap? As our reporter found out, it's a scoop, reprinted here, that was simply too good to be true
"Cardross's water tastes like whisky." I was told. Though I'm not a toper, I hastened down to sample it!
The hill reservoir, it seems, isn't playing the game thanks to the recent drought and additional supplies are brought from Renton in huge casks.
In the middle of the village, a wee laddie was filling a pail at one of the barrels when I arrived.
"What does that water taste like," I asked him. He grinned broadly.
"Whisky!" was the reply.
On this final assurance, I had some. Ugh! Whatever the taste was, it certainly wasn't whisky! It was too nasty for language.
One man afterwards sympathised with me. "It doesn't even taste like bad whisky," he remarked rather wistfully.
He told the previous afternoon he arrived home, hungry and ready for his tea. His wife took the teapot from the hob and poured him out a cup.
He raised it to his lips and – splutter! – "What the blankety blank's this?" he cried.
His wife ultimately assured him that she hadn't been trying to get rid of him. It was the barrel water.
So the tea was flung out the back door with a colourful farewell. I was offered a cup of tea but most firmly declined. I had more than enough with my own solitary experiment to risk sampling more.
Water for domestic purposes in Cardross is only available from seven o'clock until nine in the morning and again from seven till nine in the evening. Throughout the day, you've got to trek to the casks which are placed at various parts of the village.
Along came suggestions for a scheme under which Cardross could get its supply from Dumbarton burgh. But it was to cost roughly £7,000. That was a real snag. At the moment the ratepayers have enough on hand. Under a debt incurred through a 30-year loan, they are paying back about £700 a year for 18 years!
And eventually…a resolution was sent to the County Council, deploring the state of the water supply, and urging them to take steps to rectify it immediately.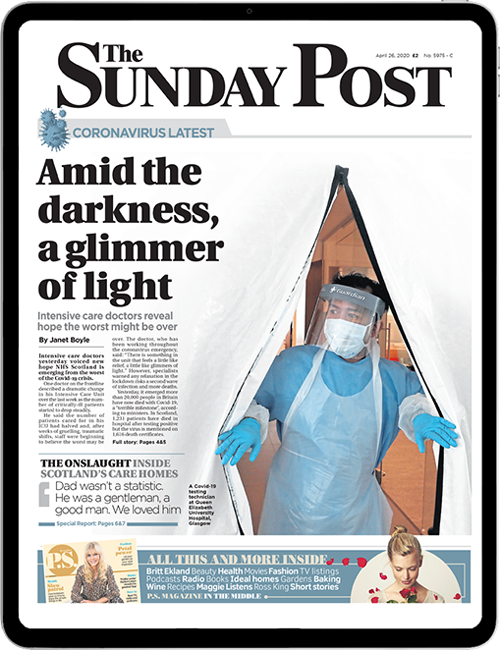 Enjoy the convenience of having The Sunday Post delivered as a digital ePaper straight to your smartphone, tablet or computer.
Subscribe for only £5.49 a month and enjoy all the benefits of the printed paper as a digital replica.
Subscribe