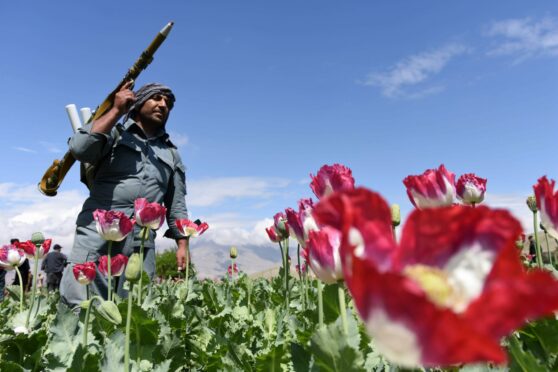 Swaying on stems two-feet tall, the flowers will bloom after growing for 90 days or so in the poppy fields, stretching endlessly to the horizon and the mountains of Afghanistan.
The petals last for three or four days before dropping to reveal the pod, a small, round, green fruit. The opium expertly scraped from those pods will be exported, driving addiction in villages, towns and cities around the world.
But, while Afghanistan dominates the global opium market, producing more than 80% of the world's supply, according to official estimates, the country is suffering its own drugs problem.
Dave Macdonald spent much of his career with the United Nations attempting to ease the problem, and he now watches the current plight of the country, where the Taliban have returned to power and a potentially catastrophic famine looms, with dismay.
He spent long periods there in his role with the UN Office For Drugs And Crime, and then as an international drugs and development adviser after setting up his own consultancy.
Today, he says the country's issues with drugs will only get worse while the Taliban will face its own hard choices, over whether to swap the hundreds of millions of dollars generated by poppy production for the potentially critical foreign aid which will, likely, be dependent on curbing the country's role in the opium market.
Over the 20 years of war before their sudden withdrawal this year, the US spent an estimated £8 billion attempting to destroy the poppy crops of Afghanistan.
Today, farmers grow four times as much as they did in 2001, exports worth £2 billion with the Taliban's cut an estimated £300 million.
However, after the US, Britain and Nato allies left, a perfect storm of a crumbling economy, drought, and suspension of aid has led to sudden cataclysm.
David Beasley, executive director of the World Food Programme, describes it as "among the world's worst humanitarian crises, if not the worst", while Richard Trenchard, Afghanistan director for the UN's Food and Agricultural Organisation, says he has "never seen a crisis that has spiralled so dramatically at such a scale".
Dave Macdonald: Poverty and inequality is the bedrock of Scotland's drugs problem
It is perhaps no surprise, then, that so many people in Afghanistan turn to drugs.
Macdonald, in his role in harm reduction and drug education, working with community groups and non-governmental organisations and on the ground with those caught up in spiralling drug issues, has seen the devastation caused.
"Imagine living through civil war, the Soviet invasion, the Taliban," he said.
"It's been conflict, violence and war for 30-odd years and that leads to mental health problems for many Afghans – anxiety, PTSD, stress – so people move to drugs. They are not always the best quality, but they are easy to get.
"A lot of the problems when I was there were painkillers and tranquillisers bought over the counter.
"There aren't restrictions on what we'd consider prescription drugs. So, even if there were no illegal drugs around, they would still have a big drugs problem from people overusing, but of course there is also a big issue with heroin – it's where they make the drug."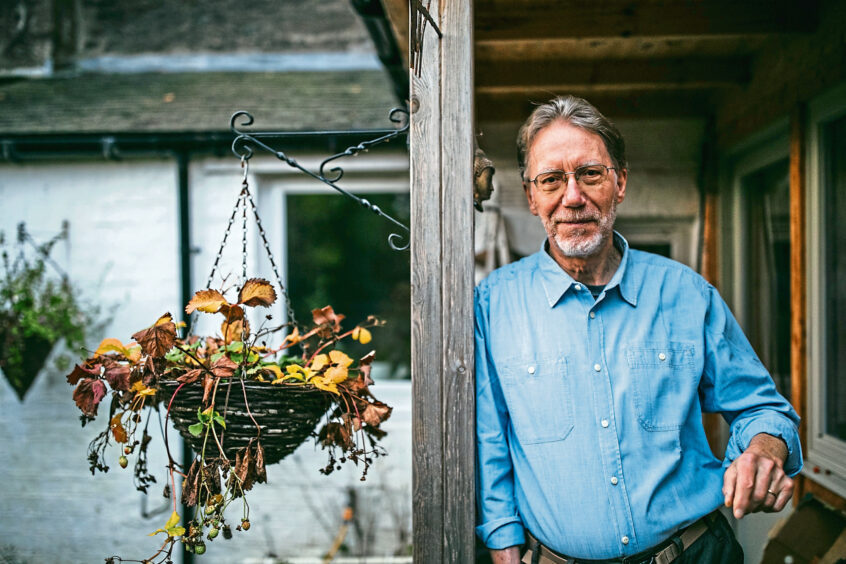 Macdonald, who was brought up in the Fife village of Strathmiglo and now lives in Perthshire, first lived in Kabul in 2002 and made frequent return trips over a number of years.
His area of expertise is the demand side of drug control, rather than the supply side, but he sees a dilemma for the Taliban over whether they can afford to ban the cultivation of opium poppies and production of heroin, which would increase poverty in already desperately poor communities, but imposing a ban could be a bargaining chip towards much-needed international aid.
The dad-of-two studied sociology before taking a teaching job in a maximum security prison.
When money was invested into drug treatment programmes by the government in the mid-1980s, training was required for the likes of social workers and health workers, police and teachers, and the Drugs Training Project at Stirling University provided it. In his co-director role, it was Macdonald's introduction to the issue of drug abuse.
After seven years, he moved to the University of Botswana as senior lecturer in sociology, and co-ordinated an action research project on the alcohol and drug problems in the Bushman communities of the Kalahari.
Then, in 1999, he was approached by the UN and moved with his wife and two daughters to Islamabad, working mostly with the Afghan community in Pakistan.
They were forced to return to Scotland following 9/11, but Macdonald soon found himself located in Kabul, and he says he saw a different side to the city, and the country, than the one westerners have long since stereotyped.
"I've always found Afghans friendly and easy to get on with," he said. "They are a very resilient and tough people who have been through a lot.
"They are hospitable people who have had a raw deal, mostly due to the country's strategic geographical location. I have a lot of admiration for them, especially the women.
"Life is really tough for them. We are now seeing reports of young women who have been educated and trained over the last 20 years not allowed to work by the Taliban. Not able to leave the country, some say their life is over and if they die now, they don't care, and so they go out and protest."
Macdonald, who has also worked on drug programmes in Morocco, Thailand, Liberia, Egypt and Lebanon, wants to introduce the real Afghanistan to a broader audience, so has decided to write a crime novel set in the country's capital.
Elvis In Kabul is a murder-mystery about an agency advisor, Gill Moncrief, who is investigating the death of a UN driver in the city and comes up against the ruthless men involved in corruption, kidnapping and drug trafficking.
"I published another book, Drugs In Afghanistan: Opium, Outlaws And Scorpion Tales, a number of years ago and it did well within its market, but I wanted to take some of the messages contained in it to a wider audience and give people a better idea of some of the things that go on there.
"I lived there from 2002 to 2003 and then back and forth for eight years, spending around three months at a time there. At that point, Kabul was a party town for many ex-pats, awash with alcohol, bars and many restaurants, which I write about in the novel.
"I probably know my way around Kabul better than I do Glasgow or Edinburgh. I had a driver and was lucky with the security arrangements most of the time to basically go wherever I wanted.
"I liked the job I did, being able to visit local areas in Kabul. As things changed, it got to the point where I couldn't get into the communities I had gone to before, or I had to visit with an armed guard. Only once did I feel I was in danger, though, when a bomb went off not far from me.
"It's the loudest noise I've heard in my life and I could see the hot metal coming down. I was lucky to be on the other side of a very thick wall, but eight people were killed in that one.
"I saw progress in Afghanistan with regards to the drug situation, mainly because I could go back after a few months and check with Afghan colleagues.
"Change takes time. Something simple, such as providing beds or food, as well as training for treatment centre staff, can make the difference.
"The big issue globally isn't detoxing someone, it's what you do afterwards. How do you reintegrate them into society?
"Can you find them a job and decent housing, or are they returning to the same neighbourhood with their pals who are drug users? If someone is motivated, it's relatively easy to get them off drugs. Getting them to stay off is the real challenge."
Now 75, Macdonald continues to work with the UN on a consultancy basis from his Perthshire home and still keeps in touch with people he met in Afghanistan.
"I still know people on the ground. One of my old drivers has asked me to help get him and his family out of the country. He knows he'll be targeted by the Taliban because I was working for the UK Government at the time, but it's very difficult right now to get Afghans out. And there is no guarantee the country they go to will help them get any further."
He added: "I didn't think by the time I published Elvis In Kabul that the country would be where it is. I had to write a postscript after the manuscript had gone to the publisher, explaining the Kabul in my book is not the Kabul of now."
---
Elvis In Kabul by DS Macdonald is published by The Book Guild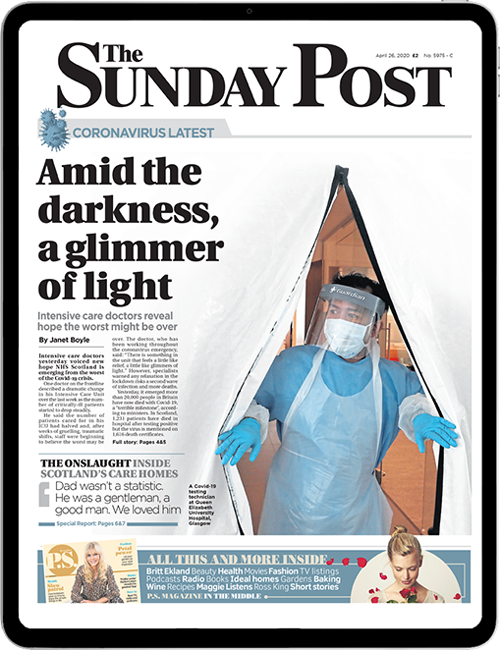 Enjoy the convenience of having The Sunday Post delivered as a digital ePaper straight to your smartphone, tablet or computer.
Subscribe for only £5.49 a month and enjoy all the benefits of the printed paper as a digital replica.
Subscribe