The sudden withdrawal of Allied troops from Afghanistan a year ago inflicted enduring psychological damage to British veterans and their families, according to the new Scottish Veterans Commissioner.
Former Royal Navy engineer Susie Hamilton said the withdrawal of British forces and a resurgent Taliban were casting a long shadow on the lives of ex-­servicemen and women.
The evacuation left the country on the brink of catastrophe after the Taliban retook control and reimposed hardline religious diktats while the country struggled to cope with economic and natural disaster.
And Hamilton – the first woman to serve as the nation's veterans champion – said the war was still taking its toll on the servicemen involved and, in particular, families who lost loved ones there.
Her comments come a year after British forces left Afghanistan – the end of a 20-year military campaign in which 457 UK servicemen and women were killed. An estimated 176,000 Afghans lost their lives.
Emboldened, Taliban fighters swept through the country as the Allied forces suddenly left, taking control of capital Kabul on the August 15 and prompting thousands of Afghans to rush to the city's airport in a bid to board the last flights out.
Hamilton, who worked with a ­veterans homeless charity before becoming commissioner, said: "The way Afghanistan ended has had an impact on the veterans who served there. These are people who have sacrificed a lot.
"They feel that everything they ­sacrificed for has not come to fruition. We also have to remember families, families who lost loved ones in Afghanistan, who also feel that things in Afghanistan are slipping back to the way they were.
"I can only imagine that it is ­incredibly difficult for them and I think there would need to be some ongoing support for them for quite a while.
"For some of our Afghanistan veterans, we did see an uptick in the support they needed. We only see a small percentage and in the wider veterans community, I think particularly amongst families who have lost people, it is quite difficult."
Hamilton, 50, retired in 2007 as a Lieutenant Commander before working with Scottish Veterans Residences (SVR), which provides supported housing for former members of the armed forces who face homelessness. She said: "One of the issues I really want to get to grips with is overturning some of the commonly held tropes and myths about veterans.
"There are one or two stereotypes ­people have about veterans. They are either all gentlemen with medals or maybe young men with mental health issues and all sorts of aggression and other problems.
"That's just not the truth. I know ­veterans are fantastic employees. In fact, the last couple of people that I've recruited here have been veterans.
"Not just because we're a veterans ­organisation but because they're very good. I really want to try to see some shift there, so that particular employers see veterans as the first choice and see that they've got a massive range of skills and transferable skills. That's quite a big challenge because I think there's quite a lot of myths to overcome there. For example, post-traumatic stress disorder (PTSD) is a treatable condition. People can be helped, people can get better. And, also, it's a condition that many people have who have never been anywhere near wars.
"We need to get rid of that stigma. I really would like people when they hear veteran to see what I see, which is capable well-trained individuals who have got absolutely stacks to offer."
Hamilton, from Edinburgh, joined the Navy at 18. She experienced sexism and prejudice as an officer in the Marine Engineering Branch but this did not deter her from building a successful military career. She had a number of shore and sea appointments, which included operational service in the Adriatic and the Gulf.
She said: "It was challenging. When you are on board a ship, you are such a close-knit team people don't even notice you're a woman. You're all working all hours of the day and night and it isn't an issue. Interestingly, sometimes ashore I came across prejudice.
"I'd like to think it's better now but it did happen to me. There were people who could not see past the fact I was a woman.
"You need a sense of humour to deal with that. It teaches you resilience – to understand the problem is not with you, it's with them.
"In the Navy, I was in a minority as a woman and then as an engineer, I was in the minority again. People thought I could not do the job of a marine engineer which is traditionally a male role. On board ship, at the hard end of the job, it was fine."
She added: "I would like to think open prejudice is stamped on pretty hard now if it is heard or reported."
Even though she left the military 15 years ago, Hamilton still misses the forces life. She said: "I think you always still miss it. You miss the closeness of working in such a tight team. You don't really get that anywhere else. When we were on board ship, I even used to trim my male colleague's eyebrows. You don't get that in civilian life."
The post of Scottish Veterans Commissioner was created in 2014 – the first role of its kind in the UK. At the time, former Royal Marine and Veterans Secretary Keith Brown said the commissioner would ensure more than 400,000 ex-forces personnel in Scotland got help to address any challenges they faced.
The commissioner writes reports on veterans affairs and works with service charities, local authorities and health boards to identify areas that might provide greater support.
Announcing Hamilton's appointment, Brown said: "Scotland has a long and proud military tradition. We are committed to investing in our veterans and helping them overcome disadvantage experienced as a result of service, as well as aiding projects that help veterans and their families successfully transition to civilian life.
"I'm pleased to announce Ms Hamilton as the new Veterans Commissioner, as a veteran of the Royal Navy and with extensive experience working in the third sector helping homeless former military personnel, she is already a great champion for our veterans.
"Scotland has had a veterans ­commissioner since 2014 with a primary role to improve outcomes for veterans in Scotland by engaging and listening to the experience of former members of the armed forces.
"The first-hand experience Ms Hamilton will bring to the role is going to ensure our veterans continue to get the best support and representation possible."
---
Overwhelmed veterans offered lifeline support in pioneering scheme
Military veterans struggling to adapt to civilian life are being offered crucial, life-changing support.
Sacro, a leading community justice organisation, has enlisted former military personnel to help other veterans adapt to "civvy street".
The successful mentoring scheme also deploys the power of nature, with country walks, gardening and other outdoor activities used to improve the mental health of veterans struggling to cope with the different demands of life out of uniform.
Experts warn of a risk of veterans suffering addiction and psychological problems while others fall into crime. Some confess to feeling more comfortable with the discipline and routine in prison than the new "freedom" of a civilian.
Former soldier John, 34, became involved in crime after leaving the Army. He was referred to Sacro's Veterans Mentoring Service (VMS) by a mental health worker. He recently volunteered at Sacro's Garden Project in Tollcross Park, Glasgow, and says he feels more relaxed being in the outdoors. He said: "Sacro helped me so much. The garden project has allowed me to focus on my future."
He now plans to go to college to become a counsellor to work with young people in inner cities to help them avoid gang culture and a life of crime.
Sacro's Veterans Mentoring Service is helping dozens of former soldiers, Royal Navy and RAF personnel. The team – which works in prisons and communities across Scotland – are all veterans themselves.
Gavin Phillip of Sacro, which recently celebrated its 50th anniversary, said: "The veterans mentoring service is all about helping men and women who have served in the armed forces and become involved in the criminal justice system. Some veterans we deal with are younger and some are in their 70s and 80s. Some of the younger men have not necessarily been in the forces for a great length of time.
"They have left school and gone straight into the armed forces. Some veterans find it difficult to adjust to once they move into civilian life and that may create various problems such as addiction issues.
"We support them in person at the end of their sentence with practical and emotional support with mentors who themselves have a background in the
armed forces.
"Their background means they are empathetic and it also gives them a lot of credence and credibility with the veterans.
"It is all about trying to break the offending cycle and seeking to give the veterans a more positive purpose in their lives."
The service, set up in 2014, originally expected around 30 referrals in its first year but achieved that in its first month.
Now, the scheme has helped more than 150 veterans. Recent figures show that 152 former service personnel have been supported with 126 maintaining sustained engagement with their mentors while 85 have overcome substance misuse problems.
Phillip added: "The forces of nature project uses walks, gardening and things like that to make life more meaningful and forward looking.
"Most people want to work and contribute and this scheme can help get them back on more of an even keel.
"Mentors give support, talking veterans through any appointments they may have, helping them move away from a chaotic lifestyle.
"The key thing is they are working with a person who understands their needs and what they have been through."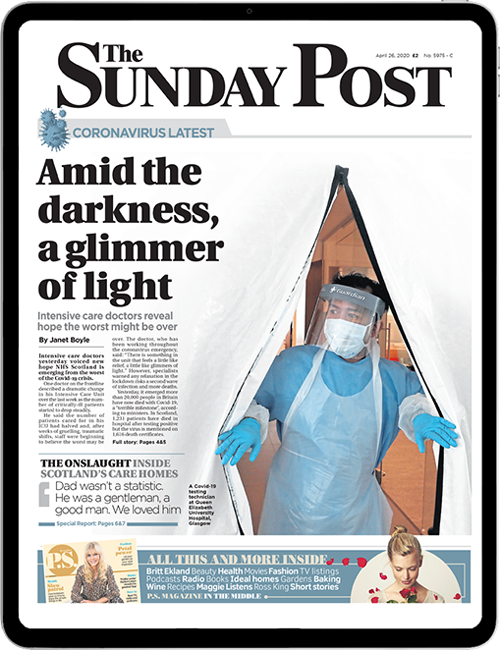 Enjoy the convenience of having The Sunday Post delivered as a digital ePaper straight to your smartphone, tablet or computer.
Subscribe for only £5.49 a month and enjoy all the benefits of the printed paper as a digital replica.
Subscribe