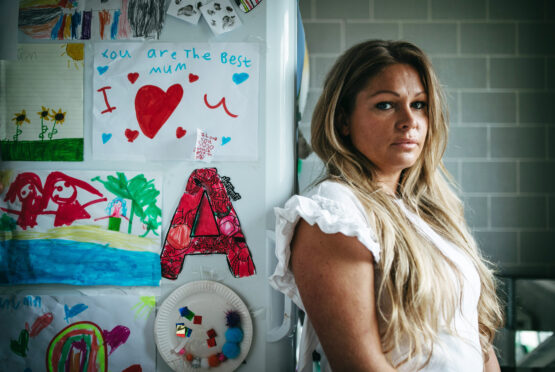 In October last year, exactly 59 weeks ago, Adrienne McCartney spoke to The Sunday Post to reveal how she had suffered domestic abuse and how police and prosecutors had failed her time and time again. Today, she is dead.
The 38-year-old mother of three, a bright, determined woman, according to those who loved her, was found dead in her home less than a year after, in a courageous interview, she detailed the physical and psychological harm inflicted by her husband and how, when he was taken to court, a deal saw the most serious charges dropped and the fiscal fail to ask for a protection order explicitly requested.
She also criticised the alleged complacency and dismissive attitude of the police when she reported alleged threats. Seven weeks after speaking to The Post, officers arrived at her home late on a Saturday night and arrested her, handcuffing her in front of her children over a complaint about a social media post. Adrienne, who was 5ft tall, was never charged.
She died after taking a mixture of drugs, including powerful painkillers – first prescribed after her arm was injured by her husband in a violent outburst – and alcohol.
Her mother, however, has no doubt what killed her daughter. Adrienne Ireland, a former director of nursing, believes whatever the direct cause of her daughter's death, it led straight from the abuse she suffered and the failures of police and prosecutors. Her daughter, she believes, is one of the many women whose deaths are linked to domestic abuse but never appear on official statistics.
Experts today echo her concern around the hidden victims of male violence against women and girls and claim the toll of abuse is dramatically under-recorded. They are demanding a sea-change in investigation and prosecution. "Our hearts are broken but this cannot stand and, if my daughter cannot speak for herself, we must speak for her," said Ms Ireland, 61. "She was a victim of abuse and the record should show that. She was failed by authorities meant to protect her and the record should show that too.
"Tragically, we cannot bring Adrienne back but we cannot stand by and allow her death to be swept under the carpet. She appealed for help in life and was failed by the authorities. Her family will not fail her in death."
The family's loss can be revealed as police failures to protect women and girls at risk of male violence is again in sharp focus. On Friday an inquest found police failings "materially contributed" to the deaths of Raneem Oudeh, 22, and her mother, Khaolo Saleem, after they were murdered by Oudeh's estranged husband in 2016 in the West Midlands. It is the latest in a series of cases where the authorities failed to prevent former partners from injuring or killing women despite repeated warnings.
Adrienne's life had seemed happy, from the outside. Married to a property developer, Aaron McCartney, the couple had two young daughters and Adrienne's son from a previous relationship completed the family.
Their wedding pictures show a ­smiling, happy couple but behind closed doors, she told The Post, she increasingly felt trapped, belittled and intimidated by her husband. Their seven-year marriage ended violently on Boxing Day 2020, when McCartney, 38, flew into a rage at the family home in Bank Street, Irvine, allegedly throwing his wife across a room, throwing a bottle at her, smashing a mirror and putting his foot through a glass door.
His mother later sent a text to Adrienne saying: "I know you're hurting and angry. I told him how hard he threw you across the room and I would have phoned the police on him."
Two weeks later, Adrienne was served with eviction papers, ordering her and the three children out.
Adrienne told us: "I could not believe what was happening. All through our marriage he had intimidated and controlled me, keeping me short of money, constantly belittling me and my efforts to have a career.
"He always said that my job was ­looking after him and the children and our home, so he always ridiculed my plans to become a nurse and sabotaged every effort to have a career, refusing to look after the kids while I went on to study to become a nursery teacher. He had always refused to let me see anything to do with our finances too. I had to ask him for money when I needed to buy anything, which was humiliating.
"Aaron also told me the house we were living in was our marital home. I was brought to my knees when, just two weeks after the row at Christmas, I was told our house was, in fact, owned by his sister, and we were going to be evicted.
"I tried desperately to get a ­lawyer to take on the case but dozens turned me down because I was penniless and couldn't access Legal Aid easily. I was sick with worry."
---
Need help? Call Scottish Women's Aid on 0800 027 1234 or email helpline@sdafmh.org.uk Visit sdafmh.org.uk
---
On January 12, 2021, one of the ­coldest nights of last year, Adrienne discovered the central heating system in the house had been turned off, with footprints in the frosted garden leading to and from external gas and heating pipes. She also received texts from her estranged husband's phone. "Boom" said the first before a second quickly followed: "Last Chance."
Adrienne called the police and two officers attended but told her the matter was "civil not criminal" and suggested she call the gas board. She would eventually complain to Police Scotland's professional standards unit, detailing seven separate issues where, she claimed, officers let her down.
McCartney then applied to the court to prevent Adrienne escaping for even a few weeks' respite to her mother's home in Spain.
She said: "I was trapped. It felt like being caught in a web, with my abuser pulling the strings. I was homeless, penniless and terrified about what would happen next to me and the children.
"I realised there was no real protection. Instead, the law made me an easy target for further abuse."
Her husband would eventually make a plea deal with prosecutors over the Boxing Day violence, admitting two lesser charges: vandalism, when he kicked the door and threatening behaviour with a domestic aggravator. He was fined £420.
The court accepted his not guilty plea to the most serious charge of causing assault to injury, throwing Adrienne across the room and injuring her arm. The fiscal would then fail to apply for a Non Harassment Order (NHO), which might have offered some protection to Adrienne and had been explicitly requested.
Dismayed at the outcome, she formally complained about the failures in court, even writing to First Minister Nicola Sturgeon, who passed her letter to the Crown Office for response.
A senior fiscal later apologised, saying: "The Depute made errors in the assessment of the available information and mistakenly thought that there was not enough evidence to prove the assault charge and that you did not wish a non-harassment order (NHO) made.
"As a result, a plea of not guilty was accepted in respect of the assault charge. In respect of the non-harassment order, the Depute mistakenly advised the court that you did not wish an NHO to be made and the court did not impose an NHO.
"I have spoken at length with the Depute who was in court. The Depute is extremely sorry that mistakes were made and may I offer my sincerest apologies on their behalf. I can assure you that I have taken steps to provide additional guidance and put in place further training to avoid any such repetition in future."
After the case, McCartney sent taunting texts, including one containing 30 laughing emojis.
Now desperate for help, depressed and despairing, Adrienne contacted mental health services. But, instead of giving her access to a psychiatrist or counsellor, NHS Ayrshire and Arran instead offered her an online cognitive behaviour course. The health board is now conducting a "detailed review".
Lawyer Tony Bone, a specialist in domestic abuse, who took on her case, said prosecutors' mistakes in court only added to Adrienne's sense of abandonment and isolation and ­ eventually, he believes, led to her death.
He said: "In all my years working in the field of domestic abuse, this case is the worst. Adrienne was let down by every agency she turned to. It is unforgivable.
"She should be here today and the fact that she is not is an indictment of the system and how it addresses domestic abuse. What happened to Adrienne keeps me awake at night but tragically she is not the first and, unless there is dramatic change, she will not be the last."
The plea bargain struck by her ­ husband and prosecutors and the failure to apply for legal protection for her in court would not end the authorities' mistreatment of her, however.
Weeks after she criticised ­officers' ­dismissive response to her reports of threatening behaviour in The Post in October 2021, two police officers arrived unannounced at her home at 9.30pm on November 27, a Saturday, and arrested her in front of her children in connection with a social media post.
She had arranged to be interviewed about it with her lawyer the following week, but the officers demanded she go with them immediately. She called Bone so he could explain but one of the officers allegedly took the phone from her and put it in his pocket.
In a subsequent complaint to ­the Police Investigations and Review Commissioner, she claimed officers cuffed her hands tightly after refusing to listen when she told them she was a victim of domestic abuse and that her arm had needed surgery after being injured by her husband and remained painful.
She told the watchdogs that she was held in a police car for three hours outside a station, 15 minutes from her home, because it was so busy inside. She said officers watched football on their phones, joked and sang the lyric "tell me lies, tell me sweet little lies". Despite going to the toilet themselves, they refused to allow her to and she eventually, humiliatingly, wet herself.
Bone said: "She eventually ­managed to get a phone call to me. When I told officers that I would happily bring Adrienne to the police station myself to answer any questions they had, I was told to 'f*** off'. That is also currently the subject of an official complaint.
"So a young mother is taken from her home late at night, in front of her children, handcuffed, only to be released after several hours without any charge and this, it has to be stressed, is a ­documented victim of domestic abuse."
Watchdogs told Adrienne's family there was not enough evidence to take action against either officer for allegedly hurting her injured arm and cuffing her too tightly because she was the only witness. Her death on August 22 is now being ­investigated by the Crown's Scottish Fatalities Investigation Unit but a post-mortem found she had taken a lethal mixture of alcohol and drugs, including meptazinol, a powerful painkiller first prescribed after her arm was injured in the alleged assault on Boxing Day 2020.
Her funeral took place on September 8, the day Queen Elizabeth died. Her mother said: "Aaron did not attend and neither did any of his family.
"It seems obvious to me what killed my daughter. If the failure of the court wasn't enough, the final straw for Adrienne was the police arresting her in front of her children.
"Psychologically, she never recovered from that. Her mental health worsened as she lost all hope of justice or a safe, happy future. Without the non-­ harassment order in place, Aaron McCartney continued messaging her.
"There is also a text message he sent to my grandson asking him to check whether his mother was 'responsive' on the night she died. Why was he concerned enough to ask my grandson to check but not concerned enough to call an ambulance?
"My grandson saw her sleeping in her bed but had not been warned of any imminent danger to her life. Next morning, he found her in the living room.
"I fear he will be haunted for the rest of his life by what happened. Like all of us."
Adrienne's family has now complained to the Lord Advocate, Police Scotland and other agencies involved with her ­daughter leading up to her death.
Yesterday, Superintendent Shaheen Baber said challenging domestic abuse was a priority for Police Scotland.
He added: "In this case, we received a number of complaints which were thoroughly investigated and responses were provided. A further complaint is being investigated by our Professional Standards Department and we will update Mrs McCartney's family when our inquiries have concluded. Our thoughts remain with her family during this difficult time."
The Crown Office and Procurator Fiscal Service previously said: "We regret that the views of the complainer in this case were not properly reflected in court. Additional training and guidance has been provided."
Yesterday it added: "The Procurator Fiscal has received a report in connection with the death of a 38-year-old woman in Irvine, Ayrshire.
"The investigation into the death is ongoing and the family will continue to be kept updated in relation to any significant developments."
When contacted by The Sunday Post, Aaron McCartney said: "It's a horrific tragedy, but I don't understand what it's got to do with me. What has what Adrienne done got to do with me? She died from a drug overdose."
When asked about his conviction following the Boxing Day incident, he denied it was domestic abuse insisting it was "fear and alarm".
He said he had been concerned about her in the hours before she was found dead, and this was why he asked her son to check up on her.
That weekend, he said, she had sent him "hundreds of messages. I was going to go down myself, but if I'd kicked the door in, God knows what I would have been done with. I thought the best thing to do was call her son."
He said he did not go to Adrienne's funeral because he was not welcome there, adding: "Obviously her family is trying to blame me, which is fair enough. They are looking to blame somebody."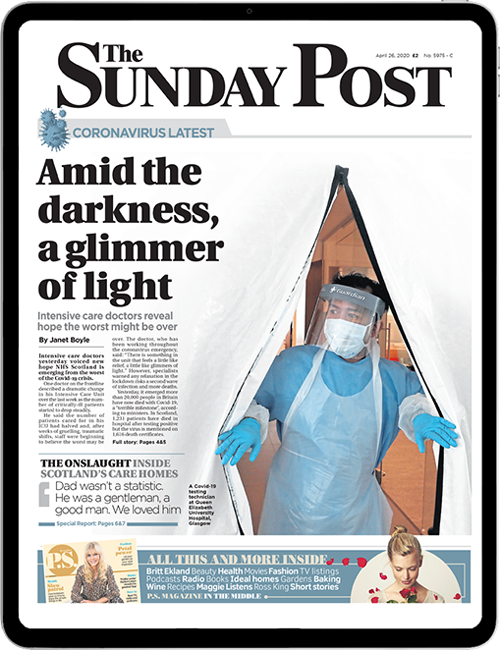 Enjoy the convenience of having The Sunday Post delivered as a digital ePaper straight to your smartphone, tablet or computer.
Subscribe for only £5.49 a month and enjoy all the benefits of the printed paper as a digital replica.
Subscribe