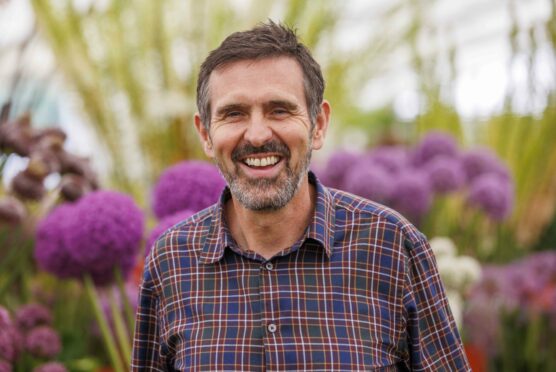 From King Charles's flowering estates to his two grans' distinctive gardens, Adam Frost believes gardening is the country's greatest leveller.
The award-winning horticulturist and Gardeners' World presenter said: "What's so wonderful about gardening is that it's something people enjoy no matter their class, race or even where they're from.
"In a world where we talk a lot about what divides us, why not instead look at things that we have in common? And I do think gardening has the power to breach all of that.
"I've interviewed the new King about gardening, which is amazing, but then I'll be down the allotment and I'll be chatting to all the people who love gardening there as well – normal people, like 'old Jim', who also love putting their hands in the soil, just as the King does."
Indeed, in the interview with King Charles, the monarch explains how it was his grandmother's garden at the Royal Lodge that led to his love for growing vegetables. This is mirrored in Frost's passion for gardening, which came from his own grandmothers and their gardens.
"My most precious experiences of gardening always go back to my grandmothers: Scruffy Nan, who had this wild, almost bohemian lifestyle that was reflected in her overgrown and wild garden, and Tidy Nan, who lived in working-class social housing and had the very neat mowed lawn with a greenhouse," he said.
"They may have been completely different people with totally differing views and circumstances – one was a republican and one was a total royalist – but they both had a love for their gardens and growing things from the soil. They were two huge influences on leading me to get into gardening and, inevitably, where I am today."
Thinking back to his early days in the garden, Frost – speaking ahead of his new live show, An Evening With Adam Frost, which comes to Edinburgh later this month – says it was remarkable how self-sufficient his grandparents were in growing their own food, and wonders if this is something more of us could be doing, as the cost-of-living crisis exposes our reliance on external sources and vulnerability to fluctuating food prices.
"Coming out of the war era, my 'tidy nan' and my grandad, they didn't have a lot of money and so growing their own food was kind of a necessity," he said.
"They weren't just growing it for fun. They were growing vegetables in the garden and growing fruits as well so that they had food on the table.
"It's something everyone who has the ability nowadays could be doing, because it's much easier than people think. Things like potatoes, turnips, onions, carrots, spinach – they're all so easy to grow and that could save people money. I'm not saying it can solve everything, of course, but it can play a part.
"I think a lot of it just comes down to education, and there's also maybe a fear factor in that people are worried they plant things and it all goes wrong. The reality is things will go wrong, but it's a learning curve. And there is something really incredible about growing food yourself, and then putting it on the table for your family to eat.
"I do think there is a rising trend of people growing their own, but at the moment it's just an undercurrent. It just needs to reach the masses more.
"Of course, not everyone has a garden, but you'd be surprised what you can grow on a balcony or even on a windowsill – especially things like herbs, which are so nutritious and good for us. The more you experiment with the easy things, the better you'll become and the more you'll be able to grow eventually."
Rona Dougall: Can I dig it? Well, actually, surprisingly, I absolutely can
The benefits of growing your own are clear for our wallets, but so, too, are the positives to our mental and physical wellbeing. A study conducted by the Royal Horticultural Society in collaboration with the University of Sheffield and the University of Virginia showed that gardening can have the same positive impact as vigorous exercise like cycling or running.
It found that people who garden every day have wellbeing scores 6.6% higher and stress levels 4.2% lower than those who do not garden at all.
This is something Frost, who has amassed seven gold medals at the RHS Chelsea Flower Show, agrees with and also touches on in his new book, RHS How To Create Your Garden: Ideas And Advice For Transforming Your Outdoor Space, along with advice on how to grow your own plants and food.
"We also cover the power of green spaces a lot in new podcasts that are coming out in January," he said.
"We go into everything from physical health and mental health to loneliness and dealing with pollution – a host of different subjects that the power of plants can help with.
"I think it's even just that basic action of being outside and of slowing down. A lot of people were obviously forced into that with the pandemic and the aftermath, so that has given people a new appreciation for being outside and the benefits of having a garden.
"I have experienced it so much myself. For example, at the weekend just there, I picked some vegetables out of the garden and some that I had bought at the market, and I thought, 'I'm going to prep this outside'.
"It was cold, and my family all think I'm a nutter, but I sat in the garden for about 45 minutes and cut and prepared all these vegetables, and my dog came out and joined me, and a few birds kept coming down to join me and see what I was up to. And by the time I finished the world just seemed a slightly better place.
"Being out in nature just does that to you. It makes you realise that we're just a very small part of a much bigger picture."
From the book
How to garden small spaces
If you've got really limited growing space, such as a window box or a narrow balcony where you can squeeze in a few pots, then I'd suggest growing herbs. Fresh herbs can completely change a meal, giving it depth of flavour, and taking it quite quickly to another level entirely.

If you have space for a few largish containers, then most vegetables will grow well in these. I've had success with kale, courgettes, chard and salad leaves in containers, and potatoes do particularly well. I use a good-quality, soil-based, peat-free compost to which I'll often add in some well-rotted manure. The plants don't necessarily grow as big as if they were grown in the ground, and you have to feed them more, but you can get fairly decent crops. If space is tight, perhaps you could concentrate on growing one thing to harvest for one or two special meals during the year. Basically, the choice of what you grow should be driven by the food you like cooking and eating.
From How I Garden by Adam Frost, BBC Books. An Evening With Adam Frost is at the Queen's Hall, Edinburgh, on Thursday. thequeenshall.net.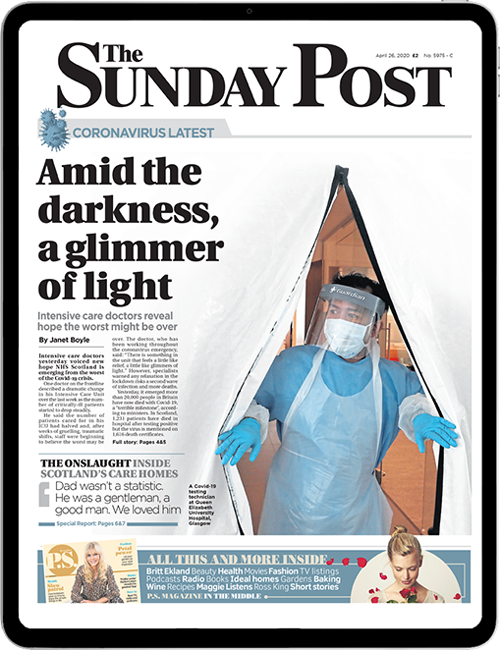 Enjoy the convenience of having The Sunday Post delivered as a digital ePaper straight to your smartphone, tablet or computer.
Subscribe for only £5.49 a month and enjoy all the benefits of the printed paper as a digital replica.
Subscribe