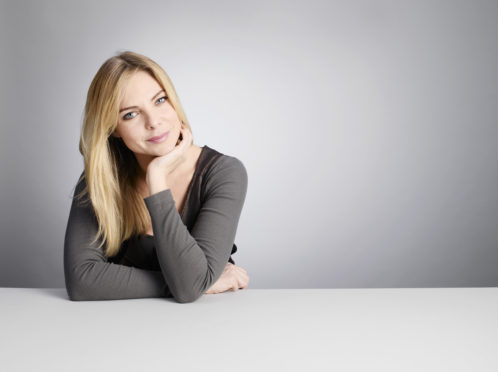 Samantha Womack is deep in conversation just a couple of hours before taking to the stage in The Girl On The Train. She's in every scene of the hit play based on Paula Hawkins' bestselling novel, and Samantha describes the starring role of Rachel Watson as one of the most exhausting she's ever had.
Yet the mum of two still finds plenty of energy to give P.S. her views on a number of subjects in a wide-ranging chat, including #MeToo, the dangers of social media, and the state of the entertainment industry.
As The Girl On The Train pulls in to Aberdeen this week, the 46-year-old said she took on the troubled, alcoholic character because it wasn't like anything she had ever been asked to do before.
"She seemed quite unlikable, a bit toxic and unruly, usually the kind of unpredictable behaviour that's written for male parts," said Samantha, who is mum to 18-year-old Ben and Lili, 13, with husband and fellow actor Mark Womack.
"I often feel thrillers on stage are a bit twee, but this didn't feel like that. It felt more of a comment on alcoholism, domestic abuse and people's fascinations with other people's lives when they are feeling a bit broken or alienated.
"I thought that was relevant just now with social media. I felt it made sense, people obsessing about other people's lives."
Although an active user of Twitter, it's a platform she has a love-hate relationship with, especially as mum to a young teenage daughter.
"I feel the pressure of being a performer, competing against people who use it as a platform to gain employment in this industry," she admitted.
"You know they have half a million followers, so they get the job compared to someone who has 10,000 followers.
"That's very much the society we're living in and I don't agree with it. But in saying that, I'm in this industry and I also want to work, so I'm in a battle with it myself – I'm trying to do it but loathing the fact I have to.
"Twitter doesn't feel as consuming as taking endless photos of myself for Instagram. I find that a bit strange.
"I have a 13-year-old daughter trying to navigate her way through it as well. I feel society is kind of lost right now.
"I tried to walk down Soho the other day and could barely get down the street, because every single person was on their phone and looking down. No one is engaged or looking up. I walked into about 28 people.
"As a mum and woman, and someone who cares about her daughter, there is a lot of body shaming going on (through social media). Even the body positivity that's happening – I'm big and proud, little and proud – there's too much of it. Constant blogging is just not healthy."
Something else not healthy is Rachel's behaviour in The Girl On The Train.
She's an alcoholic divorcee whose only escape is watching the perfect couple through the train window every day, happy and in love. Or so it appears.
When Rachel learns the woman she's been secretly watching has suddenly disappeared, she finds herself a witness and suspect in an unfolding mystery.
"The premise sounded plausible to me – her marriage fails, she can't conceive a child, she watches her ex-partner go on to have a perfect life with a woman who does have a baby, her drinking is getting worse to the point of blacking out.
"I thought it was an interesting premise for mental illness in some ways, how close to the edge you can get with very little tell-tale signs visible to other people."
Living the character each night has been a challenge for Samantha.
"It's definitely harder than I thought it would be on my mind and body.
"Something about the part inhabits you and I need to learn ways to shake it off afterwards. It's a work in progress – she's such an exhausting head to enter."
It's the latest in a long line of memorable roles for Samantha, beginning in 1994 as Mandy in BBC sitcom Game On and including her two stints as Ronnie Mitchell in EastEnders, which came to a memorably watery end in the New Year's Day episode in 2017.
Having been in the industry for nearly 30 years, Samantha has seen many changes.
The rise of the #MeToo campaign is one of them, but she notes a word of caution.
"I love the fact people are fighting against oppression, but I'm really passionate about not denigrating men, too.
"I've been manipulated by men and women in the industry equally as badly as each other.
"I've received a lot of fairly vicious manipulation from female producers.
"This is an industry where people want to get on and people use their power in order to manipulate things and I certainly think it's good those days are over.
"But for me the main difference I've noticed, and it's the same in so many places, whether it be the NHS, schools or the creative industry, is capitalism is taking over.
"The people sitting at the top tend to be less creative and more financially driven, and that has a devastating effect right the way through the process, because everything is about money.
"It's less rehearsal time, getting the biggest celebrities with the biggest followings, and it's not necessarily going for the slightly more risky projects with unknown writers and unknown artists with long rehearsal periods.
"Everything feels a bit shiny, polished and safe.
"The only way that's being negated is with the technology we have now, young up-and-coming filmmakers don't have to wait on a studio to give them money.
"That, for me, is the revolution, because it gives freedom without having to go through TV companies or movie producers, which tend to be run by estate agents these days."
Samantha is looking forward to returning to Aberdeen, having spent time in the city with friends while growing up in Edinburgh.
Once the tour ends, she says she is looking forward to finding out what the future will bring.
"I'd like to work less, if possible," she added. "I'm a jobbing actress, not someone who can pick and choose, so I have to do some jobs for money and others for creative stimulation.
"That means I'm invariably working solid, pretty much throughout the year, because in order to do the ones that stimulate you creatively, you have to do the money jobs.
"In the next decade, I'd like to take the pace out of it a little and be a bit more selective now the kids are a little older and the financial pressure is off.
"It will be interesting to see what my career will do if I'm not having to do the money jobs for a while, so we'll see what the future holds."
---
The Girl On The Train, His Majesty's Theatre, Aberdeen, Tue-Sat. Ticket giveaway: page 17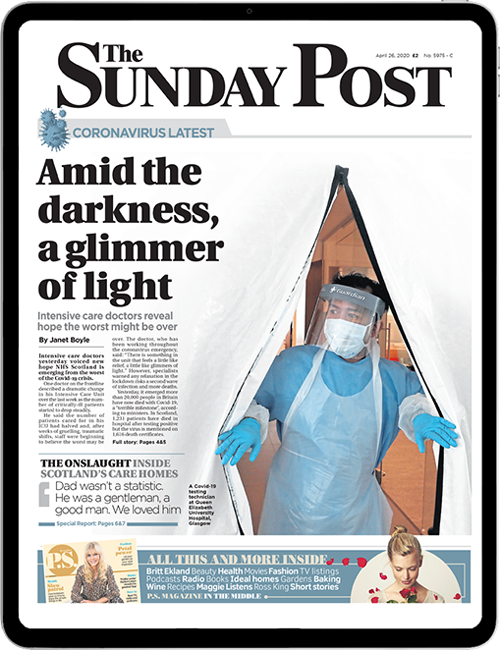 Enjoy the convenience of having The Sunday Post delivered as a digital ePaper straight to your smartphone, tablet or computer.
Subscribe for only £5.49 a month and enjoy all the benefits of the printed paper as a digital replica.
Subscribe