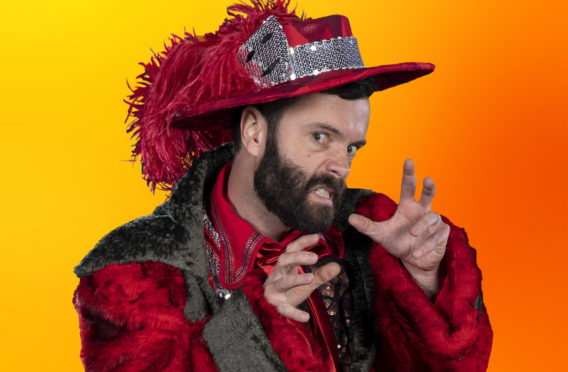 He is about to embark on an expedition into pantoland, so it makes perfect sense to James Mackenzie to prepare for it… in the Sahara Desert!
The actor, best known as the star of children's TV shows Raven and Mollie And Mack, is preparing for one of the country's most popular pantos with camels, dunes and 40-degree heat.
James is one of 14 hardy souls walking across the unforgiving African dunes this weekend to raise cash for a vital Scottish cause.
The trek, in support of children's charity CHAS, comes just days before he joins up with fellow River City stars past and present, including Grado, Scott Fletcher, and Stephen Purdon, in Pinocchio at Glasgow's Pavilion.
James said: "We're going to be juggling the Sahara Desert and the Pavilion panto. It's going to be an interesting time."
The gruelling endeavour sees the adventurers cover 30 miles in searing temperatures, while braving near-freezing temperatures at night.
For James, the personal voyage has been inspired by the memory of his late mother, Helen, and becoming a dad to Magnus, four. He said: "My mum passed away from lung cancer eight years ago.
"She was 66 when she died, just four months after she was diagnosed.
"Aside from being a husband and a father, I get paid to pretend to be other people, and do silly voices and wear silly clothes.
"It's the best job in the world, but it's not that important in the grand scheme of things.
"I've seen the work CHAS do for families with children dealing with life-shortening illnesses.
"My boy is happy and healthy and I can't imagine being in that position.
"Taking on this challenge means I can do something for a charity, inspired both by my mum, and being a dad myself. My mum never got the chance to meet the wee man, and there's always a sadness about that."
His training schedule saw him embark on a programme of cycling and running, as well as hill-climbing.
But he knew there was nothing he could do to prepare for the ultimate reality of the cruel heat of the desert dunes.
He said: "I've just come back from holiday in Italy and I fully intended to go running in the heat every day, but I accidentally fell over lots of wine and food, so that didn't happen.
"I'm told one mile in sand is equivalent to four on normal terrain. Being in the middle of the desert, camping with no light pollution, under the night sky and being able to sit there and contemplate life, my mum, my son in that kind of setting, will be pretty special."
After his energy-sapping African adventure, he'll face the gruelling pantomime schedule, preparing for the ever-popular Pavilion panto, which runs in Glasgow from November 28 until January 11.
But ask him which of the two is the harder task and James is a master of diplomacy.
"Panto is knackering, but it's fun being on stage with folk you get on with and making audiences laugh," he said. "But climbing through the dunes in Africa or doing two shows a day six days a week at the Pavilion? Honestly, I think they'll be on a par."
---
Find James's CHAS Sahara Trek on justgiving.com