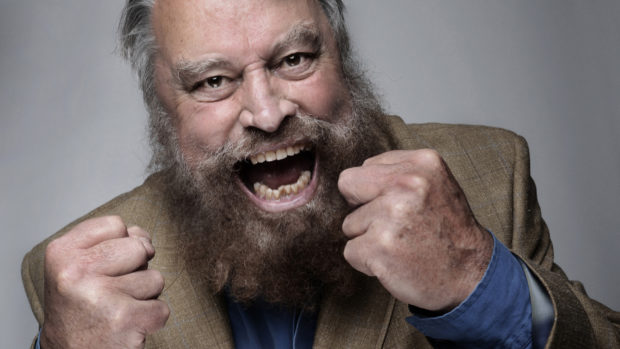 Brian Blessed is an interviewer's dream.
All you have to do is say, "Hi Brian" and he immediately starts talking about everything and anything.
His enthusiasm and zest for life fills the room and smoke comes from the reporter's pen. This is Brian Blessed, actor, raconteur and mountaineer and he is coming to a venue near you!
It was 60 years ago that a young Brian Blessed made his TV debut in the Saturday Playhouse TV production Last Day In Dreamland.
How wrong could a title be? For Brian it was not the last day but the first and he has been having an amazing time in film, TV and stage dreamland ever since.
"I don't mind speaking about the past just so long as people do not assume it to be me talking up my own obituary," said Brian.
"I don't like pigeon-holing and the years on your birth certificate are not some kind of rule which says you must do this at that age or feel that way when you are of another age.
"It just tells you that you have gone from being a young fool to being a middle-aged fool to being an older fool, that's it.
"If you live by age boundaries you will give up and die before you are ready. I have another birthday very soon [he's 83 on October 9]but I don't care.
"I am touring theatres with my An Evening With Brian Blessed show and I have more film and TV work, so I am enjoying today and looking forward to tomorrow
"I feel not much different than I did when I was 20. I do two hours of weights and cycling each day. I train, not because of vanity, but because of the expeditions I still want to do, such as climbing the five great mountains of northern Russia."
On screen, Brian has starred in everything from 115 episodes as PC "Fancy" Smith in Z-Cars to Doctor Who, Flash Gordon to Kenneth Branagh's Shakespeare films, Black Adder and many more roles than we can mention here.
On stage, his credits range from Shakespeare to thrillers to Cats to Chitty Chitty Bang Bang. Behind the scenes he has provided his amazing voice for Peppa Pig character Grampy Rabbit and countless others as well as being a voice download on TomTom's sat-nav system.
"Yes, I enjoyed that, imagine drivers listening to me giving them directions – when you get to the end of the road go stage left."
To think Brian Blessed could have spent his life as a miner.
"I come from Mexborough in South Yorkshire at a time when most young men left school and went down the mines," he said.
"I always liked fresh air and climbing upwards rather than digging down. I might have taken a job on the railways because that was a big love of mine but then so was boxing.
"Strange that I should end up being an actor. I think it was in part because I liked peace and quiet and I still do, and as an actor you need times when you are away from people, on your own, learning lines, contemplating your character and so on.
"That is one of the reasons why I got into mountaineering – it is very peaceful on top of a mountain, not many people about and you can hear yourself breathing – especially if it has been a tough climb.
"I am a peaceful sort of person really. I enjoy my garden at home. Some people think it is a little strange because the garden is about four or five acres and I love being there including doing the actual gardening work.
"I have a Buddhist garden and an African garden, with figures of a 20ft giraffe, elephants and gorillas. It's full of birds and bees, as I have beehives too."
Brian Blessed has never seemed to be the relaxing sort. He has looked and sounded like a warrior for many years.
"One of my ancestors was a warrior, right back in 1066. I expect he had a bushy beard and a big voice as well. Sadly he was killed while fighting against Harold but he was mentioned in dispatches by William I who referred to him as Blesse. I don't feel like a warrior especially, I am much too peaceful."
There is even a Brian Blessed Quiet Room at York University where the students' union named the study space after him.
"I was very flattered, the students obviously recognised that I am the shy and quiet sort."
But what about that voice?
"I have always had a voice that, well, what can you say, a voice that can be heard above many others," said Brian.
"I did take operatic coaching which helped to get the best out of it but I don't think I would have had a great career in opera. Being an actor with many different roles has been much more fun and it still is. The voice is a big help in pantomime of course when you have a thousand or more kids trying to shout you down. I used to let them win of course!"
Brian also made his voice heard when he was appointed a UN Ambassador for Animal Welfare.
"Another of my passions is for animals and that they should be treated properly and with respect," he said.
"I was delighted to accept that appointment and went to a number of parts of the world where animal welfare could be better, much better.
"My job was to try to change the thinking of people who do not know better than to treat animals unfairly or, in some cases, with cruelty. I think we have had quite a bit of success but it is an ongoing work for all of us. It is good to make a difference, animals are very special."
The mountains still beckon to Brian Blessed but so does space.
"These days my biggest love is space," he revealed. "I'm actually a fully-trained cosmonaut. I trained with NASA and at Space City in Moscow, testing prototype suits with lots of mountaineers and microbiologists on Reunion Island.
"To help the space programme, about seven years ago, we filmed on this volcanic island, simulating climbing the highest mountain on Mars, Olympus Mons.
"I believe I will go into space one day because I truly believe we are children of stardust and we can't keep remaining in the cradle.
"We have to go out there. I meet thousands of children at the National Space Centre at Leicester which I visit fairly often. They all want to go into space."
Space will have to wait because Brian has plenty to do here on this planet at the moment.
He stars in Banking On Mr Toad which will be on our screens next year and there are other offers pouring in daily.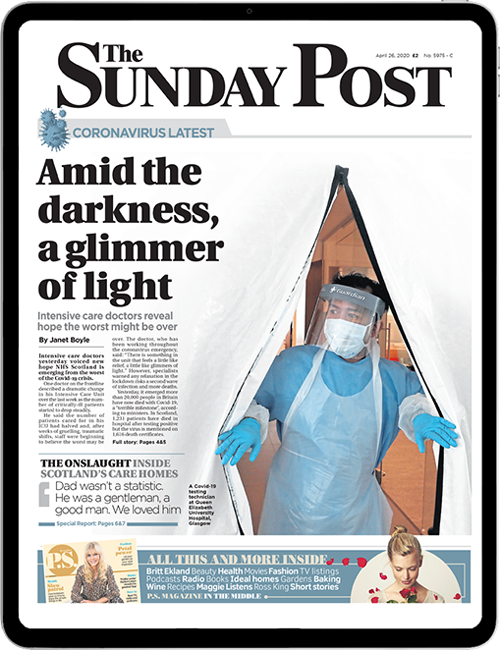 Enjoy the convenience of having The Sunday Post delivered as a digital ePaper straight to your smartphone, tablet or computer.
Subscribe for only £5.49 a month and enjoy all the benefits of the printed paper as a digital replica.
Subscribe