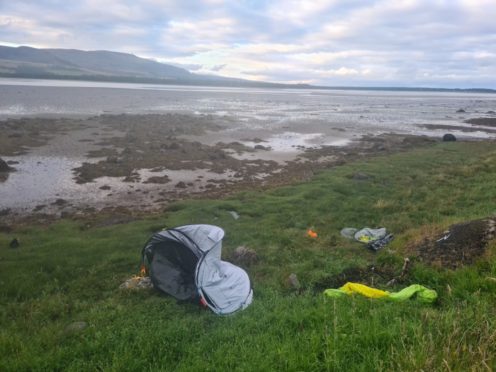 New curbs on wild campers have been urged as villagers in rural Scotland describe beauty spots being buried beneath a mountain of litter and discarded camping kit.
They have told how some of Scotland's most spectacular landscapes been left strewn with litter after an influx of inconsiderate campers have flocked to the Highlands and Islands since lockdown was lifted.
Now there are calls for wild camping to be restricted or for by-laws to be imposed on overnight parking in a bid to clamp down on the minority who are behaving badly.
Margaret Meek, who runs the Facebook group NC500 The Land Weeps, said: "Last year it was pretty close to intolerable and people were exhibiting bad behaviour. This year it has been exacerbated by people coming here for their staycations.
"It's the sheer volume of camper vans…and we've never seen the thing with camping in tents before. There's a beautiful beach at Ceannabeine that has always been magical and now it's covered in tents on the slopes going to the beach.
"The types of people are younger, wanting a holiday, wanting a party and wanting to do it somewhere to save money. It's very beautiful here and it's wild but it's not a wilderness. When you pitch your tent you're in front of someone's house or beside someone's field of sheep.
"The problem is overwhelming and there's no mechanism in place to do anything. I think they need to look at managing the numbers.
"The Scottish access code ­probably needs to be really tightened. We need by-laws to control overnight parking and some means of enforcing those by-laws.
"A lot of people who come here know that in Scotland there's a right to roam so they say they can stay overnight and you can't stop us.
"If bins are overflowing the council will empty them but the pick-ups are only every two weeks and if there's faeces I don't think anybody cleans it. If there are tampons and nappies, the only people who are going to clean it up are local people. What we've seen is not the best of humanity."
Problems have been worst in the Highlands and Argyll, with people parking on roadsides and even camping at historic monuments or war memorials.
Last month, bikers provoked fury by camping on the Commando memorial near Spean Bridge in the Highlands and claiming they had been drinking so could not leave.
Dave McBain runs the Highlands community organisation Historic Assynt, dedicated to the preservation of Ardvreck Castle and Calda House in Sutherland. He said: "This year has just been outrageous. We've got to put it in context and say that probably 90% plus of people are doing the right thing but it's when you get such an explosion in numbers that the 10% is quite a big 10%.
"The majority of wild camping or dirty camping or roadside parking is a grey area legally, but historical monuments are pretty black and white as you can't camp in a scheduled monument. "But we've got people camping right under the eaves of Calda House and leaving human waste.
"People are doing things on the cheap and we can kind of understand that people have been furloughed or are on no pay so they are looking for a cheap holiday but there's a huge lack of thought from a lot of people.
"They turn up with a tent, a box of matches and a few cans of beer. It just isn't acceptable."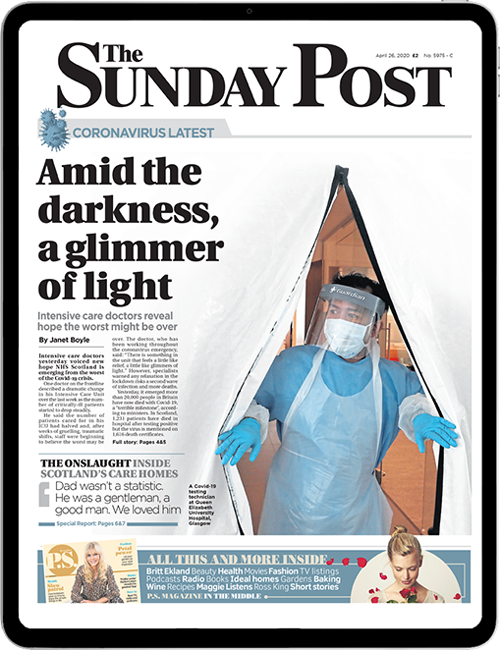 Enjoy the convenience of having The Sunday Post delivered as a digital ePaper straight to your smartphone, tablet or computer.
Subscribe for only £5.49 a month and enjoy all the benefits of the printed paper as a digital replica.
Subscribe