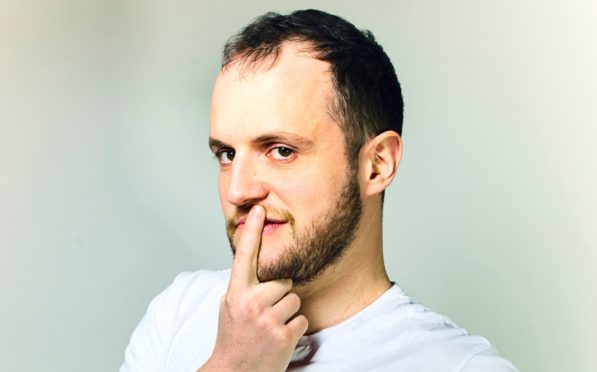 Jack Barry is an Edinburgh Fringe veteran and a talented comedian, but you may have seen his face somewhere else – on your crisps.
The 30-year-old comic was the face of McCoys in a recent advertising campaign –  the aftermath of which he addresses as part of his new show.
"For a time my face was on every packet in the country which was quite surreal," he laughs, as he chats to The Sunday Post ahead of two Scottish dates this spring.
"I'd go into corner shops and there were hundreds of my own face. Even for a time they had big cardboard cut-outs of me in service stations.
"One time I went to get petrol in Oxford and some police started bullying me. They saw me standing next to it and started calling me 'crisp boy' which I did not appreciate!
"Lots of people I went to school with and haven't spoken to in years have started calling me up and saying 'you're on the crisps'.
"I started doing stand-up about it in the hope that McCoys will bring back the advert, it's a good source of income.
"One day I think me and Gary Lineker are going to have a fight to the death to see what crisp is the best…. but I'm pretty sure he has no idea who I am."
Crisps aside, Jack's new show Tango mainly explores sex, love and relationships. It came about after his parents asked him to be their unofficial marriage counsellor.
"It meant that I ended up having some frank discussions with them about sex and learning things about my parents that I didn't think I'd ever want to know," Jack says.
"At the same time it made me think – why haven't we discussed this before?
"That's the cut and thrust of the show, I'm happy to tell you some of my most embarrassing stories and massively overshare in the hope that everyone will start talking about sex. I'm taking the bullet for everyone else."
Jack says one of his general rules in life is to get everything out in the open and talk about things, no matter how awkward or difficult.
He adds: "It's all about being a bit less prudish and being a lot more honest about things. One of my general rules in life is that there's no point having secrets and leaving things unsaid.
"The show is fun, silly and accessible, so bring your parents!
"We actually had parents in the audience at the Fringe with their children and while it was initially awkward it was a lot of fun by the end."
The show debuted last year in Edinburgh where, like many stand-ups, Jack has been heading every summer for the past ten years.
He describes the Fringe as an important institution – comparing it to 'exams for comedians'.
"You spend all year revising and hope you get good marks and people enjoy it," he says.
"It becomes part of your year really, it's weird, it's like still being at school because everyone else thinks of the year starting in January and ending in December but we think about it starting in September and ending in August.
"There's not many times like the Fringe where you get to perform to great audiences every day for a month. Every year I come back from Edinburgh a much better comedian than I was when I went. It's invaluable to learn your craft and get better."
Jack's love of comedy started with idolising character comics like Harry Enfield and Rick Mayall. He loved the likes of Monty Python and Blackadder and ended up asking his parents how he could get into comedy.
They suggested going to Cambridge and joining the famous Footlights troupe.
"I applied to Cambridge," Jack recalls. "They told me I was too stupid to go there so I went to Leeds University instead. They had a group called Tealights so that was close enough!"
Eventually,  Jack decided to go solo, and he credits the likes of James Acaster for helping him out and encouraging him along.
"James took me on tour and had me as his support a few years ago, when I was really bad at comedy," he says.
"I was struggling with confidence and wondering if I had the talent to do this as a job.
"At the time he was one of the best up and coming comedians in the country, I really looked up to him and he thought I had something and that gave me confidence.
"Thankfully a few years on I'm quite a lot better than I was then. It's like everything else, you have to do an apprenticeship, an internship.
"There's quite a few years of not getting paid and being quite bad and slowly you get a bit better.
"The sad thing is that when you're starting out you do a lot of open mic gigs and a lot of them insist you bring friends along so they get an audience.
"I burned all my bridges by inviting my friends when I was really bad at comedy – lots of them have never come to see me ever again!
"Comedy kills friendships as well as dreams…"
Not all of his time at Leeds University was spent on comedy, and Jack has a secret weapon in his arsenal – a degree in Chinese.
So could that mean he has a shot at breaking a huge potential market in China?
"I've always thought I need to know about comedy in English first before I go for it in a second language," he laughs. "I have tried to bring it into my act over here before. It always makes people kind of awkward I've found. If you speak Chinese on stage in this country, people don't know enough about it to know if you're telling the truth!
"People would know enough French to tell it's real but with Chinese they think you're being racist and just making random noises. It always makes people quite tense.
"Maybe I should start writing jokes in Chinese and try to break China, but I don't think stand-up is much of an art form there."
Before breaking China, Jack will take Tango to the Borders town of Kelso on March 1, followed by an appearance at the Glasgow Comedy Festival on March 24.
"Scots are great, a really good sense of humour and really good fun," he says.
"When I supported James on tour we did Glasgow and it was one of the best tour dates we'd done, so I'm really looking forward to getting back."
---
Jack Barry is at Kelso Theatre on March 1, and plays Glasgow Comedy Festival on March 24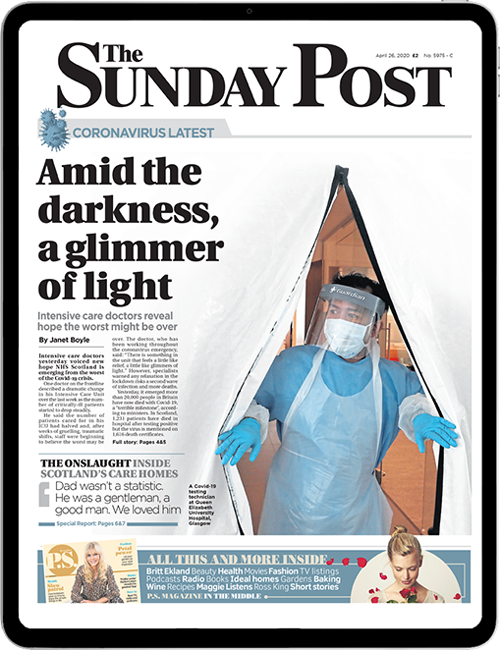 Enjoy the convenience of having The Sunday Post delivered as a digital ePaper straight to your smartphone, tablet or computer.
Subscribe for only £5.49 a month and enjoy all the benefits of the printed paper as a digital replica.
Subscribe