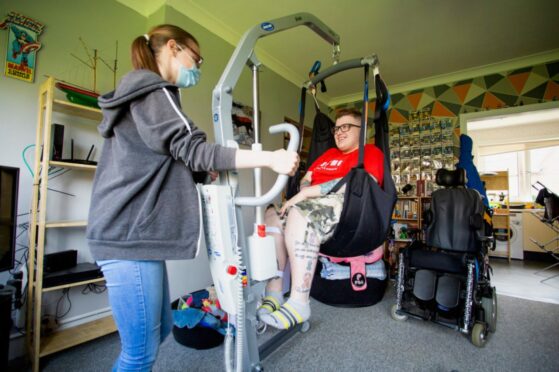 A fifth of young disabled Scots feel unsupported as they transition into adulthood, new research has found.
Disability campaigners say many young people describe leaving school as like "jumping into a void" as support networks fall away.
In a survey of 200 young people across Scotland, nearly a third of respondents said they had not been asked basic questions about their future aspirations by educational and care professionals.
Availability of support was identified in the findings as the most important component to help young people with additional needs become more independent, but 19% of 18 to 20-year-olds said there wasn't enough support available, while 15% pointed to a lack of information.
Supported by charity ARC Scotland's Scottish Transitions Forum, the consultation spearheaded by young disabled leaders aims to highlight the experiences of those living with disabilities as they prepare for adulthood.
Scott Richardson-Read, a policy and development worker with ARC Scotland, admits that the transition period has always been an issue, and the voices of the young people seeking support can often be lost in the complex process.
"The fact that young people don't feel adequately supported is not a surprise at all," he said. "Transition happens when someone is no longer considered a young person, and they become a young adult. All of the processes that supported them as a young person stop, and all of the processes that support them as a young adult should start. However, it's all about how the two gears mesh together.
"For some young people, they can have up to 19 different professionals in a transitions meeting, all working on different parts of the puzzle. It's a little like a Rubik's cube. People are focusing on one side of the problem, rotating the Rubik's cube to align all the stickers of the same colour, but as they're doing that they're changing the puzzles for everybody else.
"So, from a professional point of view, it's really complex. And for a young person in the centre of all of that, and their parents and carers and people that look after them, too, it can be really overwhelming to keep track. The voice of the young person within that process is usually missed or not supported to be heard."
The survey and its results come ahead of a conference due to take place next month at Edinburgh's Dynamic Earth, which will give young people a platform to speak to politicians and decision makers about what matters to them.
Titled Hear our Voices, Respect our Choices, the event has been organised by the Divergent Influencers, a group of young disabled people who work as ARC's spokespeople for inclusion and accessibility.
Richardson-Read added: "A lot of young people describe transition as like falling off a cliff edge. All of the things and people that were supporting them suddenly step away, and it's almost like jumping into a void in the hope that you'll be caught by the services.
"It's just not education and employment and health and social care, it's also housing and benefits and transport and all the other stuff, like friendships and relationships, that young people want to do to live their lives.
"This conference will give voice to people's lived experience, in the hope that policymakers and professionals will listen to what young people and their parents and carers want at the end of the day, embedding that within improvements across Scotland."
ARC's report also found that transition has an impact on young people's mental health and wellbeing, and for many this develops into stress and more severe anxiety.
MSP Clare Haughey, Minister for Children and Young People, who will virtually open the conference said: "Providing the right support for young disabled people, as they make the transition from school to adult life is critical. The Scottish Government are committed to improving outcomes for disabled children and young people and are committed to introducing a National Transitions to Adulthood Strategy in this parliamentary term."
James Fletcher, ARC Scotland's director said: "For too many young disabled people and their families the move from childhood to adulthood is stressful and challenging at a time when they should be excited about their future."
It feels like services want you to fit neatly into one box

– Luke Murphy
One of ARC's Divergent Influencers, Luke Murphy believes it is not his physical disability that presents challenges in life, but the barriers put in place by a lack of support.
The 27-year-old has a rare genetic condition called Ehlers Danlos Syndrome, which affects only one in 2500 people, and he has been a full-time wheelchair user for the past seven years. The condition makes his joints dislocate easily, and he has also experienced a number of other issues, such as bladder failure and sepsis.
Although he was not diagnosed with his condition until he was 18, the symptoms appearing almost overnight, Murphy has required additional support from Child and Adolescent Mental Health Services since the age of eight. Like the respondents to the Voices, Respect our Choices survey, he says the transition from childhood to adult services was fraught with issues.
"You go from weekly support appointments in school, then the minute you leave, it's basically a case of, 'Well you're an adult now'," he explained. "It's like they expect your disability to disappear overnight.
"I started having symptoms when I was 18. It started with a few knee issues then to the point where I couldn't walk without crutches, and eventually I was in chair part-time. I went from fine to not fine at the same time when all the services I needed were disappearing because of my age."
Murphy also has experience of the care sector through his brother, who has a learning disability and autism, which he says is the category of people that are "most often forgotten about" and often don't their voices heard.
As well as improving the transition between services, Murphy says different departments need to work together more effectively, providing a holistic approach to care.
He continued: "Yes, there are mental health services. Yes, there is support like social work for your physical health. But they don't look at the overlapping issues, and if you have a physical disability, you're far more likely to have mental health issues. This isn't addressed, and there needs to be more openness to looking at the entire picture.
"x when, realistically, we are all intersectional, and we all fit into multiple little boxes. It shouldn't be what's easiest for [services]."
What's more, Murphy points to issues with services and support varying across different council boundaries.
He explained: "I live in Rutherglen, which is South Lanarkshire Council, but if you cross my street, you're in Glasgow City Council. I have what is a reasonable budget from social work for myself to get care support, but I can't get equipment from occupational therapy, like a comfortable armchair for my living room. So, I'm stuck in bed or my wheelchair. On the other hand, my friend who lives in Glasgow City Council can get a comfortable armchair, custom made to her, but can't get care support.
"It's scary to think how lucky you are depends on what side of a street you live on."
---
For information, support and advice, visit arcscotland.org.uk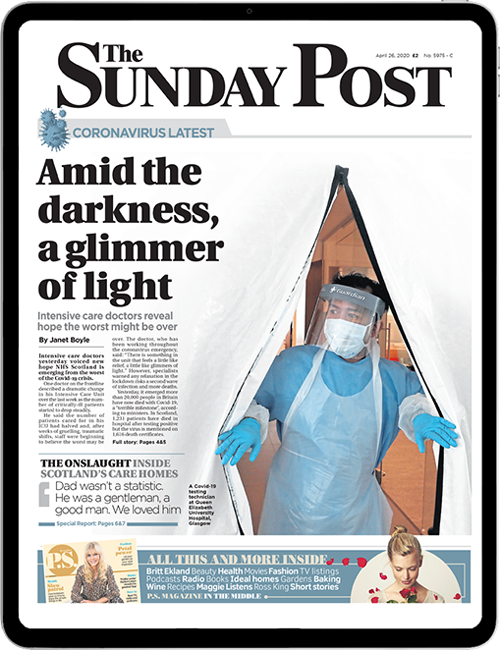 Enjoy the convenience of having The Sunday Post delivered as a digital ePaper straight to your smartphone, tablet or computer.
Subscribe for only £5.49 a month and enjoy all the benefits of the printed paper as a digital replica.
Subscribe