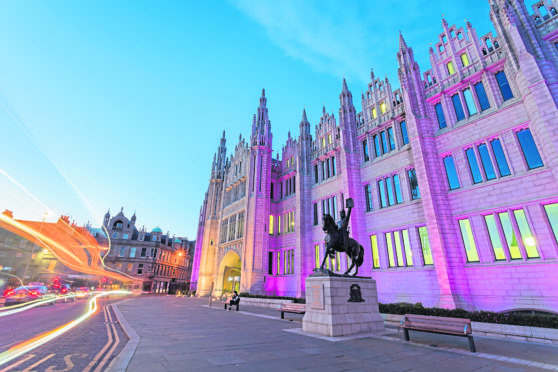 A weekend break in Aberdeen takes me back to the future. Standing on the pavement, staring up at the grand, granite edifice of Aberdeen's historic Station Hotel and whipped by an icy North Sea wind, I cast myself back to student days and one of many journeys to Scotland's third largest city on the overnight train.
The highlight, before my onward travel further up the coast, was a long-soak in a claw-foot Victorian roll-top bath – so deep I could float – followed by a full Scottish breakfast in the Station Hotel.
Fast forward to the 21st Century and its clanking pipes, creaking floorboards and draughty rooms of yesteryear are gone.
This historic hotel is marking its 125th anniversary and I step into a chic foyer and bar/lounge area that could be anywhere from Milan to Manhattan.
I'm looking forward to Hogmanay. And when it comes to location, it doesn't get any better.
It sits smack bang in the heart of town, close to transport and just a short walk to the city's New Year street party in School Hill. Aberdeen's main drag, Union Street, is even closer, boasting countless bars, restaurants and shops.
Last year's Hogmanay party featured Celtic rock band Gleadhraich and ABBA cover act Thank You For the Music. It came to a spectacular close with a dramatic fireworks display. And more of the same is planned for Tuesday with a bash that will feature some of Queen's greatest hits culminating with more spectacular pyrotechnics.
For now, my other half and I are out to sample other Aberdeen delights. But before hitting the town on foot to take in a show at historic His Majesty's Theatre, it's time to savour some of the hotel's glowing hospitality. After drinks in the bar, my guest and I head for a dinner of finest steak and all the trimmings, followed by a tasty cheese board, accompanied by a full-bodied red.
We'd previously sampled a traditional High Tea – early afternoon meals of light, flaky haddock, with chips and peas and macaroni cheese and garlic bread, followed by tea and a tiered tray of cakes from light, fluffy scones to delicate fancies. Scrumptious!
The hotel has been part of the family-owned Cairn Group since the early 1990s and is currently the focus of a major programme of refurbishment, which protects and enhances many of its original features.
In the latest phase, the ground floor lounge, reception and bar were given a make-over and the new Station Brasserie dining experience created.
Fifty generously proportioned bedrooms have been sympathetically revitalised.
General manager Linda Matthew tells P.S: "This wonderful building is a grand old lady of the city so we have to ensure the venue retains its charm and personality. We have worked hard to bring the hotel back to life and celebrate its individuality."
Aberdeen oozes history and striking architecture. In the centre, look up and you'll spy the three Victorian domes of His Majesty's Theatre, the Central Library and St Mark's Church, and the imposing neo-gothic Marischal College will take your breath away.
One of the jewels in its tourism crown is the new-look Aberdeen Art Gallery.
The A-listed venture has a sparkling line up of attractions in 2020 including the first solo exhibition in Scotland by internationally acclaimed artist Haroon Mirza and a celebration of famed fashion designer Dame Zandra Rhodes.
If you're visiting with the kids, there's plenty on offer from Codona's funfair and the city's glorious golden sands, beautiful any time of year. If you keep your eyes trained on the sea you are likely to spot bottlenose dolphins. And within easy striking distance of the sea front, the Beach Leisure Centre, Lynx Ice Arena and Transition Extreme offer almost every activity a youngster could wish for, from skateboarding and rock climbing, to ice hockey and making a splash in the pool which has four fun flumes and a wave machine.
And there are festivals galore – including the Spectra Festival of Light that kicks off in February, Dance Live in October, and the Sound festival of new music in November.
There's nothing like getting back to the future – especially when there's so much to look forward to.
Nicknamed the Granite City, Aberdeen is famous for its locally quarried granite stone which was used to build London's Houses of Parliament, Trafalgar Square, Waterloo Bridge and the Thames Embankment.
P.S. 
Nicknamed the Granite City, Aberdeen is famous for its locally quarried granite stone which was used to build London's Houses of Parliament, Trafalgar Square, Waterloo Bridge and the Thames Embankment.
Factfile
Prices start from £90 per room, per night (based on two people sharing) for dinner, bed and breakfast in a refurbished room Friday to Sunday, subject to availability.