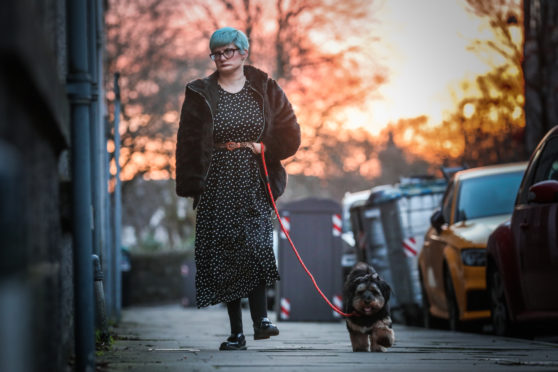 A woman with a rare ­disability is struggling because her prosthetic foot is designed for a child and keeps breaking.
Tuesday Mennie, 31, was born with no left foot because of a ­congenital disorder called Moebius syndrome.
She relies on a prosthetic leg but the plastic foot has repeatedly broken under her weight and NHS Grampian has been unable to find a suitable replacement.
She claims specialists blamed her weight and says she was made to feel she should avoid walking and slim down.
The admin assistant from Aberdeen weighs 9st 4lb and is a size 10, but her right foot is only a child-size 13 so her prosthetic leg is one intended to be used by a youngster.
Tuesday has had to use duct tape several times to patch up the foot when it develops cracks as she often has to wait weeks for an appointment.
Now she is trying to raise money to buy a more robust custom-made leg from a specialist company in Manchester.
She said: "It was the start of 2019 that I went to the NHS in Aberdeen as my foot had broken again. This had been happening every couple of months.
"While I was at the appointment, they said one of the reasons it kept breaking was my weight.
"I'm a healthy adult weight for my height but because my foot was made for a child's weight I was too heavy for it.
"It felt like they were telling me to lose weight, but to be a child's weight I'd have to be underweight for an adult.
"I was also told I had put on weight since last time I got weighed, which was when I was 14. I would think I'd put on some weight now being 31. They also said I should get a dog walker instead of walking my dog myself.
"I left feeling like I needed to go on a diet and not leave my home, or walk as little as possible which is hard for me as I want to be as independent as I can."
Moebius syndrome is an incurable condition that affects just 200 people in the UK. The most common feature is an inability to control facial expression because sufferers lack two of the 12 cranial nerves.
Tuesday also cannot move her eyes from side to side and was born without fingers.
She was fitted with her first NHS prosthetic leg when she was a ­toddler and grew up to live an active, independent life.
She enjoys walking her dog, Hamish, and has also started a YouTube channel to highlight the challenges of living with Moebius.
But she is hampered by her leg, a basic model that must match her child-size right foot to allow her to be balanced when she walks.
Her current prosthetic leg can take a ­maximum weight of 55kg and Tuesday tips the scales at 59kg with a healthy body mass index for her 5ft 1in frame.
As a result, the foot is prone to breaking or it cracks, making it is too unsteady to walk on safely. Only the foot section is replaced as it screws into the main section of the prosthetic leg.
Tuesday said: "They did suggest I try an adult foot and I considered it. But then I would have two sizes of shoes and I wouldn't be able to balance if I had two different-sized feet. They do have a catalogue of ­different feet but they couldn't find one that was small enough but could take my adult weight.
"I have in the past just put duct tape around it.
"I tape it together until I get a replacement and don't then go out unless I have to – to go to work."
Tuesday has now discovered a company called Beast Prosthetics in Manchester that can create a sturdier custom-made leg.
However, she will have to pay the £6,500 cost upfront so has appealed for help on a crowdfunding website. Wellwishers have already donated £4,210 to her GoFundMe page.
NHS Grampian said: "While we cannot comment in detail on this case, we are sorry to hear about the issues Ms Mennie has been facing.
"We would be happy to discuss this with her further and would encourage her to get back in touch with her clinical team. Alternatively, our Feedback service is available via phone, email or post."
---
To donate to Tuesday's fundraiser, visit gofundme.com/f/1m3g6rh1io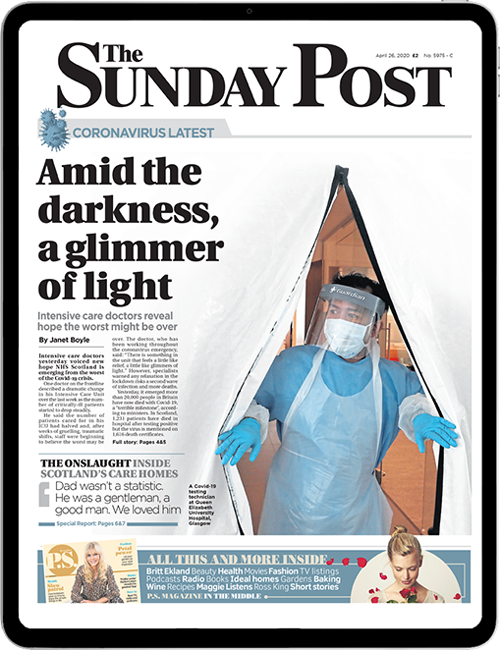 Enjoy the convenience of having The Sunday Post delivered as a digital ePaper straight to your smartphone, tablet or computer.
Subscribe for only £5.49 a month and enjoy all the benefits of the printed paper as a digital replica.
Subscribe