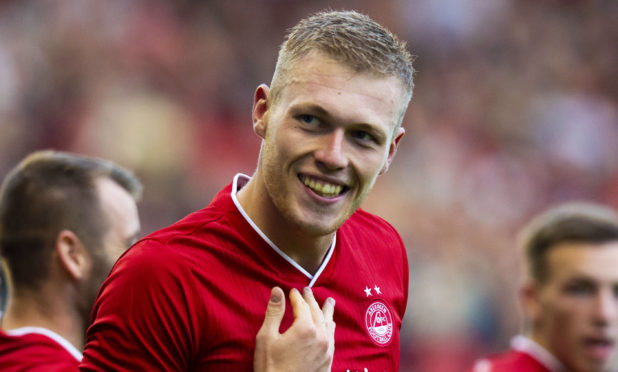 Sam Cosgrove was left red-faced the previous time he tried to claim a hat-trick.
But after finally notching a bona fide treble, the Aberdeen star is glowing with pride instead of embarrassment.
On-fire Cosgrove struck three times in a single game for the first time in his career as the Dons dumped Chikura Sachkhere out of the Europa League on Thursday.
In doing so, he took his goal tally to an astonishing 25 in 32 matches.
But for the big striker, the biggest takeaway from his European heroics is finally being able to live down a bogus hat-trick claim from last season, about which his team-mates have never stopped laughing.
"The ball is safely in my little spot in the changing room. So it will probably be gone by the morning, but I'm hoping it's still there!" he joked after Thursday's game.
"I've come very close before – like the famous incident at Hamilton last season, where I got given the match ball, thinking it was mine.
"I had two goals, then got told our third goal was my goal by the linesman.
"But it was very clear that it wasn't my goal, and was credited to Lewis Ferguson.
"So I had to give the ball back and, as a striker, that was hard.
"I was getting slaughtered then, and I am still getting slaughtered about it now!
"My team-mates hammer me for it, and I got it again when I walked in with the ball this time.
"But I'm grasping on to this one. I've had a few twos, so this is a nice feeling to get the recognition for the three."
Cosgrove didn't look like a natural goalscorer during a fallow first few months at Pittodrie. But since catching fire in December, the big man has been unstoppable.
He has picked up this season where he left off in May, notching six goals in four games to help the Dons through to a Europa League third qualifying round tie with Rijeka.
Looking back, he insists he always backed himself.
"I'd have said a year ago that scoring 25 goals in 32 games was possible, but that it was unlikely," Cosgrove admitted.
"But I wouldn't be sat here right now – or at this club – if I didn't believe I could do it. For it to actually happen, I'm thankful to a lot of people – the manager for his faith in me, and the work that goes on behind the scenes.
"I've worked hard personally. Even at the start of this season, I was coming under a bit of scrutiny for not putting some of the chances away.
"I hold my hands up to that as well. There were some games we could have been well clear.
"But the manager echoed what I said. It's early on in the season, the chances were coming and that was the main thing.
"As long as I kept getting in the positions, kept getting the chances, then once the match sharpness came, I always believed I could put the chances away."
The Dons kick off their Premiership campaign against Hearts today, before beginning preparations for Thursday's clash with Rijeka.
The Croatians, who graced the group stages two seasons ago, are no mugs. But after masterminding a victory over them in 2015, Aberdeen gaffer Derek McInnes is familiar with their approach.
So far, the Dons have been able to concentrate solely on Europe.
The question now is whether they can juggle domestic competition with the demands of playing Continental opposition in midweek.
Doing so is never easy. But Cosgrove believes there is enough strength in depth in the Pittodrie dressing room to secure further European progress.
"If we want to go deep into Europe, we will have to cope with playing Thursday-Sunday most weeks," he said.
"It's what we are here to do. It would mean a lot to progress further in Europe, and for the manager – and players – it would be unbelievable, given some of the teams we can potentially play against.
"It would be massive for the club. It's going to be tough, but the rewards would be massive.
"For a club like Aberdeen, there is a certain expectancy for us to do well in Europe.
"It's hard to put a finger on what that means in terms of the rounds.
"But with the confidence we're taking from these games, we definitely think we have a good chance of going further."