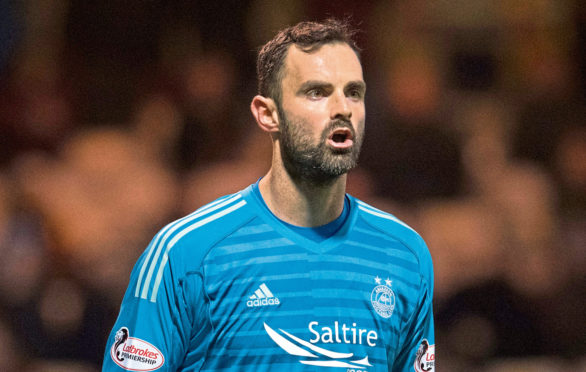 Joe Lewis and Steven Gerrard will face off in today's Scottish Cup grudge match between Aberdeen and Rangers.
But once they fought together for England's cause – and Lewis has never forgotten the Gers gaffer's friendly approach.
Dons keeper Lewis was only 20 when he received his first, and only, call-up to the England squad for a 2008 double-header with the United States and Trinidad & Tobago.
David James was the Three Lions' No. 1 at the time, with Joe Hart just behind him in the pecking order.
Superstars like David Beckham, Wayne Rooney, Frank Lampard, Rio Ferdinand, Ashley Cole and John Terry ruled the roost.
But it was Gerrard's willingness to welcome Lewis into the fold, despite his lowly status and youth, that resonates to this day with Aberdeen's goalie.
"He was great with me. He was very welcoming to all the young players who'd come in and I really appreciated that at the time. But I don't like him now!" joked Lewis.
"David Beckham was captain, but Steven Gerrard was one of the best players in the team and, away from the pitch, he was such a sound guy.
"That really stuck in my memory from that week. I came away thinking what a decent guy he was.
"It's not that I didn't expect that of him, but there were other players who seemed to be dealing with other things.
"It was right after the Chelsea v Man United Champions League Final (won on penalties by Manchester United) so a few of them had other things on their mind beyond chatting to me!
"But Steven sat down with me at breakfast. We had a good chat – you remember it as a touch of class."
Rangers' visits to Pittodrie are
rarely quiet occasions, but last time around it was filled with flashpoints.
The atmosphere was, as ever, combustible.
It resulted in two red cards and a reported dressing-room confrontation involving Dons boss Derek McInnes and the Gers squad.
For Lewis, it was just the latest in a memorable string of Granite City clashes.
"I do remember my first Rangers game here," he said.
"There was just a different feel about the atmosphere. A bit of hostility which, as a player, is enjoyable.
"You don't ever want it to boil over or to have any challenges going in that are going to seriously injure players.
"But you do love a physical game – a high tempo, aggressive game – which I'm sure they will bring and we'll bring as well."
Lewis is unlikely to be the most prominent of Aberdeen's aggressors.
The big stopper is a cool customer on the park, unlike his opposite number today, Allan McGregor.
The Gers stopper doesn't shy away from tangling with opposition players, and was hit with a retrospective ban for a nasty, shin-high challenge on the Dons' Lewis Ferguson during the sides' last meeting.
Lewis respects McGregor's ability.
But the Englishman admits Wes Foderingham's effective demotion following his arrival has surprised him.
"Allan is a very experienced goalkeeper,. He's played at a high level his whole career," said Lewis.
"At the top level with Scotland and Premier League games as well. He's got a great pedigree.
"But I actually felt for Wes Foderingham, because I thought he'd done a very good job for Rangers as well.
"Of the ones who haven't been moved on, he was probably one of the few players over the last few years who came out with any credit.
"He's still there and it was as bit tough on him when you bring in someone of McGregor's experience, but you can't really argue too much with the replacement they brought in.
"He's had a good season and he's a good goalkeeper."
Lewis, too, has enjoyed another good season between the sticks, leading Dons boss Derek McInnes to say he wouldn't swap his keeper for any other in Scotland.
There are few, if any, better shot-stoppers, or clearer heads when it comes to avoiding the kind of confrontations Gers stopper McGregor becomes embroiled in.
"It's not a conscious effort. I don't see the point of it really," he said.
"You just end up getting yourself into trouble and risk getting a card, which isn't too beneficial.
"It's probably in my nature as well. That's not to criticise anyone who doesn't do that.
"There's different ways of keeping goal. Everyone has their own style and personality.
"In my experience, the best players play to their strengths, do what works for them.
"I know players who want to involved in everything and that keeps them buzzing and on edge for the game.
"I want to keep the ball out the net and that's what I focus on.
"Catching the ball if it comes in the air, keeping it out of the net, saving shots. That's my bread and butter and I try to focus on that!."