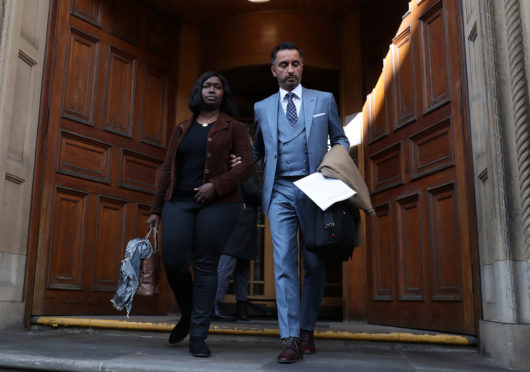 The lawyer for the family of Sheku Bayoh, who died while being arrested, has accused police watchdogs of trying to smear him in an official report.
A report into Mr Bayoh's death by the Police Investigations and Review Commissioner (PIRC) stated Police Scotland held intelligence files on solicitor Aamer Anwar, we can reveal.
Yesterday, Mr Anwar, a high-profile lawyer with a reputation for taking on cases embarrassing to the authorities, said there was no reason for PIRC investigators to mention the intelligence in their report to the Crown Office apart from undermining him.
He believes the information referred to is in Special Branch files, historical and irrelevant to the probe into Mr Bayoh's 2015 death.
Mr Bayoh died after he was arrested by officers in Fife. His family are suing Police Scotland claiming his death was unlawful and blame police officers.
The matter involving the files on Mr Anwar, a Glasgow-based lawyer, has been referred by the Crown to the Information Commissioner's Office – who look into potential data ­protection breaches.
Mr Anwar believes the ­intelligence referred to in the police watchdog report dates back to the old Strathclyde Police force and should have been deleted.
The commissioner can issue fines up to €20 ­million – about £18m – or 4% of an organisation's turnover if private information is used improperly or without authority.
Mr Anwar said: "As a ­victim of a racist attack by police officers in 1991, a justice campaigner since, a past organiser for the Anti-Nazi League and, having been placed on extremist hit lists, it comes as no surprise that the police kept an intelligence file on me.
"However, in this instance, it appears PIRC either deliberately or stupidly misinterpreted what the police had been doing, whilst managing to smear myself as the Bayoh family lawyer in the process.
"A simple investigation by the PIRC would have revealed the file relates to logs of ­potential threats to myself from extremists.
"It's shocking that a PIRC inquiry tasked with investigating the death of Sheku Bayoh chose to divert attention by focusing on myself.
"I am to meet with Police Scotland in the coming days and am satisfied they have been transparent in what information they held.
"What is of deep concern is the failure of PIRC to carry out a proper investigation and for the Lord Advocate's office and ICO failing to inform me for over two years."
He added: "I accept Police Scotland has not engaged in inappropriate conduct with regards to myself.
"However, as a campaigner, I believe I may have been the subject of targeted activity in the period 1989 until 2002, so I will be seeking disclosure of any material that may still exist from the days of Strathclyde Police."
The files on Mr Anwar are thought to have been found about two years ago as PIRC made computer checks during their investigation into Mr Bayoh's death.
A source said: "PIRC were investigating whether there were any data breaches on computers by police in relation to Mr Bayoh's death.
"They found nothing untoward but, during the process, found that police held intelligence logs on Mr Anwar.
"The fact that police have been keeping intelligence on Mr Anwar was then mentioned by PIRC in their report to the Crown Office, who have forwarded this to the Information Commissioner's Office.
"It's believed the files contain routine material, are historical and should have been destroyed or deleted."
Mr Bayoh, 31, a father of two, died in May 2015 after being restrained in the street near his Kirkcaldy home by up to nine police officers responding to reports of a man carrying a knife.
A lengthy PIRC and Crown Office probe decided no police officers should face any charges over the death. Mr Bayoh's family exercised a right to review this decision. This remains ongoing.
His sister Kadi Johnson described PIRC's reference to the intelligence logs as "a ­desperate attempt to smear our lawyer to discredit us".
She said: "We are now afraid that what happened to the family of the late Steven Lawrence more than 26 years ago is happening to us.
"I see this as a desperate attempt by PIRC to smear our lawyer to discredit us in the public eye."
A PIRC spokesman said: "We have investigated a number of additional matters in ­relation to the death of Sheku Bayoh as directed by the Crown Office and Procurator Fiscal.
"We have submitted our reports to the Crown Office and are unable to make any further comment."
A Crown Office ­spokesman said: "We have referred the matter to the Information Commissioner."
A Police Scotland ­spokeswoman said: "We are fully engaging with the Information Commissioner's Office and are therefore ­unable to comment further at this time."
A spokeswoman for the Information Commissioner's Office said: "It's not a matter that the ICO is in a position to comment on."
---
Family still fighting for answers more than four years after early-morning struggle led to death
Their belief that police watchdogs tried to smear their lawyer adds to the concerns of Sheku Bayoh's family.
Relatives have raised a number of issues about how he died and how his death in May 2015 was investigated.
Officers were allowed to sit together for several hours in Kirkcaldy police station immediately after he was pronounced dead. It then took 32 days for the Police Investigations and Review Commissioner to obtain statements from any of the officers involved.
And it emerged months afterwards that one of the officers, PC Alan Paton, was described as a racist by members of his own family.
Mr Bayoh's body was covered in injuries, including gashes and scratches all over his face, and a broken rib and petechial haemorrhages in his eyes which is a sign of asphyxiation.
It took the Crown Office until last year – three years after Mr Bayoh's death – to decide no officers would face any charges in relation to the death. His family learned of the decision in the media after it leaked out.
Mr Anwar said: "More than four years after Sheku Bayoh lost his life after being restrained by several police officers, his family continue to have to fight for justice, truth and accountability.
PIRC said: "We conducted an extensive and detailed investigation into Mr Bayoh's death. More than 500 statements were obtained by PIRC investigators who
also gathered evidence from experts, including those suggested by the Bayoh family and their representatives."
Kate Frame, the first PIRC Commissioner, left the post this month after her five-year term ended.
She has been replaced by former Crown Office prosecutor Michelle Macleod.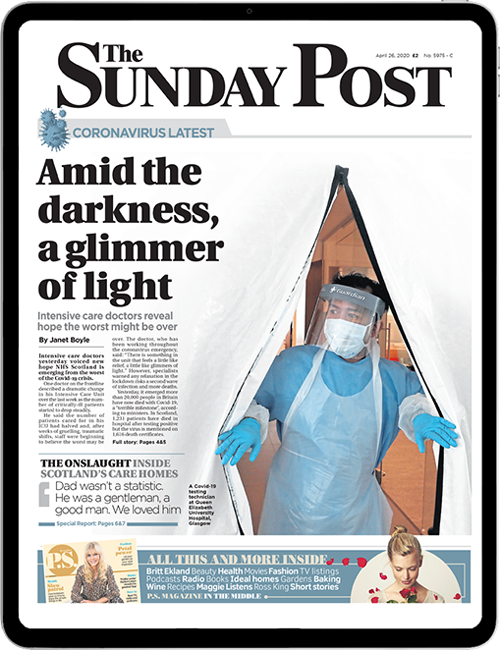 Enjoy the convenience of having The Sunday Post delivered as a digital ePaper straight to your smartphone, tablet or computer.
Subscribe for only £5.49 a month and enjoy all the benefits of the printed paper as a digital replica.
Subscribe