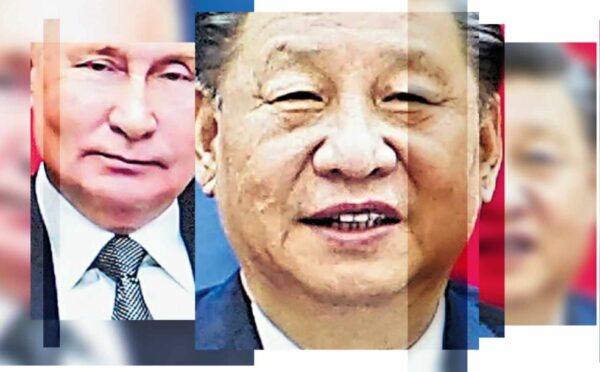 Enjoyed is the wrong word, perhaps. We have endured a confounding, calamitous year on so many levels but what does 2022 hold?
No surprise that in world affairs we can expect more – and different – challenges. We should hope some, at least, are predictable and our analysts and policymakers will already be considering them and preparing effective contingency plans.
Before plunging into prediction, however, it is worth noting any consideration of the year ahead must be coloured by long-term changes already under way; trends, alas, that do not make us safer. One possible starting point might be to look back just one generation to December 1991.
Then, unexpectedly, on Christmas Day, the West's arch-rival the Soviet Union ruled itself out of existence. So positive and momentous were developments that even before the Soviet collapse, a grand East-West peace had been concluded the year before.
Central Europe seamlessly welcomed free elections and unprecedented free-market reforms, far more than even Western economies had done.
Confidently it looked like we had, for the first time ever, a peaceable union across our vast Euro-Atlantic-Eurasian land masses: from Canada's Vancouver (going eastwards) to Russia's Vladivostok.
And the UN Security Council, often frozen by great-power deadlock, unclenched itself to authorise a widely-seen good use of military power to end Saddam Hussein's occupation of Kuwait.
Thirty years on, where are we? Certainly not in such a place of hope. Let's keep the list of most pressing problems to a fistful of five and not one of them mentions Covid, the life-changer, that just two years ago we could not have imagined.
First is the geographic scope and the intensity of democratic withering. Around the globe and in Europe too, authoritarianism is gaining strength. Worse, anti-democratic regimes often employ foreign adventurism to generate domestic jingoism (they have often little else to give).
This matters to us because those regimes are crisis-exporters, and they are numerous, and more innovative. Iran and North Korea might top the inventory as recurring disruptors but the list is longer.
Turkey, with a population comparable to Germany's, and a conventional military that dwarfs Britain and France's, is militarily involved in multiple countries.
The occasion for catastrophic mishap is great; we are fortunate Turkey's downing of a Russian warplane in 2015, for example, did not escalate into a major war.
Then there is a Belarus, a country even less on our minds, but a fantastic authoritarian innovator and crisis exporter. Its credits in 2021 include international hijacking (as part of its ramped-up domestic authoritarianism) and freighting refugees straight from the Middle East to its borders with Poland and the EU, inflicting an unforeseen combined humanitarian-security crisis.
While countries that we infrequently think of generate calamity, the big ones of Russia and China present our second and third challenges. And in keeping with their size and ambitions, multiple challenges these are.
Russia sees itself as a perpetual victim, yet cannot comprehend how its behaviours frighten, and harm, its many neighbours. The country also has remarkable capacity to innovate and surprise, repeatedly wrong-footing the West.
And what we mentioned about 1991 is reprised here but in reverse. That universal happiness over shared values and the end of European war has vaporised.
The Kremlin's stipulations to Nato last month over Ukraine lob us back to before the end of the Cold War.
2021 in pictures: From the Capitol to Cop26, the Euros to Indiana Jones
Vladimir Putin demands the functional crippling of Nato, and that its eastern members, also all in the EU, should be rendered defenceless. These demands come credibly from a Russia that militarily clobbered Georgia in 2008, snapped off one part of Ukraine, and since stokes violent insurgency in another. The West's response? Vapid talk of "serious consequences".
Russia exudes risk even more because it demonstrates Western limits of anticipation and response. And that, again, is before mentioning cyber warfare.
A third challenge, bigger, further-reaching, and more subtly menacing than Russia, is ever-growing China. We always knew it was there, with the world's largest population and third-largest territory, outsizing the US.
But for decades the West refused even to recognise it and, inside, the authorities were busy starving or simply killing millions.
What a change: Western desire for consumerism yielded China not only monumental contracts but also first-rate technology.
Modernised and enriched, China emerges as globally ambitious. China's Belt And Road Initiative is not simply the largest, most expansive infrastructure project probably in history, but also one intended to redefine and integrate all production in its vast paths, with China as the hub.
That coincides with military prowess in which China repeatedly signals its enhanced capacities and intentions. Recently, allowing satellites to capture the construction for target practice of a full-size mock-up of an American aircraft carrier, the US's preeminent symbol of global military ability, was a brazen statement of confidence if not, necessarily, intent.
On this for 2022, look for more of the same: an incremental, multifaceted programme that renders Chinese international gains so costly to resist that military confrontation might simply become impossible as the West inches towards a quiet concession.
Our fourth concern is one in which Russia and China are again able producers, but have companions: cyberthreat. The digital age gives incredible positives. But it also allows unparalleled Orwellian domestic control, and can and does undermine foreign public opinions, and renders key infrastructure vulnerable to attack.
Worst is the intrinsic nature of social media, and its propensity to divine what it thinks we want to hear and see, and to reinforce an ever-circumscribed world view by excluding alternate information and having our own circles reinforce that also.
Under increasing threat are main stream media, newspapers, in particular; informative publications that, often, and admirably will run opposing viewpoints literally side-by-side.
The unimaginable near-overthrow of American democracy was considerably facilitated by misuse of social media but also its intrinsic perspective-constricting algorithms. The cyberworld is a growth area for the unexpected, unpredictable and malign.
The fifth concern about our future insecurity is that we have the convergence of a multitude of flashpoints, poor communications, and many opportunities for accident and mishap, even before thinking about destructive intentions.
US General Mark Milley, chairman of the Joint Chiefs of Staff, was pounded for contacting many governments during the January 6 insurrection in the Capitol to assure them that the US government remained "strong and in control".
That he called his Chinese counterpart to reassure that those (extraordinary) events were neither cover for a pre-emptive American attack nor prone to accidental firing illustrates how we dangerously lack regularised communication channels.
What happened as the war-fighting posturing between Nato and Russia over Ukraine escalated in October? Russian representatives to Nato were expelled (on charges of espionage).
Then Moscow closed its delegation to Nato and expelled Nato officials from Russia. All this at the time precisely when military build-ups and cause for misunderstandings are escalating.
And add crisis multipliers: the bellicose statements and actions in 2021 by China, against Taiwan, and Russia against Ukraine, are likely to continue. Imagine if they materialised, and then, unthinkably, at the same time?
Such an ominous scenario is, at least, a known possibility. Among personalities who died in 2021 was the youngest and oldest US Defence Secretary, Donald Rumsfeld. Lampooned for talking "unknown unknowns," he was making an inescapably serious point.
Unexpected risks are additionally dangerous precisely because they are unforeseen. In addition to what we know we need to worry about, and of that there is plenty, our greatest threat may yet be "unknown unknowns".
Could the next 12 months be even more dangerous than the year of pandemic just endured?
Unfortunately, it likely is because of the myriad world flashpoints, a surfeit of revisionist states with regional and global ambitions, a fragmented West, and fragmentation within key parts of the West like the United States, which even this week saw warnings of both civil war and a military coup.
All of these impair our capacity to recognise threats and respond at all, never mind effectively.
Studying the history leading to the world wars often prompts questions like, "how could they not see all of those things happening?"
And, "how could they let it happen?" Let us hope not, but we may be in a similar period, with many tensions in many places, each of them different in kind and in their potential for escalation and coordination.
As we step into a new year, the optimism of 1991 seems unrecognisable. The world turns quickly and the prospect of 2022 being a continuation of 2021 is gloomy enough.
However if, in a year's time, we have met no unexpected moment of potentially calamitous international peril, then we can sigh with relief while counting our blessings.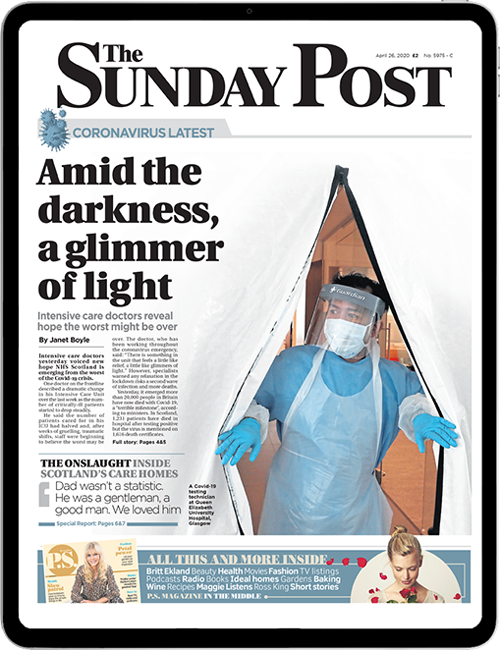 Enjoy the convenience of having The Sunday Post delivered as a digital ePaper straight to your smartphone, tablet or computer.
Subscribe for only £5.49 a month and enjoy all the benefits of the printed paper as a digital replica.
Subscribe