As an experienced cookery writer and professional chef, Claire Thomson knows how to create the kind of intricate show stopping dishes that make diners fall silent with delight.
But, equally, as a mum-of-three, she also knows how to whip up a mid-week meal to keep both picky toddlers and hungry adults reaching for seconds – without compromising on taste or variety.
When it came to compiling her latest cookbook, Claire knew she wanted to share the confidence she has in the kitchen, showing everyday cooks how they can create dishes for every occasion, with minimal fuss, no complicated steps and, importantly, ingredients that don't require an extra trip to the supermarket.
The result, Home Cookery Year, published last month, is the kind of handy guide a home chef can flick through for any occasion, from larder-led mains to celebration feasts, and features recipes Claire has collated over many years in her home kitchen.
"I think my confidence as a food writer comes across because I'm actually a chef – and I'm also a parent," explained Claire, who lives in Bristol with her family.
"So I know there are times in life where you're not going to be shopping for 100 ingredients to do one meal on a Wednesday night after the kids get home from school.
"And I also know how to cook for the time slot available.
"Yes, I can cook a flash meal if I've got hours in the day to assemble and shop for it, but I can also cook almost knee-jerk, making something quick when the kids are hungry.
"So, more than anything in my work, I don't want food to viewed as something pretentious – it should be accessible.
"A recipe book shouldn't intimidate, it should actually facilitate people with ideas and it shouldn't be difficult to make.
"Essentially, I want people who use the book to be able to cook like me."
Featuring 200 recipes categorised by meal, including mid-week suppers and light lunches, Claire's dishes rely heavily on cooking with the seasons, choosing ingredients and produce that are not only delicious but also cheap to source – something she believes is key for families.
She explained: "Eating seasonally is the more economical and logical way to eat – it saves you money if you, for example, buy a brilliant squash or pumpkin and then use it resourcefully over a couple of meals throughout the week.
"Squash are really good, useful things to have in your kitchen. They cost a bit of money because they weigh a lot – some of them can be six quid! – but you can make a soup, roast some as wedges with spices and chickpeas, or have it alongside your Sunday roast.
"I also like to utilise stuff from the larder, such as lentils and pulses."
Essential for anyone who wants to "cook with confidence at home", Claire's cookbook has perhaps come at the perfect time, as we all hunker down for the long winter months ahead.
Her recipes for autumn and winter cover family-favourites and winter warmers – filled with soups, stews, pies and roasts.
She continued: "Autumn is my most favourite time of the year, without a doubt. Even the low, incandescent light is so beautiful."
---
Buttermilk fried cauliflower with jalapeño and lime dressing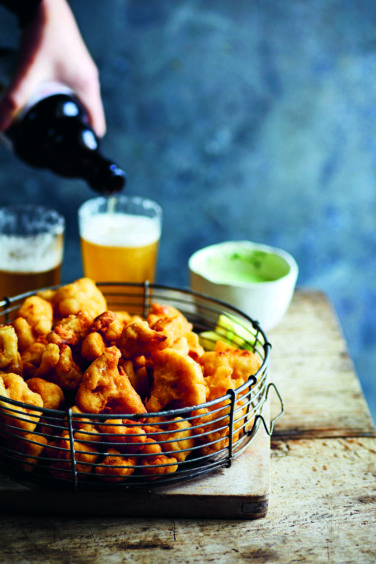 One of my favourite recipes in the book, this is so good. Watch as a whole cauliflower is devoured in minutes – it's so delicious.
When fried, heavens above, cauliflower becomes so unbelievably good, this will be your favourite way to eat it for evermore.
Serves 4 as a snack or appetizer.
You'll need
1 cauliflower, cut into bite-size florets
400ml (14fl oz) buttermilk (or use natural yogurt)
1 small clove of garlic, finely chopped
1–2 jalapeño chillies, roughly chopped
1 lime (or 2 if your limes aren't especially juicy), halved
1 small bunch of coriander, leaves picked and roughly chopped
½–1 tsp chilli powder
1 tsp cumin seeds, toasted and ground
½ tsp salt, plus more to taste
100g (3½oz) self-raising flour
50g (1¾oz) cornflour
Sunflower oil, for frying
Method
Bring a large pan of well-salted water to a boil. Add the cauliflower florets and boil for 2 minutes, until just tender, then drain well and allow to cool at little.
In the meantime, blend half the buttermilk with the garlic, chilli, salt to taste, juice from half the lime and all the coriander to make a smooth dressing, then put to one side.
Mix the remaining buttermilk with the chilli powder, cumin and a ½ teaspoon of salt, then mix the drained cauliflower florets into the buttermilk mixture until fully coated.
In a separate bowl, mix the flour and cornflour together with a big pinch of salt. Coat the cauliflower in the flour mixture and place on a baking tray so that the pieces aren't touching each other.
Pour at least 3cm (1¼in) of oil into a wide, deep pan and heat to 180C/350F. The oil is ready for frying when you drop in a piece of cauliflower and it sizzles and floats to the surface immediately.
Working in batches of about 6–8 pieces at a time, fry the cauliflower florets for a few minutes, or until golden on all sides. Remove each batch with a slotted spoon and set aside to drain on paper towels while you fry the remainder. Season well with salt.
Serve the fried cauliflower immediately along with the dressing and with the remaining half of the lime cut into wedges for squeezing over.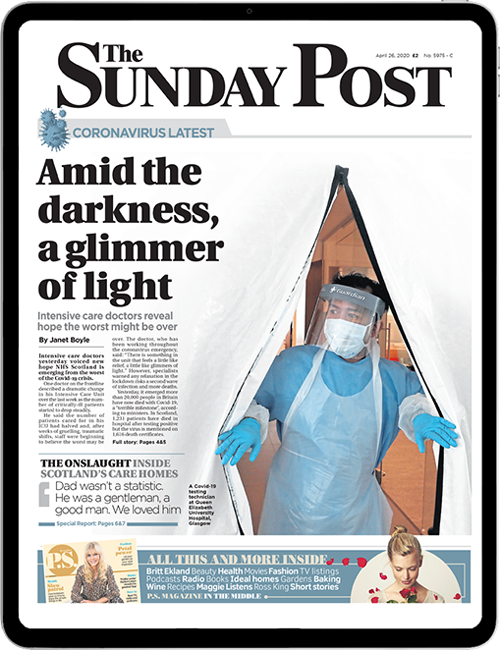 Enjoy the convenience of having The Sunday Post delivered as a digital ePaper straight to your smartphone, tablet or computer.
Subscribe for only £5.49 a month and enjoy all the benefits of the printed paper as a digital replica.
Subscribe