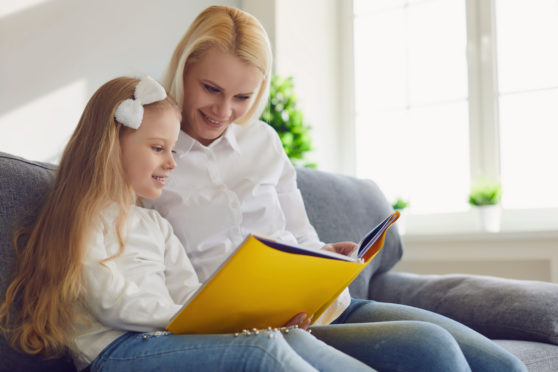 Experts have been predicting the death of the book since the first Kindle lit up, but there has been a surprise ending.
Despite children often being apparently glued to their screens, it seems they really love nothing more than a good read, with sales of kids' books in the UK climbing 15.5% in a decade.
The industry, worth £290 million in 2010, netted £335m last year.
A decade ago, with the rise of ebooks, there was a fear that children's books sales would plummet, but Publishing Scotland's marketing manager, Vikki Reilly, says it has been one of the least affected sectors.
"Publishers are upping their game, and children's publishers often lead the way, working with amazing illustrators, designing beautiful, tactile books that encourage cosying up with the physical book rather than a download," she said.
"Still, in whatever format children are reading in, it's greatly encouraging that they're getting into the habit of reading and getting great joy from it."
"Reading is going through a revival," said Kate Wilson, MD of children's publisher Nosy Crow. "Ten years ago, the industry thought by now it would have all gone digital for kids, but it turns out they still love real books."
The children's book sector has grown for the sixth consecutive year and, after adult non-fiction, is the industry's best-selling genre. When publisher Kate branched out with an independent publishing house in 2011, she put a strong focus on digital reading as she thought that was where the industry was headed.
"We thought that was the way it was going to go. After all, everything was going digital," she said. "But we soon realised there wasn't going to be a big change in children's reading.
"They tend to save on screen for text messages and social media, but when it comes to stories, they go back to books. The printed book has been far more resilient than we ever expected."
Kate, who grew up in Edinburgh, said the rise in celebrity authors such as comedian David Walliams and David Baddiel has driven sales. But there are also newcomers to the market, such as Pamela Butchart – the Dundee-born author who has revived Enid Blyton's cherished Secret Seven series – who really know how to connect with a younger audience.
"Pamela is fantastic," said Kate. "She has a background in teaching so she knows young children and what they want to read about – and she's so passionate because it's the books she grew up with."
Kate added: "Books are great. They're wholesome, portable, durable, you don't need to worry about the battery running out – and parents trust books because they're safe."
---
At school, I was captivated by Roald Dahl's The Witches. I remember thinking I wanted to make people feel the way I felt
Acclaimed children's author Ross MacKenzie is not surprised that many young readers prefer page-turners to pixels.
He said: "For a while everyone in publishing was trying to get their head around digital and how to transition into that.
"I don't think anyone really thought digital would replace books, but there was a fear. However, there's no getting away from the fact that people love books.
"There's nothing quite like the serendipity of finding a book on a table that you would never have stumbled on despite hours of searching online, and it becoming one of your favourites – and it doesn't disappear into the ether when you switch it off."
Ross, dad to Selina, 9, and Mollie, 7, is now travelling the length and breadth of the UK promoting his sixth book, Evernight, with visits to schools, libraries and book festivals. "By going out and talking about them, we're keeping books at the forefront of children's attention," said Ross. Now, the Renfrew-based author is inspiring children to discover the magic of reading, just like he did more than 30 years ago.
"It was primary five when I really got into reading," said Ross. "I had a teacher, Miss McLean, who would read aloud to the class. We all gathered on the carpet next to her desk and she read The Witches by Roald Dahl.
"It was the first time I had been so captivated by a story that I wanted to know what happened next. When she got to the end, I remember thinking I wanted to make people feel the way that I felt. That's when I realised that being an author was a real job. But I thought saying you wanted to be a writer was like saying you wanted to be a movie star."
Years later, however, Ross, who trained as a graphic designer, started his first book.
"I was always writing in the background," said the author. "One night, my now-wife Aileen and I were watching TV and I told her about this passion I had to be a writer. She said she would buy me a laptop if I wrote a book and got it published. After a couple of years, I had a finished manuscript.
"I didn't have an agent but sent it off to a publisher. Months went by and I was starting to lose hope – but one day we came home to a message on the answering machine saying they wanted to publish my book.
"The voice on the line was Barry Cunningham, the man who took a chance publishing Harry Potter when others turned it down. I was so excited. It was finally happening."
In 2010, Zac And The Dream Pirates hit the shelves. The title was a winner at the Scottish Children's Book Award.
Ross's second book, The Nowhere Emporium, received the same accolade, as well as the Blue Peter Book Awards Best Story in 2016. The 38-year-old's latest book, launched last month, is already proving a hit.
"It's strange, because when I speak to kids at schools, I usually tell them they're younger than my first book," laughed Ross.
"It's good to see another book out there. A lot of schools are now reading my book as class reads, which is amazing.
"I go to the schools and they have transformed the entire room into a scene from one of my titles.
"I became a writer for children because I love the magic of great stories and my dream is that readers will one day feel the same way about my books."
---
A day to celebrate
World Book Day on Thursday is a chance to celebrate authors, illustrators and, most of all, books.
Now in its 23rd year, the charity is on a mission to ensure every child gets a book of their own, as well as to encourage reading in more than 100 countries around the globe – and help share a million stories.
CEO Cassie Chadderton said: "Research has shown that reading enjoyment has been reported as more important for children's educational success than their family's socio-economic status, so we try to encourage reading for pleasure.
"We encourage children and families to share stories for at least 10 minutes a day. By creating that habit children can learn to get into reading for pleasure themselves."
She added: "Sadly book ownership isn't something that's guaranteed, but we're trying to change that by making sure all children everywhere can have a book of their own. It's such a powerful thing."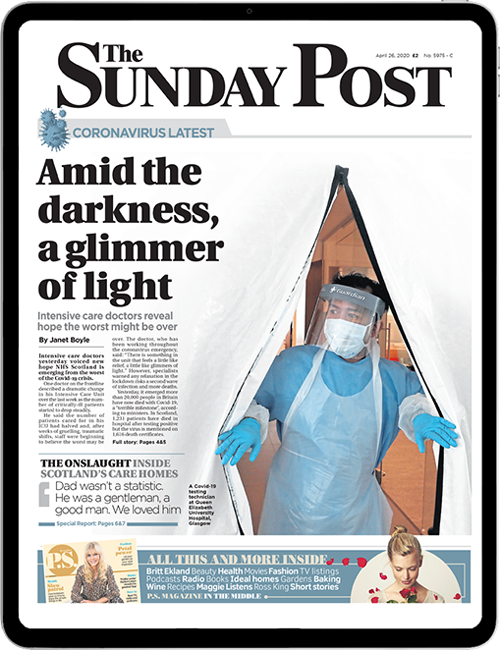 Enjoy the convenience of having The Sunday Post delivered as a digital ePaper straight to your smartphone, tablet or computer.
Subscribe for only £5.49 a month and enjoy all the benefits of the printed paper as a digital replica.
Subscribe