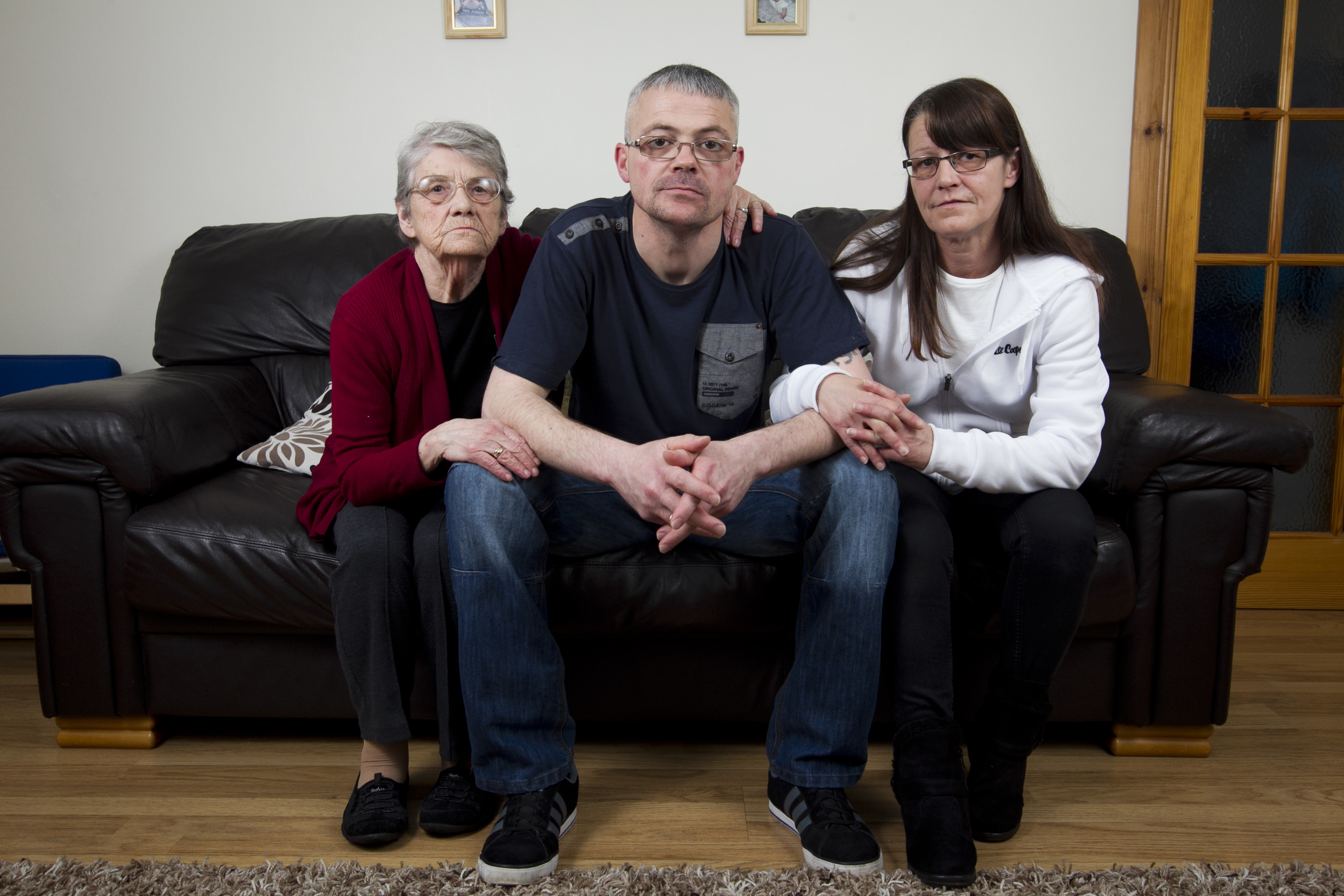 'I just feel sick. You are talking about our whole family and I don't know how we will get over it'
---
BETWEEN them, Janice Thomson and her husband Gary have worked at Pinneys for 35 years.
These last few sleepless nights have felt just as long.
The couple work at the fish processing plant, as does their son-in-law. Janice's mum Jessie Lupton, 84, worked there in the 1970s.
Gary, 41, has worked at the factory for 19 years but because he changed his role last year to a contract with a privately-run cleaning firm at Pinneys, he will get no redundancy pay.
"I just feel sick," he said.
"This is a massive blow to our whole family. We have no idea how we are going to get over it.
"We were told at Christmas our jobs would be safe and in January the factory passed an inspection by auditors with flying colours.
"There was no warning of this and a lot of people only found out about it on Facebook.
"We got letters during the week announcing that the company had just won three big contracts with Marks and Spencer but in the same breath we were told Annan would be closing."
Janice, 52, said the job losses would throw their lives into turmoil.
"How we are going to pay our mortgage and feed our kids is a huge worry," she said. "But on top of that, for our family the whole world has been centred around Pinneys.
"Everything down to our childcare arrangements which we work between us all revolve around the shifts at the factory."
'It's like Glasgow losing 50,000 jobs overnight. This is a disaster for Annan and for Scotland': Politician calls on Marks & Spencer to help halt closure of fish plant threatening to devastate community
Gary added: "Like a lot of employees, we feel angry, let down and cheated. I feel we are not just being abandoned, but crucified – and now our whole future is up in the air."
Meanwhile, a quarter of a mile away in the town, business owners and operators were bracing for tough times ahead.
Cafes, hairdressing salons, taxi firms, pubs, clubs, florist shops – they all expect to be hurting when the reality sets in that one in seven of the town's workforce will soon be thrown on the scrapheap.
Joan Carter only opened her main street florist shop, Flowers by Joan, nine weeks ago.
The 47-year-old moved to Annan from Cumbria in 2015 and she was left shell-shocked by news of impending job losses.
"I am stunned," she said. "Pinneys is such a big part of the community.
"It is not long since I started my business here and clearly this is a big worry. Flowers tend to be seen as luxury items and will be one of the first things people cut back on buying.
"I get a lot of custom from the workers at Pinneys and it is a very worrying time not just for me but for the whole town. I really feel for the workers and their families."
Just across the street at The Commercial Inn, landlord John Steel, 60, is in a similar situation.
He took over the pub just two years ago and up until now has enjoyed brisk trade from the nearby fish factory.
"This is a devastating blow to the town," he said. "It will affect just about every local business.
"We are one of the nearest bars to Pinneys and a lot of my regulars and friends work there.
"I feel sorry for them and their families. For me, the effects of the jobs going is hard to quantify just now but it won't be good.
"If the worst happens and Pinneys closes, there will be challenging times ahead. The whole town will need to pull together and see what we can do."
Annan – with a population of 8500 – is still recovering from another former big employer, Chapelcross nuclear plant, being decommissioned in 2004.
Then three years ago, boiler manufacturer Cochran UK – which employed more than 200 people – confirmed it would be cutting positions at its Newbie plant.
Andrew Kevans, 51, owner of the Tech Care garage, is concerned because he gets "very decent" trade from Pinneys employees dropping in to have their cars repaired and serviced.
"This will definitely affect us because we get a lot of work from the factory," he said.
"I get a lot of business by word of mouth, from workers recommending us to friends and family.
"I have been constantly investing in the future of my business so this is a big worry."
Waiting to pick up passengers outside Tesco, taxi driver Lindsay Brockie, 64, fears people will start walking or taking the bus instead of calling a cab.
"I ferry a lot of folk to and from the factory and also take them to do their shopping. It is a concern".
The Solway café and chip shop in High Street has been in the hands of the same family for 100 years and is still a staunch favourite with residents.
Owner Giovanni Toni, 62, has been there for four decades and has weathered a number of economic storms the town has faced.
But the latest job losses will be a bridge too far for the area, he fears.
"Down the years I've seen it all come and go, with jobs going at Chapelcross and Cochrans," he said with a sigh.
"But this has come as a real shock. I just didn't expect it.
"It will have a significant impact as I get a lot of factory workers in at tea-time, some of them several times a week.
"Everyone seems to be powerless. There is only so much we can take."