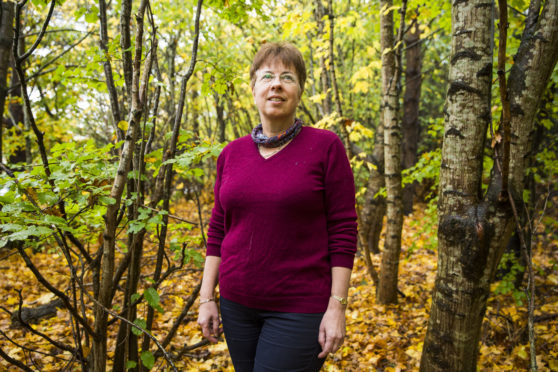 Scotland's public health officers have been urged to take radical action to curb the risk of a potentially lethal countryside disease.
Tick-bite victims may suffer the lifelong effects of Lyme disease because Scotland's treatment programme is not aggressive enough, according to campaigners.
They warn patients who develop Lyme disease, a bacterial infection which can leave victims with debilitating fatigue and muscle pain, are often misdiagnosed or only treated with antibiotics short-term, leaving them at risk of the devastating long-term effects.
Their concerns are backed by Scottish Conservative Shadow Health Secretary Miles Briggs, who is raising concern over the lack of research and resources being spent on tick-borne diseases after watching his own father's life being destroyed by a single insect bite.
He said Scotland needs to "wake up" to the life-changing consequences of tick-borne illness as shocking figures show a 43% increase in Lyme disease diagnosis, with 238 cases last year.
The MSP said: "Despite the fact that Scotland has some of the highest rates of diagnosed Lyme disease in the UK, there are still questions about the length of time we treat victims, and how much more the government needs to be doing to raise public awareness and fund research.
"I've written to the Chief Medical Officer Catherine Calderwood about these issues, but after speaking to people whose lives have been destroyed because of Lyme's disease, I'm in no doubt something radical needs to be done."
The MSP's own father James was struck down in 1994 and left almost bedridden for several months after being bitten by a tick when the politician was aged just 11.
Miles said: "Dad ran his own forestry business and worked in Perthshire and the Highlands felling trees.
"He was always an active man until he suddenly developed Bell's palsy.
"He became desperately ill and was admitted to Perth Royal Infirmary and we really worried whether he would pull through," he added.
"In those days very little was generally known about tick bites, and it was some weeks before we finally got told he was suffering the effects of Lyme's.
"The doctors and nursing staff at Perth Royal Infirmary had been brilliant with him, and we are eternally grateful to them for the care he received, but he was never the same and spent many years suffering dreadful pains and fatigue."
James Briggs was just 64 when he died in 2016, and his family suspect he never fully recovered from the effects of the disease.
Last week, for the first time in the UK, ticks were discovered carrying a type virus which can affect the human brain.
Public Health England moved to assure people that the risk of tick-borne encephalitis, which is found in Europe and Scandinavia, is still low but said they will continue to monitor the situation. Miles Briggs said: "Because Scotland has the highest prevalence, we need to look at what else we can do to improve the current protocol and I'm urging the Chief Medical Officer to meet with campaigners to hear what they have to say.
"But there is a debate over the effectiveness of the current three-week antibiotic treatment being offered in Scotland, and it's vital more is done to understand Post Treatment Lyme's Disease Syndrome (PTLDS) reported by patients and the debilitating effects this can have."
Ticks can be found all across Scotland and particularly in the wetter west, in woodlands, moorlands and long grass.
There are over 20 different species of tick in Britain, carried by hosts including birds, sheep and deer. Sheep ticks, which are the most common type found in Scotland, are the ones most commonly encountered by walkers. They climb to the top of foliage and attach to passing animals, but they will also feed on humans if they get the chance.
---
Getting diagnosed in time and then getting the right treatment is a lottery

Lyme disease victim Janey Cringean
Janey Cringean, 58, from Livingston, has spent the last 15 years battling Lyme disease after being bitten while visiting Beecraigs country park in Bathgate as she was playing hide and seek with her niece and nephew.
The IT consultant was left paralysed from her knee to her left foot, and she has been campaigning for better treatment and research ever since.
Janey said: "You don't feel the bite because the tick injects anaesthetic into the wound. Then you only have a short eight-week opportunity to get treatment before you run the risk of infection affecting you long term.
"Only half of those bitten will develop a tell-tale rash. It can then be a lottery whether you get to a doctor in time, and whether they are aware enough of the possible life-long effects of Lyme's so you get the right treatment.
"I did develop the rash and developed dreadful flu-like symptoms. I then progressed to having such awful pains I was told I had endometriosis and the migraines which came were unimaginably painful.
"I've been left having to constantly take several antibiotics, and accessing private treatment because the NHS response was just not robust enough and any attempt to stop taking medication left me with dreadful relapses."
Janey says one NHS infectious diseases expert "literally wrote me off".
She said: "He said there was no doubt I had Lyme's, but he discharged me from the service because he said there was nothing more that could be done for me."
She said the disease had life-changing consequences for her.
"I was eventually told that if I hadn't been able to access private testing, the NHS would most likely have ended up giving me a diagnosis of multiple sclerosis.
"I'm in touch with others who've been misdiagnosed with that and other illnesses such as fibromyalgia when in fact they are suffering tick-borne infections."
Janey Cringean has had Lyme disease for 15 years since she was bitten by tick.
---
The Scientist
Infectious diseases expert professor Jack Lambert warns that just as mosquitos can spread more than one type of malaria, ticks spread more than one bacteria or virus.
He said: "They can spread a whole bunch of bacteria to humans. Doctors are not aware of these infections, but veterinarians are.
"It is a bacteria which likes to set up shop in body tissue and then the immune system begins attacking in response to the underlying infection. A year down the road, and people can feel very unwell.
"Present guidelines say three weeks of doxycycline – an antibiotic used to treat bacterial infections – will cure most people, but that is only the minority of patients who have been diagnosed early.
"Even then, many will respond to doxycycline but get worse when the antibiotics are stopped.
"Doctors will say they have treated the infection, but what about Post Treatment Lyme Disease Syndrome and what about a second infection besides Lyme?"
The professor says that despite many hundreds of medical literature articles showing the persistence of Lyme, guidelines on treatment seem to ignore this fact.
And he believes the true figures of infection are very much higher.
He said: "The US are now saying they may have around 400,000 cases rather than the 30,000 previously indicated. GP practices in the UK recently estimated 8,000 cases rather than the government figures, which state 2,000.
"The challenge we face is that many symptoms overlap with those of other syndromes doctors are more comfortable with such as fibromyalgia or chronic fatigue syndrome.
"The seriousness of tick borne infections and their complications are seriously downplayed.
"The reality is that we are missing many cases, the current testing is imperfect and we need more funding for research and awareness."
---
More info at www.ticscotland.org.uk