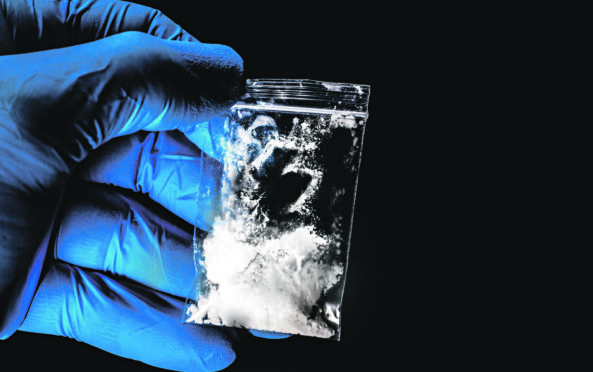 Scotland's deserted coastline will be targeted by drug smugglers after Brexit, international crime experts warned yesterday.
Organised crime gangs currently move most drugs consignments into Britain through ports in mainland Europe.
That will become more difficult when Britain exits the EU, according to crimefighters, and Scotland's 11,000 miles of coastline will become increasingly used to land drugs.
Tony Saggers, former head of drugs, threat and intelligence at the National Crime Agency, believes post-Brexit smugglers will set up new supply routes, with drugs coming directly to Britain from Latin American countries such as Colombia, Peru and Bolivia.
He warned the beaches, bays and sea lochs of Scotland, particularly on the west coast, will be an attractive point of entry, adding: "There are some very common and long-­standing routes into the UK that have used cover loads such as shipments of fruit, in particular from Latin America.
"If post-Brexit tariffs on trade impact on the validity of using those cover loads, criminals will need to look for other avenues, and the ­shoreline has always posed a threat.
"We've seen many examples of cocaine landing from fishing vessels that have been coopered offshore.
"There is nothing to stop them using the west side of Scotland because it is on the same general route the cocaine will travel.
"We don't have the resources to patrol the entire coastline."
At the moment the UK Border Force has just one coastal patrol vessel permanently based in Scotland, one of 10 boats under its command.
This leaves Scotland vulnerable to criminal gangs using it as a base for "coopering", where sealed consignments of cocaine are brought on large commercial ships then offloaded at sea into smaller boats and dinghies to be ferried ashore. The drugs would be then be driven to storage and distribution points across Britain.
Mr Saggers said any shift to new landing points would prompt an increase in other criminal activities in those areas, including money laundering and turf wars.
Currently the majority of cocaine is trafficked to Rotterdam and Antwerp in fruit shipments, before it is loaded on to lorries and carried to the UK.
Lawrence Gibbons, head of drug threat at the National Crime Agency, said a no-deal Brexit would see an increase in attempts to import directly into the UK rather than through traditional trans-­European routes.
He explained: "This is because a no-deal Brexit would be likely to increase border checks on both the European side and at the UK border."
Mr Gibbons' team is now working out which new routes criminals may use for illegal drug shipments to the UK. He said: "We are actively assessing through our intelligence capabilities how organised crime behaviour might alter as a result of leaving the EU. The NCA and UK law enforcement are planning for a number of contingencies."
This week a leaked UK Government document revealed ministers have been told there is an increased risk of serious organised crime groups stepping up activities in the first two weeks after a no-deal Brexit.
Police view any increase in drug smuggling activities to Scotland with concern.
David Hamilton, vice-chairman of the Scottish Police Federation, said: "Police Scotland is struggling to manage its existing demands, let alone take on new ones. Brexit consequences are already pushing us to the brink and the prospect of protecting more than 11,000 miles of coastline from within existing budgets is just ludicrous.
"The Scottish Government needs to act now and increase the capital budget so we are prepared for these new threats to our communities."
Graeme Pearson, former head of the Scottish Crime and Drug Enforcement Agency, said organised crime gangs (OCGs) will already be testing new routes for their cocaine shipments.
He said: "OCGs will increasingly turn to direct delivery to Scotland for their products to avoid unhelpful diversions. Yachts, tourist and merchant ships, and small and commercial aeroplane arriving at major and local locations, will become increasingly attractive to the OCGs."
UK Chancellor Sajid Javid this week announced a £344m funding boost for the UK Border Force to help prepare for a no-deal Brexit.
The UK Border Force is responsible for immigration and customs control at 140 air, sea and rail ports, as well as thousands of smaller airstrips, marinas and ports.
The cash will pay for an additional 500 Border Force officers.
However, the announcement makes no mention of any extra ships or other patrol equipment for the force.
Mr Saggers welcomed the extra cash, but insisted investment must be used to combat organised crime gangs attempting to bring drugs into the UK after we leave the EU.
He said: "If a hard border means border resources are going to be more involved in checking people coming and going, on top of that we need additional resources to continue to focus on criminality – and by resources I mean people, dogs, scanners."
The Home Office said: "Border Force is now recruiting up to 1,000 new officers, who will help maintain security and support flows at the border in preparation for the UK's exit from the EU."
A Scottish Government spokesperson said: "Ministers have consistently been clear that the best option for the future wellbeing and prosperity of Scotland and the UK as a whole is to stay in the European Union.
"Intensive EU exit preparation is under way and we are working with a wide range of partners to take all appropriate measures to keep people safe. Decisions around officer deployment and contingency planning are operational decisions for the Chief Constable."
Deputy chief constable Will Kerr said: "Drug trafficking remains a constant threat to Scotland and it's vital we continue to have good working relationships with our colleagues in Europe to ensure Brexit provides no new opportunities for criminal gangs to exploit."
---
How narcos ship Class A consignments into Scotland
Hundreds of millions of pounds of cocaine has been seized from ships off the coast of the UK in recent years.
The largest drugs haul ever in the UK was discovered in a tug boat off the coast of Scotland in April 2015.
Three tonnes of high-purity cocaine worth £512 million was hidden in the ballast tank of the vessel, which was intercepted in the North Sea, 100 miles east of Aberdeenshire.
Turkish sailors Mumin Sahin and Emin Ozmen were later jailed for at least 20 years following a trial.
Cocaine worth £80m was found on fishing boat Bianca off the coast of Cornwall in August 2016. Three men, including the vessel's Irish skipper, were later jailed.
In August 2015 the UK Border Force intercepted the yacht Golem off the coast of Kent and discovered 1.2 tonnes of cocaine worth £120m. Two crew members were later jailed.
In September 2014 a tonne of cocaine worth £160m was seized from a yacht off the coast of Ireland. The Makayabella was intercepted west of Cork after it was tracked from Venezuela in a combined operation involving the National Crime Agency and the Irish Navy.
Nine people were later convicted for the international drug-smuggling plot, including the intended recipients of the drugs in the UK.
In 2002 Michael Tyrrell was jailed for 26 years for leading a botched bid to bring a £90m consignment of cocaine to the UK in a yacht that docked at the Isle of Wight.
---
Scots patrol boats waging war against drug smugglers are second-hand oil rig rescue ships bought for £1m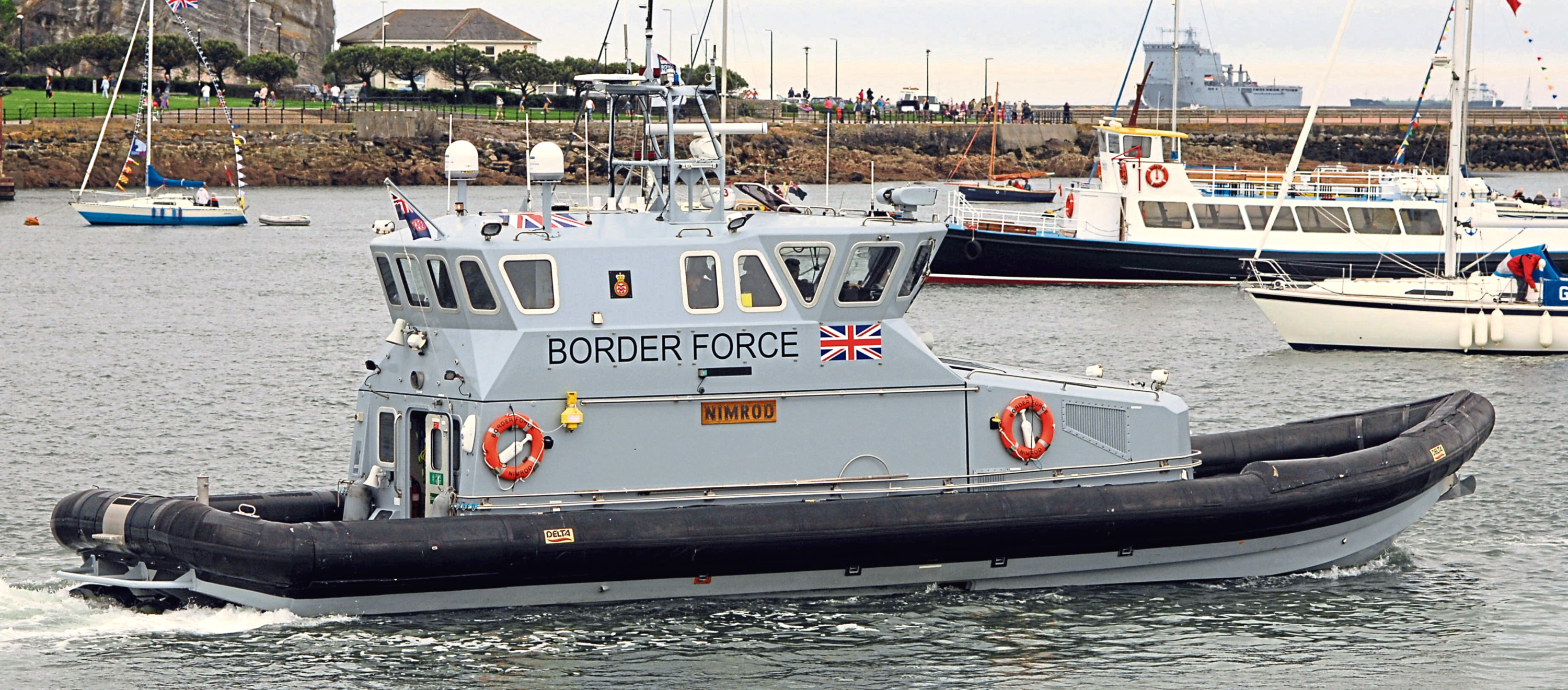 The UK Border Force patrol boats tasked with protecting Scotland's coastline from drug smugglers are second-hand vessels bought from oil and gas company BP.
The UK's Coastal Patrol Vessels (CPVs) were used as oil-rig rescue ships until the Border Force purchased them for £1 million in 2016 and renamed them.
When the head of border force maritime command, Doug McLellan, announced the permanent deployment of a CPV to Scotland in September, 2017, he described it as "new".
However, a Home Office Response to a Freedom of Information request dated September, 2017, revealed: "Border Force bought eight BP ARRC's, later renamed as coastal patrol vessels from Delta at a total cost of circa £1m, these being all of the eight ex-BP vessels."
Only six of the eight 20-metre-long rigid-hulled inflatable craft are operating in UK waters. Four larger customs cutters are also operational."
One of the cutters, HMC Protector, was bought from the Finnish Border Guard in 2013 and later renamed and relaunched in 2014 by then Home Secretary Theresa May.
Mr McLellan said permanently deploying a CPV in Scotland provides a visible presence in smaller coastal communities around the west coast of Scotland and the islands.
He said: "There have been many cases of drugs trafficking into the west of Scotland, in very remote parts of the coastline.
"We have cases taken into Portpatrick and up into the top of Scotland because it is a vast amount of coastline and sea.
"We certainly consider the west coast of Scotland a place of high potential activity."
Mr McLellan added that the vessel, based at Troon, works all year round, 24 hours a day, because the crew can live on board for several days.