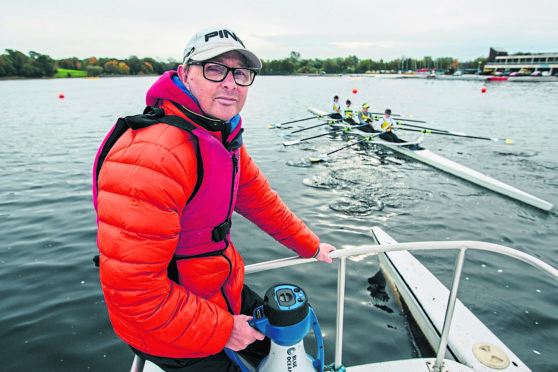 When he was a boy, Colin Simpson's playground was the Clyde.
From the age of five, he spent his weekends squeezed into the stern of rowing boats, skimming along Glasgow's famous river as he guided rowers as a coxswain.
Following in his rowing-coach dad Gordon's footsteps, Colin helped win medals at competitions across Europe for the Clydesdale Amateur Rowing Club.
He switched to rowing in his teens, taking to it easily after years spent studying other oarsmen's technique, and found more success. But, after waking up to the devastating loss of most of his sight at just 25, he thought his time on the water was over.
Colin lost all vision in his right eye and has 20% vision in his left, caused by diabetes.
"It just went overnight," said Colin, now 43. "I didn't keep an eye on my blood sugar when I was a teenager. I thought I was invincible but it hit me like a ton of bricks.
"My retina was detached. I went for an eye test and lost my driver's licence and had to give up work. At that point, my whole world came crashing down.
"I didn't leave the house for a year because I was so scared of injuring myself.
"It was only after counselling arranged by Visibility Scotland and getting a guide dog that I had the confidence to go outside and feel safe."
Colin compares his remaining vision in his left eye to "looking through a dirty pint glass".
"My vision now isn't much but it's enough for me to get by. I don't let it hold me back any more," he said.
"I've tried to find work as a personal trainer. I'd go for interviews, take the guide dog and get told they can't employ me because of health and safety. Eventually I stopped trying."
It was then that Colin's luck changed.
"Seven years ago I met John Blair, who managed the Scottish Rowing gym and boats at Strathclyde Park. I ended up fixing the rowing boats there voluntarily. He wanted to get into rowing coaching and asked me to go out in the boat with him."
Colin was later asked by Heriot-Watt University Boat Club head coach Graeme Cunningham to join his coaching team.
"Now I coach women rowers three days a week. I go out with a launch driver in a separate boat so I see what they are doing close-up," said Colin.
"Or I'll cycle along the river bank beside them but that can be a bit scary because of my balance.
"I had never thought I'd go back to rowing but my dad encouraged me to give coaching a go because I knew everything about the sport. It's helped keep me mentally sharp."
In the early days of Colin's sight loss, studying at the Royal National College for the Blind in Hereford, England, was life-changing. He learned how to live independently and qualified as a personal trainer.
But it's also where he met his future wife, Diana, who has had blurred vision since birth due to congenital cataracts, nystagmus and glaucoma.
"Diana literally bumped right into me. She was looking at my guide dog and accidentally walked into me. I started laughing and she ran off embarrassed. I saw her later that night in the bar and we hit it off," said Colin.
After graduating, they moved back to Scotland and now have their own house in Hamilton. They have proved a perfect match and live completely independently.
Three years ago, their son Gordon was born, named after his proud grandfather. Gordon Jr is also visually impaired but remains a typical happy and energetic three-year-old.
"When I first lost my sight I never thought I'd become a dad," added Colin.
"My proudest moment is my son being born.
"He's our world and has changed my life. It's not always easy but we seem to just make it work.
"We knew there would be a 50% chance he could have sight problems. We think he can see about one metre in front of him but it hasn't held him back. He's non-stop, always smiling and full of joy."
Gordon Jr has already shown an interest in boats and is a future rower in the making.
"He is quick on his feet and has strong legs and that's exactly what you need for rowing. His grandad is adamant he'll take up rowing. I think he'll write it into his will.
"In fact, he already has a rowing injury after he ran into a rigger and cut his forehead. My dad and I got the same injury when we were boys, so it's a family tradition."