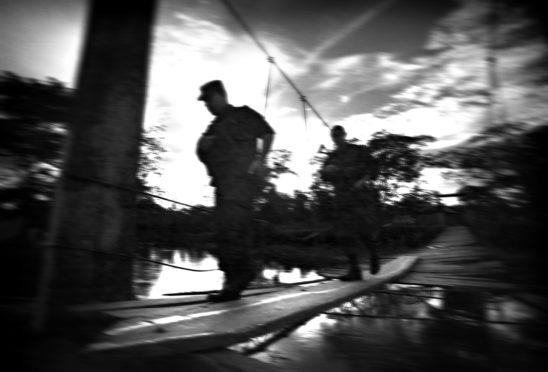 Oscar Salinas has little doubt. "The conflict has resulted in a lot of human suffering but also a lot of environmental suffering. If the natural environment is harmed and dies, then our communities will die," said the Colombian lawyer.
He was speaking on a visit to Scotland last week to highlight how one of the world's most prolonged conflicts is devastating the environment and the lives of the people who live along a 400-mile river in Colombia.
For traditional communities on the River Atrato in the Chocó region, the snaking waterway is life itself, playing a central role in their cultural, economic and social lives.
The Atrato runs the length of Chocó, in northwest Colombia, but illegal gold mining linked to the nation's long-running internal conflict continues to wreak havoc in one of the poorest territories in South America. Humans, wildlife and the environment are suffering because Colombia's peace process is failing.
"We have a fundamental relationship with the natural environment. This is an umbilical and spiritual relationship – something even other Colombians find difficult to understand. The river is life. It is our mother," said Salinas.
He is a lawyer and political advisor to the Catholic Church in Chocó where he works to document human rights abuses, and was a guest last week of the University of Glasgow and SCIAF (Scottish Catholic International Aid Fund).
Abundant precious metal deposits have made the river a target for those who want to exploit the environment for financial gain. Alluvial gold mining has become interwoven with Colombia's conflict as armed groups have sought control of lucrative mining operations.
Mining has not only devastated the river, but caused horrendous problems for the people who rely on it to survive.
Aggressive dredging and widespread deforestation have had deeply damaging effects on traditional farming and fishing while armed groups terrorise communities – especially those who speak out.
SCIAF and academics at Glasgow University have been working with people along the Atrato for some years now to defend their human rights, and in 2017 they helped them win a landmark legal case which recognised the river as a bearer of legal rights.
The ruling has not stopped the killing, however,
Salinas said: "We have returned to forced recruitment, kidnapping, rape, disappearance, torture and murder.
"It's important that the international community understands the conflict in Colombia has not ended."
During a half century of civil war in Colombia, more than 80,000 Colombians were violently disappeared at the hands of guerrilla groups, armed gangs, and government forces.
The Colombian Government's 2016 peace accord with the Revolutionary Armed Forces of Colombia (FARC) – the largest guerrilla group – promised to bring the nation's conflict to a close.
However, though some progress has been made, the security situation in Chocó has actually worsened. Violence increased after some of the remaining armed groups moved to capture territory vacated by the FARC. The presence of the ELN (Colombia's largest leftist guerrilla group), for example, and neo-paramilitary groups such as the Autodefensas Gaitanistas de Colombia who protect miners in control of the Atrato's gold deposits, has fuelled illegal mining activities and escalated violence.
"The territory is very rich in minerals, gold and wood. It's very rich for exploitation," Salinas explained.
As well as recognising the River Atrato in 2017 as a holder of legal rights as a central element of communities' bio-cultural rights, the Constitutional Court ordered that "Guardians of the Atrato" be appointed.
There are now 14 River Guardians, but they fear for their lives due to the targeting of human rights activists by armed groups. More than 400 human rights defenders have been murdered since 2016. There were 330 activists killed between 2016 and 2018. During the first four months of 2019, another 51 human rights defenders were murdered.
Salinas has received death threats, as have three of the River Guardians. One had a bullet left on his doorstep.
"Many members of community councils have received threats and many are under state protection," Salinas said.
He was accompanied to Scotland by one of the River Guardians, Euma Pedroza, 30. An indigenous woman from the Embera Dobida tribe, she was elected by her community as a River Guardian in 2016.
"One of the main issues affecting my community is displacement caused by the armed conflict. This has been caused by various armed actors – the state military, paramilitaries, the ELN and drug traffickers.
"We had great hope when the peace was signed but because the new government has not implemented the peace accords, this area has become a site of conflict," Pedroza said.
She was displaced from her home by FARC in 1999 and arrived in Quibdó in 2003. Her family resisted FARC, but her uncle, an indigenous leader, was killed in 2001. Around 150 families have been displaced from her community.
Pedroza explained another major environmental issue facing Colombia is the aerial spraying of coca – the plant used to make cocaine – by the state.
This mass fumigation – urged by US President Donald Trump to counter drug trafficking – involves the spraying of glyphosate on a vast scale but the chemical was linked to cancer by the World Health Organization in 2015. Pedroza said the spraying has generated health problems for her people such as skin infections, allergies, miscarriages.
"Babies are born with deformities," she added. "The situation is much worse since the current president took control. Displacement continues and the situation has been on-goings.
"People are caught in crossfire between ELN and the army."
Names have been changed to protect interviewees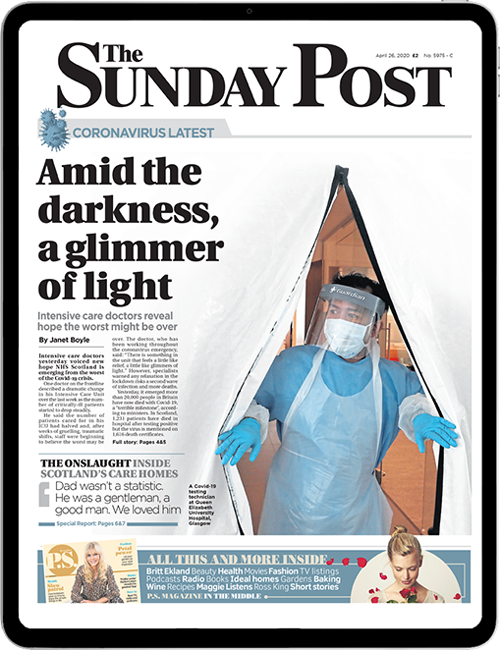 Enjoy the convenience of having The Sunday Post delivered as a digital ePaper straight to your smartphone, tablet or computer.
Subscribe for only £5.49 a month and enjoy all the benefits of the printed paper as a digital replica.
Subscribe