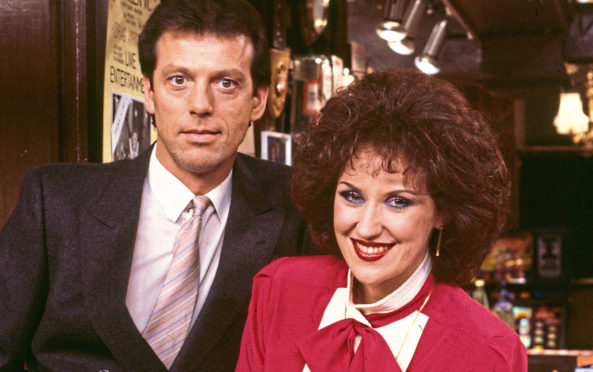 Angie Watts is an EastEnders icon.
The first landlady of the Queen Vic, very few Walford women have had such an impact.
Which is incredible when you realise how little time she actually spent on Albert Square.
"Three and three-quarter years I did," says Anita Dobson, the actress beneath that famous perm from 1985 to 1988.
"I think people loved her because she was a survivor, she was flawed – deeply flawed – she was a drunk. Angie was a happy drunk a lot of the time and when she was depressed.
"It was kind of like a rollercoaster with her. She was either really happy and adorable and funny, or she was in a terrible state, but usually there was a reason with her and often she could take the mick out of herself, which I think is what people liked.
"They liked the fact she was human, she was real and she had that ability we all love which is when you're knocked down, you go down on the floor hard, but then you get right back up and you pick up the boxing gloves and you're out there, back in the ring.
"That was Angie, and I think people loved that. And the women certainly loved the fact she could wake up in the morning looking like hell and then she'd get herself together and get behind that bar and look like a movie star."
Ange and hubby Den, played by Leslie Grantham, were such an incredible double-act and Anita recalls: "It was amazing. Day one it just clicked. I remember Leslie just went, 'Yes! Brilliant!' and I thought, 'I know exactly what he means.'
"It just worked. There was that chemistry and understanding that we came from the same place, you know. I came from right back in an East End council block, he'd come from being a kid in a block to the Army to going into prison and all of that.
"We knew tough times and we understood each other. There was an unspoken, symbiotic quality to us – my mouth shut, his opened, his shut, mine opened.
"We covered each other's backs. There was never a moment when you thought, 'Oh, something's gone wrong, they're in trouble, somebody's dried, they've missed the line.' Never.
"We were so in tune with each other that if one of us lost the way, the other was in there and vice versa.
"It was a very exciting and unusual partnership and I think both of us were aware of that and quite cautious not to muddy it at all, so we didn't hang out that much socially because we wanted to keep it so the magic was always there.
"I remember years later we did The Stretch together and the first day's filming in Spain, we were sitting on a pew in a church for the first take and Leslie looked round and said, 'I wonder if the old magic's still there?'.
"I said, 'We're about to find out' and bang! There it was, immediately the cameras rolled it was like the old days."
I remember watching – with my jaw on my chest – the notorious Christmas episode in which Den said he wanted a divorce.
"I was a bit like that," says Anita. "I thought, 'No! Don't divorce them! That's the worst thing you could do!'. You wanted them to stay together even though they hated each other at times.
"A lot of publicans said the fact that they drove each other nuts and were under the same roof day in, day out, but there was still this bond you couldn't break, that was the magic.
"When they divorced us it felt like things had changed for me."
Anita then resisted all offers to return to Albert Square, saying: "They asked me to go back for Dirty Den's funeral but I said, 'Only if I can check he's in the coffin.'
"It just didn't feel right. There was also talk of a spin-off, but that didn't appeal and it just felt it was right to leave it where it was."
While Angie obviously has a dear place in Anita's heart, so does Joan Crawford.
Anita starred as the Hollywood legend in the play Bette And Joan, about the time Crawford and Bette Davis – played by Greta Scacchi – were filming Whatever Happened To Baby Jane?.
"I loved playing Joan and that is a very interesting role because she's always held up as a very unlikable person, that she was as bad as Bette, but in a much more passive-aggressive way," says Anita, 70.
"It's funny because they asked me if I wanted to play Bette first of all, and I've watched all those stars – Bette, Rita Hayworth, Joan Crawford, Barbara Stanwyck – all my life, but while I love Bette Davis, I didn't really feel I had a hook on her.
"And then they said Joan Crawford. I remembered seeing her in Mrs Miniver and I had a feeling I could do her.
"It was really interesting because the most obvious driver in that particular car in Bette And Joan is Bette, you forget that the person that is filling in all of the cracks and all the way around everything is Joan.
"She was a star in her own right, anyway, she was massive, a wonderful dancer. When she was young they told her she'd never walk again, let alone dance, but the grit of the woman was amazing.
"She hauled herself up and made herself walk and taught herself to dance, and she went to Hollywood and got herself as a job as a dancer and from there she became a huge star, one of the studio's biggest.
"So, don't underestimate the power of that woman, the glamour and the ability."
I remember Anita appearing live on Top Of The Pops in 1986 singing Anyone Can Fall In Love, her adaptation of the EastEnders theme tune that reached No 4 in the charts.
"That was very weird. I didn't know who I was. I thought, 'Am I a pop star, am I Angie Watts singing this song? Am I Anita Dobson? What's going on here?'" recalls Anita.
"I always thought there were loads and loads of people in the studio, but there was just a handful that they moved from one place to another.
"I was scared enough as it was so it was just nice to have somebody there – as long as they were swaying and not just staring at you like, 'Who are you? What are you doing here?'"
Anita's other half is Queen guitarist Brian May, who produced her album, but I can't picture the band appearing on TOTP, only their brilliant videos – so has she been on Top Of The Pops more often than her husband?
"No, he must have been, way back in the day," she laughs. "But the thing is with Queen, they won't lip-sync, they won't mime, they'll only do it live – that's their thing.
"I think they did mime once in the very early days, they said they didn't want to but the studio insisted that was the format, and after that they said, 'If we can't do it live, we're not going on' which I think is brilliant."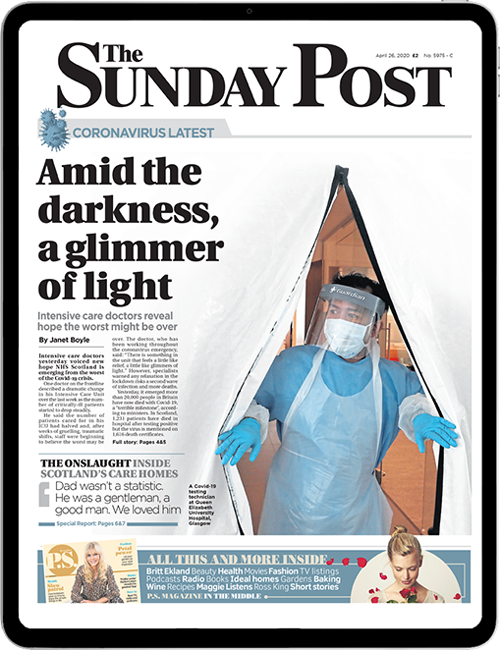 Enjoy the convenience of having The Sunday Post delivered as a digital ePaper straight to your smartphone, tablet or computer.
Subscribe for only £5.49 a month and enjoy all the benefits of the printed paper as a digital replica.
Subscribe