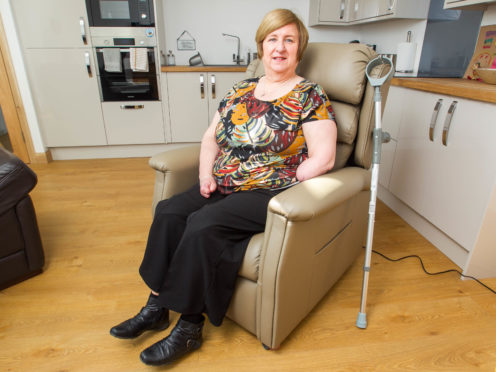 A grandmother who lost her hands and feet to sepsis has revealed how she had to battle the deadly condition for a second time.
Marguerite Henderson was left fighting for her life a year ago after a tiny paper cut developed into blood poisoning.
Almost a year later, she was looking forward to celebrating moving into a new home when she was horrified to see a red line develop on her arm, which she recognised as a sign of sepsis.
Marguerite said: "I was told to get to hospital immediately – when I got there the doctors said they had already alerted the intensive care unit and high dependency ward.
"I was thinking, here we go again.
"I was more frightened for my children as it would bring back so many memories for them that they didn't think they would ever have to feel again.
"But this time because we caught it early they were able to do something about it.
"It just shows how important it is to be aware of the symptoms of sepsis and catch it early on."
Marguerite, 56, from Crosshill, Fife, recovered after spending five days on intravenous antibiotics.
But the scare in January was a setback in a year of battling to recover following her first devastating sepsis infection.
Marguerite, a former family support worker, was rushed into hospital on February 25 last year after feeling unwell for three days. She later found out she had been just hours from death, but doctors could not save her limbs from the damage caused by the overwhelming infection.
Her hands were amputated on April 3, and the operation to remove her legs took place on April 12.
She said: "The problem originally was it wasn't caught quickly enough.
"I was lying in my bed with it, not realising I had it, so by the time I got to the hospital I was in a serious condition.
"Although I put a brave face on it, there are times when I think why did you let me survive to live like this?
"I know why – I am here for my kids and they need me. But for me I am still trying to find what's the point."
Marguerite is writing a book about her experience, to help raise awareness of sepsis and help other people who are going through traumatic situations.
Looking back, she said one of the most vivid memories she has of her first weeks in hospital was when she asked for a shower, before her legs were amputated.
She said: "At the time I don't think I recognised how horrific it was – my legs were dying and looked like they had been in a fire.
"I remember sitting in the shower and the nurse hosing my legs and asking if it was okay and if it was sore. I was thinking to myself why is it not sore, as the legs looked so raw that if water touched them it should be painful.
"It wasn't until later on I realised it was because they were dead. There were no nerves in them.
"At the time I was numb. I just sat and looked at them. It wasn't really happening to me."
Marguerite spent six months recovering at Victoria Hospital, Kirkcaldy. When she left on August 24 last year, the staff formed a touching guard of honour for her.
She said: "The staff on the ward were amazing and before I left they were like friends.
"I actually didn't want to leave, it was the only place I had known without my legs and coming home was scary."
Marguerite initially moved in with her youngest daughter Emma, 19 – but said it was still a "massive reality check".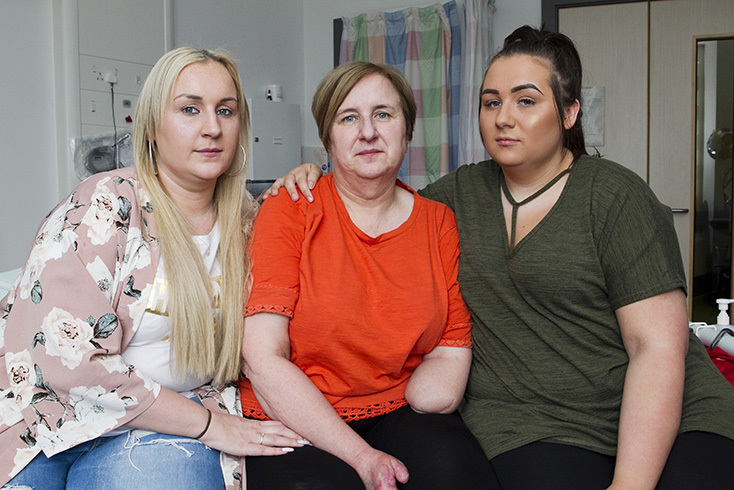 She said: "I had learned to do my personal care myself in hospital but when I came home and got into the kitchen I thought I can't even wring a cloth out.
"It was a realisation of how little I could do at that time – I couldn't lift a kettle so the first couple of months were really hard."
With the help of the local community and a fundraising campaign, which raised more than £70,000, a new home was built for Marguerite.
It is next door to her daughter Kim Donnachie, 28, who lives with her husband Sean, 34, and their two children seven-year-old Erin and two-year-old Gracie.
She said: "The reaction from my family, friends, local community – and beyond – has been mindblowing.
"The money was used to help build the house and buy my bed, wheelchair and other equipment I need.
"They have given me my life back in a way – and it is so much appreciated."
Surgeons managed to save some ability for Marguerite to grasp in her right hand – and her grip has gradually got stronger.
She is determined to be as independent as possible and has learned to adapt to be able to carry out everyday tasks – such as drying her hair, putting makeup on, making coffee and cooking basic foods such as pasta.
She relies on the help of carers in the morning to get dressed and is helped into the shower, but can go to bed herself at night.
Family and friends regularly drop by to help with food provisions and to take her out for coffee, a meal or to the local country park.
She uses an electric wheelchair when she goes out and has an artificial arm.
She said: "There is no way I am ever going to be able to put my own earrings in or sew again – that was my hobby.
"I can sew with a needle and darn some things, which is perseverance and saying I am not going to just take this.
"But I can't use my sewing machine as I haven't got two hands to feed it through."
Last June Marguerite was fitted with artificial legs, which means she can walk a few steps at a time.
However they are currently too big for her and she is hoping they will be refitted in the next couple of weeks so she can progress her walking further.
She added: "I look normal compared to how I was in the beginning, which makes me feel good.
"But when you take parts of your body off at night and have them by the side of the bed – you are thinking is this real, it can't be real.
"It is horrific and it is never going to go away – but it is how you cope with it. A sense of humour does help you through it."
Over the past year, she has had to deal with a series of anniversaries bringing back memories which she had "put on hold".
Over Christmas and New Year, the family went to Florida to visit Disneyland and Universal Studios, as Marguerite could not face the festive season at home.
She said: "It was massive – in my head I was thinking I don't want to be at home, I want to be out of here. Then the night before I was thinking what have I done.
"On Christmas Day we got up and were busy and didn't have time to think of what it had been like the year before. It was a massive achievement and made me realise I can do it."
Last week brought another milestone, with her 56th birthday on Friday.
She said: "This time last year I couldn't open my presents myself and the first time I had left the ward was on my birthday.
"We went for a coffee, but I said I would only go if they wrapped me in a blanket so no-one could see my arms and legs."
She added: "I think I have learned to live with it, but I don't think I will ever accept it, it is too big.
"I know I have come on a lot – I need to find a purpose now and that is what my focus will be.
"And I know I am lucky as I am still here."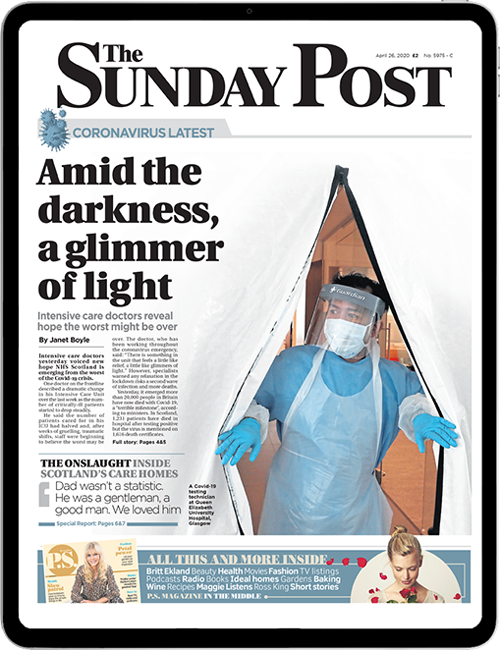 Enjoy the convenience of having The Sunday Post delivered as a digital ePaper straight to your smartphone, tablet or computer.
Subscribe for only £5.49 a month and enjoy all the benefits of the printed paper as a digital replica.
Subscribe