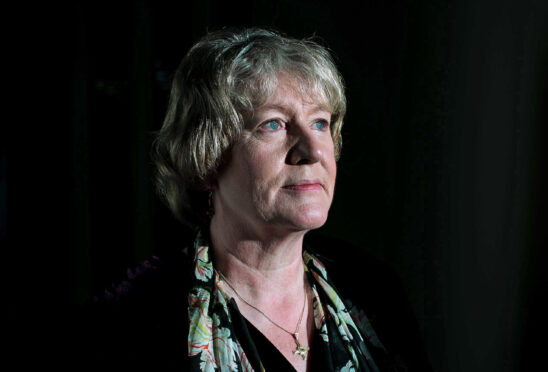 One of Scotland's most respected lawyers has told of a revelatory moment when she realised Scotland's justice system was failing both victims and offenders.
Catherine Dyer, the first woman to be appointed as Crown Agent for Scotland acting as the chief executive of the Crown Office, worked as both prosecutor and defence lawyer during her career but believes a new way of delivering justice is desperately needed.
She said: "I do feel strongly after observing things from both sides, having looked at the way that the system worked. A person gets sent through the court and the options are that you fine them or you send them to prison and that was just not making a change. I worked in private practice, defending people, often generations of the same family with the same problems.
"You did begin to think as a defence agent, there's nothing I'm doing here that's making a difference.
"These people you see coming through the office as young people were going to have children and the likelihood was their children would become your clients. We need to do it differently and Scotland's size means we can do that."
Dyer retired after diagnosis of multiple sclerosis but has returned to public life to chair Community Justice Scotland, working to recalibrate the system to bring new focus on the offenders and how they can best be helped to break the common cycle of trauma, addiction, mental health issues and offending.
She believes that, where it is safe to do so, people convicted of certain crimes should be given community-based sentences, which could feature treatment for underlying issues such as addiction, unpaid work, fines and compensation, or restrictions of liberty such as electronic tagging and curfews.
She said: "Community justice is where somebody has come into contact with the police and it's decided that either it doesn't need to go to court at all but can be dealt with by some work in the community or treatment or therapy or drug and alcohol treatment.
"Or if it's a case that's more serious that requires to go to a court, instead of sentencing someone to just pay a fine or to go to prison, they can choose to set somebody a community justice disposal. This means that the person is really being looked at in terms of why are they behaving they way they are.
"What is giving rise to the harmful behaviour? Often it is addiction or it can be that people have mental health problems.
"The idea of community justice is now at the forefront of how Scotland is trying to deal with people who cause harm to others in the community. The whole idea is to avoid the never-ending spiral of people coming into contact with the system.
"They need to recognise there are consequences for what they've done but community justice means looking at the underlying behavioural issues and trying to sort them."
Criminologist: Our punishment policies don't cut crime. They help cause the crime
Following her retirement as Crown Agent in 2016, ministers appointed Dyer as chair of a review of child protection systems. She was then appointed chair of the Expert Group on Preventing Sexual Offending Involving Children and Young People in November 2017, publishing her report in January 2020.
She was also a founding member of the Justice Board for Scotland, acted as diversity champion for the Scottish Government and was chair of the Public Sector Employers' Diversity Network. She was elected as a director of the International Society for the Reform of Criminal Law in 2010 and was also an inaugural member of the Scottish Sentencing Council.
Dyer has also been chair of the Audit and Accountability Committee supporting the Police Investigations and Review Commissioner since January 2019. She was appointed to Community Justice Scotland a year ago and said: "I relished the opportunity that came with Community Justice Scotland.
"It strikes me as something that is a very valuable intermediary between the policy and the actuality of trying to deliver it and making sure support is in place."
'My multiple sclerosis comes and goes but it can be pretty exhausting'
Catherine Dyer was diagnosed with multiple sclerosis in 2012 and four years later had to step down from her demanding role as Crown Agent.
She said: "Multiple sclerosis is a funny thing because people quite often have a number of symptoms and they go to doctors and it's hard to pin down what it might be.
"Eventually you get to the stage where you have some big episode. I was going down to speak at a meeting in London and started to feel as if I had pins and needles in my legs.
"I had all sorts of things that I had not gone to the doctor with. If you're focused on your work and your family, it's only when you look back that you realise you've had symptoms.
"I just thought it was because I was tired. There is a lot of reading and it's very stressful. There are always things happening – dealing with the media and politicians.
"When I went to the conference, the pins and needles got worse and worse to the point I almost couldn't walk. I was admitted as an emergency to hospital. It's obviously a neurological thing but they didn't know at that stage what it was.
"An MRI scan showed it was multiple sclerosis. It can be very exhausting and it presents differently in everybody.
"That was in 2012. I went back to work but came to the point that the pressure of working as the chief executive became incompatible with my health getting better."
The lawyer added: "Everyone is affected by multiple sclerosis differently. It's pretty exhausting when you're actually in the throes of an episode of it.
"I've got what they call remitting and relapsing multiple sclerosis which means it comes and goes.
"It can be hidden to an extent. People would notice if you're limping or if you had slurred speech but at other times there's nothing to show you have got the condition."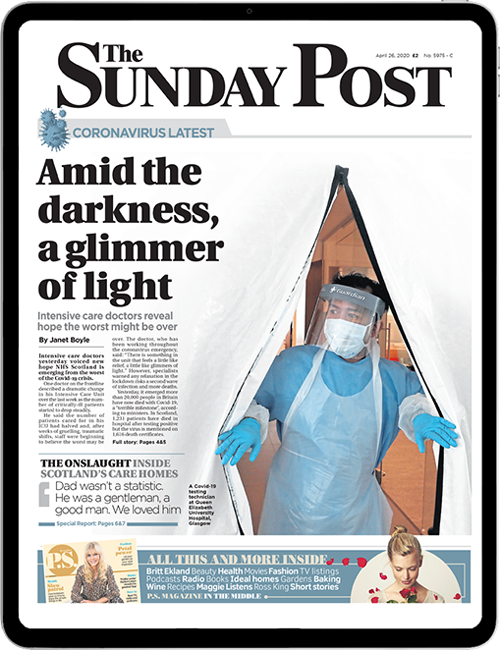 Enjoy the convenience of having The Sunday Post delivered as a digital ePaper straight to your smartphone, tablet or computer.
Subscribe for only £5.49 a month and enjoy all the benefits of the printed paper as a digital replica.
Subscribe