Supermarket self-scanners have turned Scotland into a nation of shoplifters as retail theft hits a record high and one in four customers are suspected of stealing, experts have warned.
The rise in theft linked to unmanned scanners can be revealed as Scots retailers are issued with an advisory alert warning them to protect their stock from light-fingered customers known as "swipers".
The Scottish Grocers Federation warned members to be vigilant for customers swapping barcodes of high-value items with cheaper products or deliberately pretending expensive fruit and vegetables are cheaper items, like carrots.
Expert analysis suggests up to 25% of shoppers are stealing via unmanned tills, and in Scotland up to £14 million is stolen this way each year, according to shopworkers' unions.
In a recent survey a quarter of people have admitted to stealing via self-scan checkouts, the equivalent of 1.1 million Scots.
According to retail industry figures, stores with self-scan facilities lost 3.97% of stock compared to just 1.47% if they have traditional staffed tills.
Retailers admit the costs of these thefts are being passed on to ordinary consumers but money saved on staff means the number of unmanned scanners will continue to increase.
At airports, automated check-in machines are said to cost airlines 10p per transaction against £2.50 to check someone in via a staff-member.
David Lonsdale, of the Scottish Retail Consortium: "Consumers increasingly want their shopping to be quick and convenient, and the rollout of self-scanning machines is being driven by that consumer behaviour and also the fact that the cost and capability of technology is becoming more affordable and attractive.
"Unfortunately there are some bad apples determined to steal, and this drives up the cost for everyone and means retailers have less money available for improvements to stores, customer service or staff training. Shop theft is far from a victimless crime.
"However our members are working hard to guard against criminality, working with their suppliers to build in appropriate security systems and liaising with law enforcement."
Crime prevention measures including special "mirror" screens, facial recognition technology and 3D sensors are being introduced to keep shoppers honest.
But Dave Williams of the Union of Shop, Distributive and Allied Workers (Usdaw) said stores should invest in staff instead.
He said: "Recent reports suggest that there is significant customer theft through the use of self-service tills.
"We suggest that retailers think very carefully about the knock-on impact to their business of reducing staffing levels through the introduction of new technology."
The first self-service checkouts were introduced in the 1990s and in Britain alone the number of these tills grew from 7,000 in 2008 to 42,000 in 2015, a recent survey revealed.
Some 46% of these thieves admit to doing it on a regular basis and Scots thieves are estimated to steal goods worth an average of £350 annually.
Dr Emmeline Taylor, a criminologist and expert in retail crime at City University, London, said: "A few years ago the cost to UK shops was £1.4 billion per year but since then the problem has worsened.
"It's a growing concern and as more and more stores move to automated self-service then the problem will continue to increase unless something is done about it. Yet shops still feel it is the correct choice – they save more money on not having staff than they lose on swipers."
Dr Taylor explained: "Judging from anonymous surveys, somewhere between one in three to one in five admit to stealing via self-scan checkouts. Many people begin by doing it accidentally, but then they see how easy it is and then it becomes a regular habit.
"Often they don't see it as stealing because they're interacting with a machine."
One of the most common tricks is to substitute more expensive items, like chicken, for cheaper goods like carrots.
Although there are those who steal on a smaller scale, there are those who are more ambitious.
"More professional swipers might use barcodes to steal," Dr Taylor said.
"There was a case recently where an individual was taken to court for photocopying the barcode for a packet of dried noodles.
"They then affixed the photocopied barcode to other goods and scanned them through.
"Some thieves fix barcodes to a watch or bracelet so it mimics the action of swiping things through the checkout.
"The techniques are limited only by the imagination of the shoplifters."
Although supermarkets are fighting back with new technology, tackling what are otherwise loyal customers for theft has been a problem, according to Dr Taylor.
"A lot of retailers say the worst-case scenario is wrongfully accusing someone of stealing from the self-service," she said."The damage to the relationship between shopper and store is so significant, so a lot of retailers will turn a blind eye to it.
"Shoplifters are aware that, as a crime, it is relatively low risk – and we're in a climate where we've got fewer police officers than ever before.
"People know police are prioritising knife crime rather than someone pilfering an avocado from Tesco. You can see the logic of why it is increasing."
Maxine Fraser, managing director of Stirling-based Retailers Against Crime, believes shops have had enough of the soft-touch approach.
"Self-scan is there to make things easier for customers – and these thieves are trying to take advantage of it," she said.
"We provide preventative measures to protect against this type of theft and there is more technology arriving that can catch people doing this sort of thing.
"It's a bit of an arms race with thieves but rest assured there is technology which will spoil the methods being used at self-service checkouts.
"In many cases with self-service theft it's greed, not need. These swipers have got plenty of cash in their pocket but they're not going to bother paying for it.
"We can come up with psychological reasons why people do it – but a thief is a thief.
"Our members all have CCTV. People who are stealing from checkouts may think they've gotten away with it, but they may already be noted somewhere as a person to watch.
"If you've been stealing via a self-service checkout, you may already be on a blacklist without knowing it."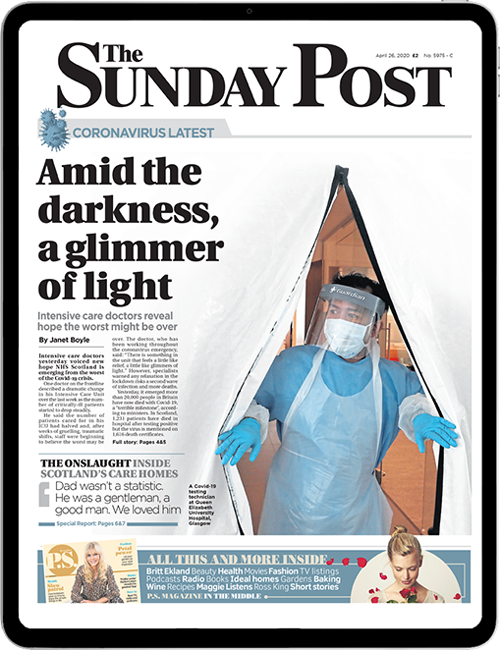 Enjoy the convenience of having The Sunday Post delivered as a digital ePaper straight to your smartphone, tablet or computer.
Subscribe for only £5.49 a month and enjoy all the benefits of the printed paper as a digital replica.
Subscribe